Bill Pay
Our online Bill Pay makes paying your bill easy, convenient, and fast. Because our patients receive care in multiple settings, please make sure to correctly click on the FACILITY ID link below that is listed on the left hand side of your statement (see image below for location specifics). This is very important to keep your account in good standing. If you would like to pay your bill over the phone or if you need assistance with this site, please contact our Business Office via the numbers and addresses listed below.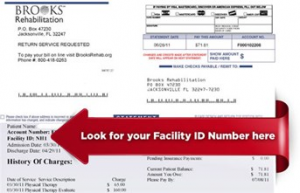 For Brooks Outpatient, Brooks Rehabilitation Hospital, or the Brooks Medical Group, call (800) 418-0263, Monday – Friday, 9 a.m. to 5 p.m., or feel free to send us an email at [email protected]
For Skilled Nursing, Assisted Living, or the Green House Residences, please call (904) 528-3017, Monday – Friday, 9 a.m. to 5 p.m.
For Home Health, call (904) 306-9729, select 3 for "Billing," Monday – Friday, 8 a.m. to 5 p.m.
If you need assistance with this site or you feel you may be eligible for special assistance or charity care please contact our Business office at [email protected]
Facility IDs (please double check that you are clicking on the appropriate facility ID)