A Day at the Brooks Rehabilitation Aphasia Center
Clinical Expertise
---
Jun 29, 2016
By Jodi Morgan and Flo Singletary, Aphasia Center Managers
We begin our day with coffee, talking and lots of laughter. This is a normal part of most people's lives unless you have aphasia. Aphasia is a language disorder most commonly caused by a stroke or brain injury. It affects your ability to speak or comprehend language, but not your intellect. The "normal chatter" that most people enjoy can be very difficult for those with aphasia. However, studies show that community-based aphasia centers can help people who want to join the conversation again.
After our "coffee talks", we break into groups. Members attend two one-hour groups each morning, which focus on improving communication, reading, writing or understanding language. We read poetry, tell stories, discuss hot topics (what's in the news), and form book clubs. We are currently reading "My Stroke of Luck," by Kirk Douglas. Our members vote and discuss group topics and choices.
We also have groups for aphasia advocacy to improve awareness in the community. We teach our members about new computer applications that can improve language and cognition.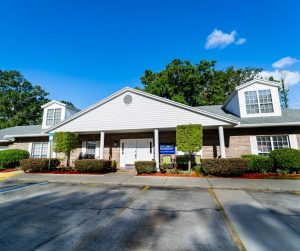 After lunch, we have two more one-hour groups which can be anything from language-based games to arts and crafts. Everyone is encouraged to talk, communicate, read and utilize any method to improve their communication skills. Some days we work on partner training with family members. We teach our members and their communication partners how to improve communication with each other and with friends and family. We may invite a motivational guest speaker to end the day.
Every day is something new and exciting. Every day we have someone say a new word for the first time, make a complete sentence or read a sentence for the first time! Every day we learn and grow together. Every day we support and applaud each other in our communication success.
Our members treat each other like a big, happy family. It has been an amazing journey in improving functional communication. And we have only just begun…
To learn more about the BRAC, please visit https://brooksrehab.org/locations/aphasia-center/
The Brooks Rehabilitation Aphasia Center (BRAC) opened two short months ago. We have close to 30 members with aphasia attending on a regular basis. The BRAC is currently open Mondays, Wednesdays, and Fridays from 9 to 2. Our trained staff and volunteers are all working toward the goal of improving participation in life for those with aphasia.