How Home Health Care Works: Benefits, Services and Cost
System of Care
---
by Maryann DePietro | Sep 7, 2023
Getting the right medical care helps with healing, recovery and quality of life. Understanding how home health care works and fits into a care plan of an individual recovering from a traumatic injury, illness or recurring condition, can help you and your loved one better understand the options for recovery. 
Medical care does not always end after discharge from an acute or post-acute hospital.  If you or your loved one is ready to leave the hospital but still need skilled medical or rehabilitative care, home health care is an option that can play a significant role.  
This article examines what home health care involves and how it can help, including: 
Benefits of home health care

 

Who needs home health care

 

Types of home health care

 

Different types of services

 

Insurance Coverage

 
What is Home Health Care? 
Home health care brings skilled medical care provided by licensed medical professionals to an individual in their own home.  People may receive home care to manage or treat an illness, medical condition or injury. Services can be provided wherever your home is. This includes:  
Your private residence

 

While staying with a family member

 

A senior living facility. 

 
How to Receive Home Health Care
To receive home health care, your doctor writes an order for services. The services provided and frequency vary based on a person's needs.  A home care agency staffed with a variety of healthcare professionals, such as nurses and therapists is then able to provide skilled care with physician oversight.  
After services start, the staff keeps the doctor informed, and the physician updates the treatment plan as needed. The length of time someone continues to receive home health depends on their medical condition and progress.  
Benefits of Home Health Care 
There are several benefits for patients and their families. One advantage is that it allows someone to receive care in the comfort of home instead of a hospital.  It also eliminates missed appointments due to transportation or logistic issues.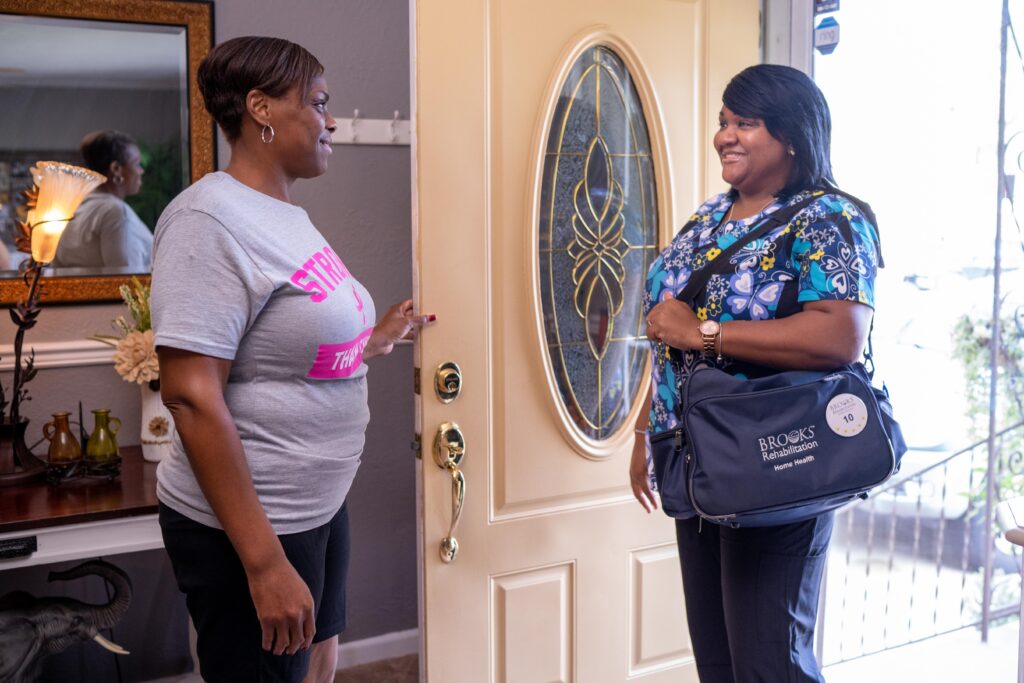 According to Chandler Rice, occupational therapist at Brooks Rehabilitation Home Health division, "Home health care provides ongoing care and support and ensures appropriate resources are in place. This helps promote a successful transition home for the patient." 
Other benefits of home health care include:   
Emotional well-being: Being in the home with support from family and friends can contribute to recovery and may improve well-being. 

 

Less risk of infection:

When in your home, it can reduce the likelihood of getting an infection, such as a virus.

 

 

Familiar environment:

Receiving care in your own home helps you learn to regain self-sufficiency in your environment. For example, therapy may help you develop ways to navigate your home environment. It may also promote self-sufficiency in your home and allow you to immediately see the benefits.

 

 
Plus, an increased quality of life through:
Faster recovery from an injury or illness

 

Slow the decline of a medical condition 

 

Manage symptoms better

 

Improve level of functioning 

 

Learn alternative ways to do activities 

 
Who Needs Home Health Care? 
Any person who needs going medical care due to a medical condition, injury or illness, they may need home health.  Typically, individuals who have any of the following conditions may need in-home care:  
Recovering from an illness or traumatic injury

 

A setback or flareup of a chronic health condition, such as COPD, multiple sclerosis or congestive heart failure 

 

Recovering from surgery 

 

Alzheimer's disease and other forms of dementia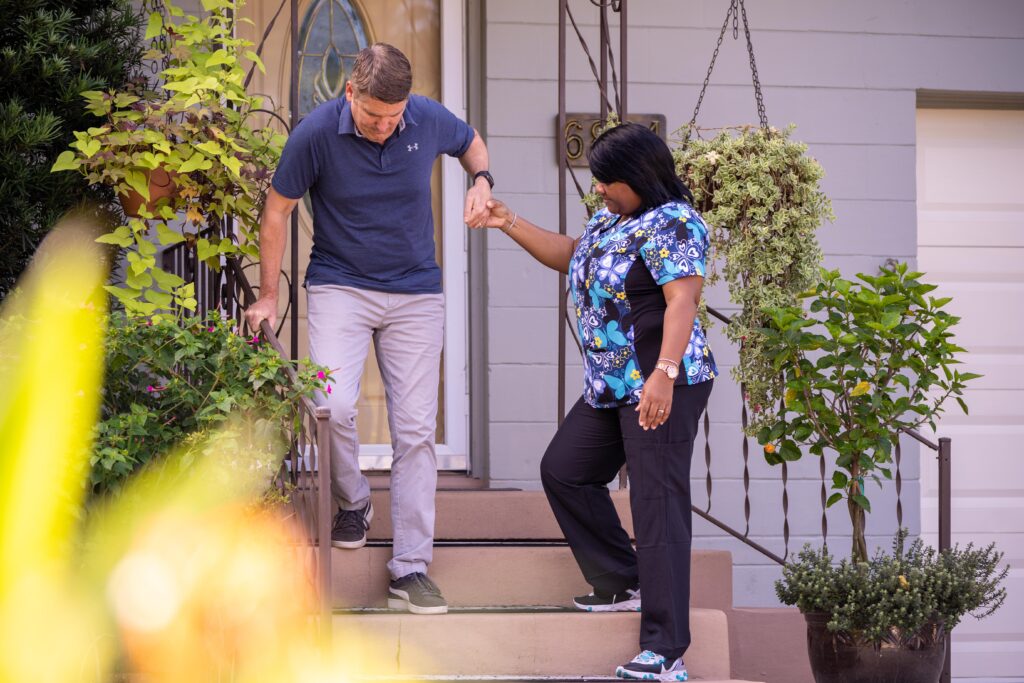 Types of  Services
Provided
Home health care encompasses a variety of services. The services ordered may vary depending on the patient's condition and needs. Many people receive more than one type of service.  For instance, someone may receive medical social work, nursing care and physical therapy. 
"To advance the health and well-being of patients in their home, we provide a multidisciplinary approach, which consists of nursing, physical, occupational, speech and respiratory therapy, along with medical social work and home health aide services," said Maria Fisher RN, who works as a nurse in Brooks Rehabilitation's Home Health division.  
Types of home health care services are listed below.  
Physical, Occupational, and/or Speech Therapy
Physical, occupational, and/or speech therapy plays a significant role in helping someone regain their independence and functioning.
Physical therapists help improve mobility, functioning, and reduce pain. It may include:  
Fall prevention 

 

Home Safety 

 

Balance work 

 

Strengthening 

 
Occupational therapy helps people to perform activities of daily living. This may include:  
Using adaptive equipment 

 

Retraining for dressing and grooming 

 

Learning ways to conserve energy

 
Speech therapists treat people with language, speech, and swallowing disorders. Treatment may include:  
Post-stroke recovery 

 

Strengthening the muscles involved in speech

 

Teaching alternative methods of communication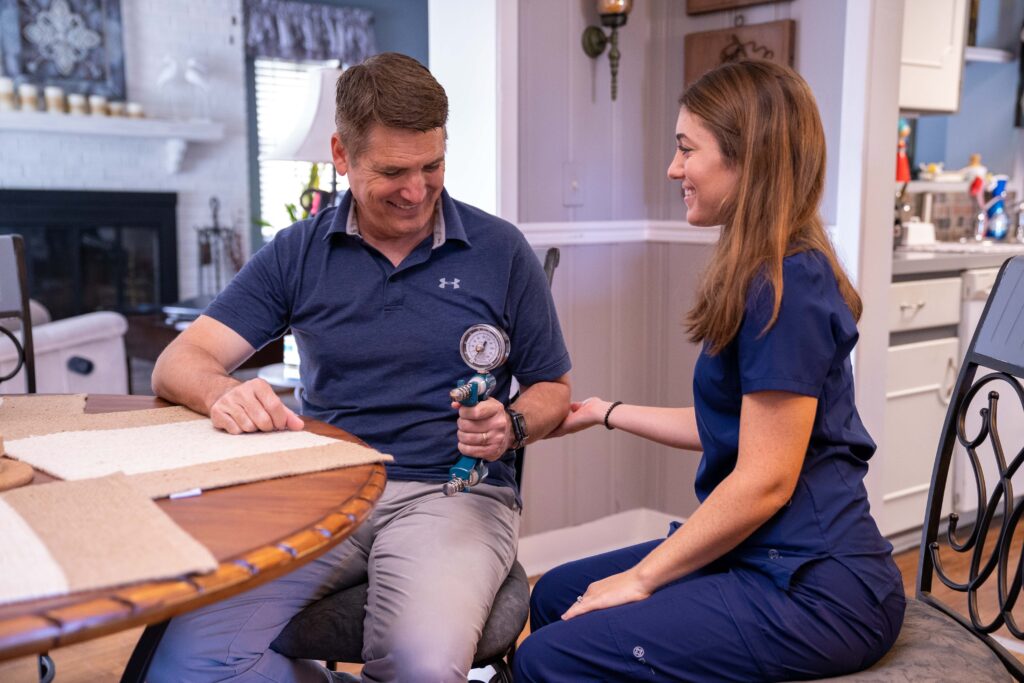 Nursing Care
Home health may include skilled nursing care. Nursing care may consist of a variety of services, such as:  
Taking vital signs

 

Completing medical treatments

 

Administering medications 

 

Providing dementia care

 

Managing pain and other symptoms 

 

Medication education 

 

Respiratory care

 

Wound care

 

Diabetes education  

 

Dressing changes 

 
Medical Social Services
Medical social services help patients and their families in several ways. The medical system is complex. Some people find navigating a medical condition challenging and overwhelming. Medical social workers help patients with the social, psychological, and financial aspects related to recovery.   
Services may include:  
Counseling

Education 

 

Referrals to community resources, such as transportation 

 

Support and development of coping strategies

 

Help to assess insurance or finical assistance 

 

Patient Advocacy 

 
Doctor Care
Not all home health care includes doctor visits. However, in some cases, a physician may visit to review home health needs. Even when doctors do not come to the home, they still oversee the care and periodically reviews the patient's progress and makes appropriate adjustments to the orders.  
Services Not Provided by Home Health
It is important to understand that the professionals providing care are highly trained clinicians. Home health professionals are generally not in the home full time and only come as needed to perform services.
If other services are needed such as help with preparing meals, daily living activities and companionship, private options such as custom care are available to provide these daily living support services.
Average Cost of Home Health Care
It is challenging to state the average cost of home health care. Various factors affect the cost, such as  
Services provided

 

Length of time care is provided

 

Location 

 
Some estimates indicate that the average cost is about $26 an hour. But this is widely variable.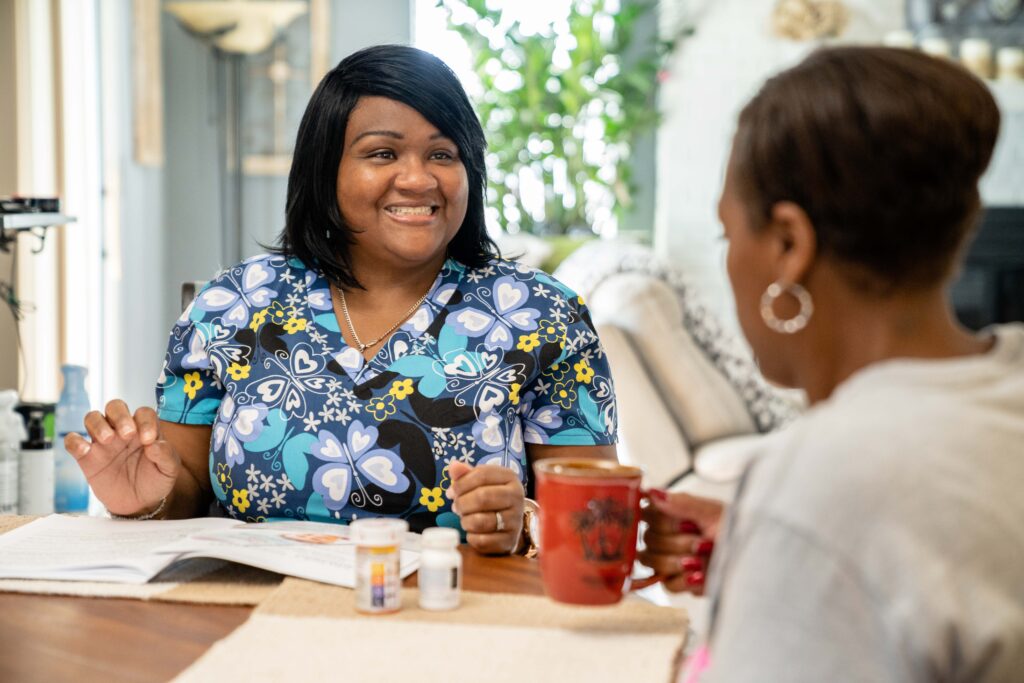 Is Home Health Care Covered by Insurance?
Some insurance providers cover home health services if an individual meets the requirements. However, insurance coverage varies greatly by provider.  
Medicare Coverage
Medicare Part A covers home health services when the patient meets certain qualifying conditions, such as:  
A doctor orders for home health service

 

The physician deems the care medically necessarily

 

You meet the criteria of "homebound."

 
If you have Medicare Part A, the cost to you for covered home health care is $0. But before services start, you should contact Medicare and determine the exact coverage for what for what the doctor ordered.  
Private Insurance 
In some instances, private insurance covers some or all of your home health services when you qualify. But because insurance coverage varies, contacting your insurance provider is important. Also, if you have long-term care insurance, your policy may cover some home health costs. 
Home Health Care with Brooks
We hope this article helps you understand better how home health care works and how it can help you.
Brooks Rehabilitation is dedicated to empowering patients to their highest level of recovery and have various care settings throughout its system of care to ensure individuals recovering from a traumatic injury or illness are supported through the entire recovery process.
Learn more about home health care and request services here.