In Honor of a Dedicated and Driven Servant Leader
Culture
---
Jan 12, 2018
We are deeply saddened to share that J. Brooks Brown, MD, our namesake and founder, passed away on January 4, 2018 at the age of 97. Throughout his life, he had a profound impact on this community and especially our organization.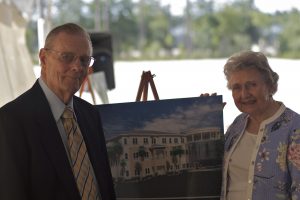 Dr. Brown was born in Hurtsboro, AL, graduated from the University of Alabama and received his Medical Degree from Tulane University. He served as a Captain in the U.S. Army Medical Corps, completed his surgical residency at St. Luke¹s Hospital in Cleveland, Ohio and a thoracic surgery residency at the Medical College of Virginia.
He and his beloved wife Helen moved to Jacksonville in 1953 to set up his practice as the first thoracic surgeon in this area. For thirty years, Dr. Brown was in private practice in General and Thoracic Surgery. During this time he was appointed Clinical Professor of Surgery and participated in a teaching program sponsored by the College of Medicine of the University of Florida.
Throughout his career, he was always a risk taker, an innovator and a visionary. It was his vision that led to the development of two major healthcare organizations serving the region today – Memorial Hospital and Brooks Rehabilitation.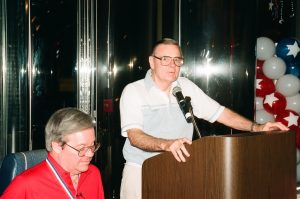 In the early 60s, Dr. Brown and his fellow physicians were frustrated at the lack of hospital beds available and the long wait times patients had to endure. They began a crusade to raise the funds to build Memorial Hospital, which opened in 1969. Dr. Brown was Chairman of the Board for Memorial Hospital Jacksonville from 1969 to 1982.  He was instrumental in improving the healthcare landscape and the lives of countless patients.
"I've learned that there is very little distinction between being a CEO of a big corporation and being a surgeon who does big operations. In the operating room with a big procedure, there are six to twelve people who are experts at what they do. The surgeon, captain of the ship, would be useless without the yeoman. To be a good senior CEO, it is necessary that you make decisions alongside your staff."
-J. Brooks Brown, MD
In the 90s, Dr. Brown agreed to sell Memorial Hospital once he was convinced the needs of the community, employees, and physicians would be met and preserved. He retained the newly built rehabilitation hospital, which was later named in his honor. Brooks Rehabilitation became the system of care it is today because of his vision, dedication, and leadership.
In addition to his medical accomplishments, Dr. Brown was a recognized leader in civic and business circles in the region and healthcare industry. He was a futurist, a real estate developer, entrepreneur, and a pillar of medicine, in the community, and in the Episcopal Church. He considered his life with partner and wife, Helen, his children, grandchildren, and great-grandchildren, to be his greatest accomplishment and truest joy.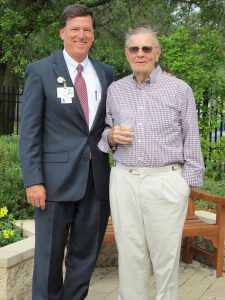 "Dr. Brown was a wonderful mentor and friend to me personally. He was always humble, a true servant leader and an inspiration to all who were privileged to know him. I know he is proud of the wonderful work we are doing here at Brooks. His wisdom, innovation, and compassion will live on through all of us," said Doug Baer, Brooks Rehabilitation CEO.
Dr. Brown was beloved by all who knew him. He will be greatly missed.
---
A Celebration of Life will be held at St. John's Cathedral, 256 E. Church Street, Jacksonville, FL at 11:00 a.m. Saturday, February 10, 2018.
His full obituary can be found by clicking here.