Q & A With Geneva Tonuzi, MD
Beyond Magazine
---
Aug 5, 2019
This article was originally published in our Spring 2019 Issue of Brooks Rehabilitation Beyond Magazine. Subscribe online.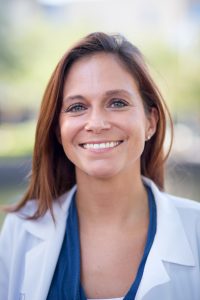 Having joined us in 2014, Geneva Tonuzi, MD, serves as Medical Director, Spinal Cord Injury (SCI) Program and Medical Director, Brooks Cybernic Treatment Center (BCTC) at Brooks Rehabilitation Hospital. Dr. Tonuzi is board certified in both Physical Medicine and Rehabilitation (PM&R) and Spinal Cord Injury Medicine. Dr. Tonuzi is a member of the Academy of Spinal Cord Injury Professionals (ASCIP) and the American Board of Physical Medicine and Rehabilitation (ABPMR). We wanted to know more about her background as well as some of the exciting new work she's conducting at Brooks.
Why did you choose medicine?
As an undergraduate, I was a chemical engineering major, with the idea of going into biomedical engineering, which was not a separate field of study at the time. Part of my coursework included biology and pharmacology, and I took anatomy as an elective. I found I wasn't that excited about engineering, but I knew I wanted to do something in the health field. I went on two medical mission trips to the Philippines and saw medicine being practiced firsthand. That helped me decide to take the plunge and make the commitment to medical school.
Tell us about your education.
My medical degree is from the University of Kansas School of Medicine. I did my residency training in Physical Medicine and Rehabilitation at the Rehabilitation Institute of Chicago, today known as the Shirley Ryan AbilityLab. I also completed a fellowship in Spinal Cord Injury Medicine at the University of Miami.
Why did you choose rehabilitation medicine?
Physical medicine and rehabilitation – or physiatry – was not that well known or promoted in medical school. What drew me to it was how integrated and collaborative it is. So many medical specialties and therapies come together to help a patient. With acute-care medicine, you're with a patient for a short period of time. In rehabilitation, you can be with a patient for weeks, months and even years. You work with them to get to the best possible outcome, and you see them get better. At Brooks, we see a huge spectrum of patients and complexity of issues. It's very challenging and rewarding.
You're leading a study on wheelchair mobility for tetraplegics using a new technology – can you tell us about it?
The Multimodal Tongue Drive System (mTDS), developed by Dr. Maysam Ghovanloo, director of the Georgia Tech Bionics Lab, uses tongue and head movements and voice recognition to generate commands to accomplish tasks. We had previously studied mTDS for computer tasks like controlling the mouse, playing games and sending emails. The participants picked up the use of mTDS quickly and were very enthusiastic about it. This new research project, funded by a Brooks Collaborative Research Grant, will study participants' ability to use mTDS to control a power wheelchair.
You also run Brooks' Diaphragmatic Pacer Program. Tell us about diaphragmatic pacers.
People are very familiar with pacemakers for hearts. Diaphragmatic pacers (DPs) work on a similar concept. Implanted electrodes stimulate the diaphragm to expand and contract. They were developed for SCI patients to who were on long-term mechanical ventilation (MV). There are many negative effects with MV, such as high respiratory infection rates and poor mobility. The changeover, or weaning, from MV to DP addressed these negative effects. DPs provide an overall better quality of life. Our Diaphragmatic Pacer Program is growing because of our clinical partnership with UF Health Jacksonville and our research partnership with the University of Florida's College of Public Health & Health Professions. We've had some amazing results on weaning people from DPs to breathing independently, which has given rise to a new research study.