Recreational Therapy: It's more than Fun and Games
Clinical Expertise
---
Feb 22, 2017
By: Cara Stewart, CTRS Brooks Rehabilitation Hospital Recreational Therapy Coordinator
Recreational Therapy is usually referred to as the "fun therapy" or just "games and activities." As recreational therapists, we strive to be that fun therapy for our patients, but we also do so much more than that. We are here to put the fun back in functional for our patients in their journey to recovery.
Goal Oriented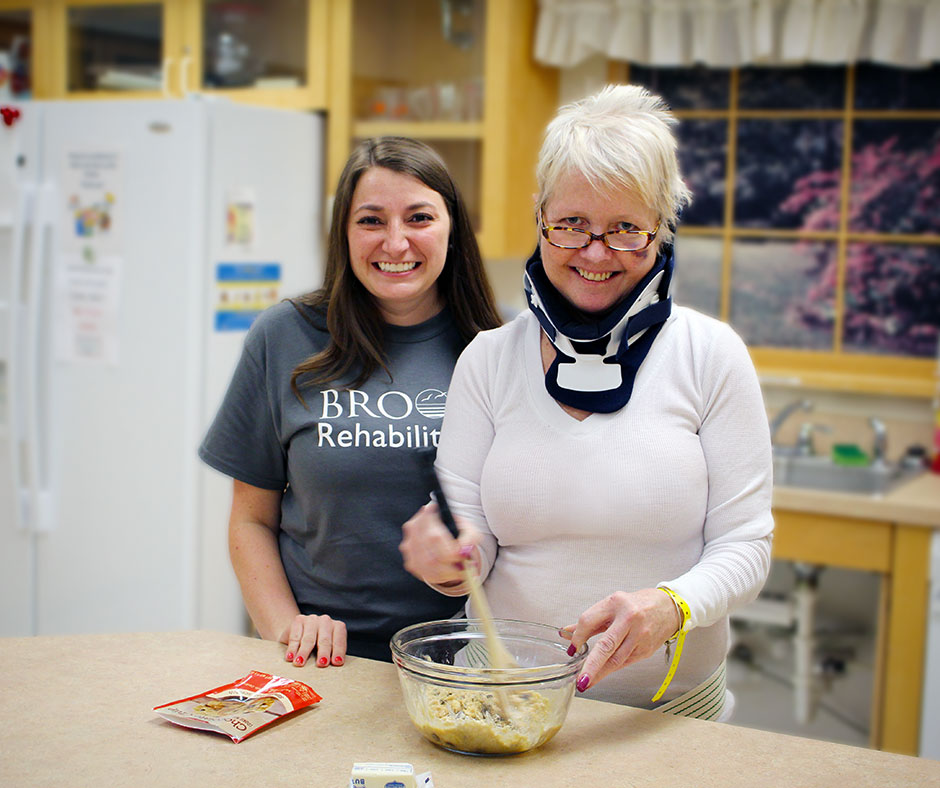 All therapy at Brooks is focused on helping patients reach their goals during their stay. As recreational therapists, we focus on patients' goals by incorporating leisure activities into their treatment sessions. Including activities that patients enjoy into their therapy makes achieving their goals more enjoyable. You may be wondering what it is like to be a recreational therapist, let me tell you!
We use a variety of tools and resources to help get our patients back into the activities they love. On a daily basis we see patients one on one, in groups, or in co-treatment sessions with other therapy disciplines.
The Great Outdoors
We're often outside in the therapy courtyard playing cornhole with a patient while seated. It looks like fun and games, but it also increases arm strength, range of motion, and trunk control. We may bring patients to the pond for fishing or to feed the ducks. This helps focus on balance, endurance, and coordination. We also have various board games and video games in our gym to work on problem solving, fine motor skills, and hand-eye coordination. The recreational therapy team at Brooks can also be found leading a group of patients around the hospital on trikes and handcycles, conducting cooking groups, or on community reintegration outings.
Community reintegration is a large part of what we do because many of our patients return back into the community after their rehab stay. We want to make sure our patients feel comfortable when they are discharged so we offer them the opportunity to practice what they have learned here at Brooks in real-life settings. We have a weekly outing where we take the patients to restaurants, museums, stores, sporting events, and more. We invite family and caregivers to attend our outings with us because they're usually the ones supporting patients once they leave Brooks.
Fun with a Purpose
One of the best things about Recreational Therapy is the activity-based distraction we provide for the patient. As patients are immersed in their leisure interests, they can find new motivation to push further. They are able to make great strides without even knowing it.
Building such meaningful relationships with all of my patients during their stay and finding what is most important to them is both rewarding and motivating. The greatest feeling is seeing a patient's face after realizing they are still able to fish, golf, cook, play sports, or do whatever they love to do!