The Role of Art in Brain Injury Recovery
Innovation
---
Mar 23, 2017
By: Cara Stewart, CTRS and Madeline Hearons, CTRS, Brooks Recreational Therapists
Brooks Rehabilitation recently collaborated with the Museum of Science and History (MOSH) in honor of Brain Injury Awareness Month. As part of this collaboration, Brooks gave a presentation on how brain injury affects our community and how art plays a crucial role in recovery.
Each year, an estimated 1.7 million people in the United States (US) sustain a brain injury. In fact, brain injury is a major cause of death contributing to about 30 percent of deaths in the US. Brooks not only provides treatment and recovery for those who have suffered from a brain injury, but we also aide in the awareness and prevention of brain injury.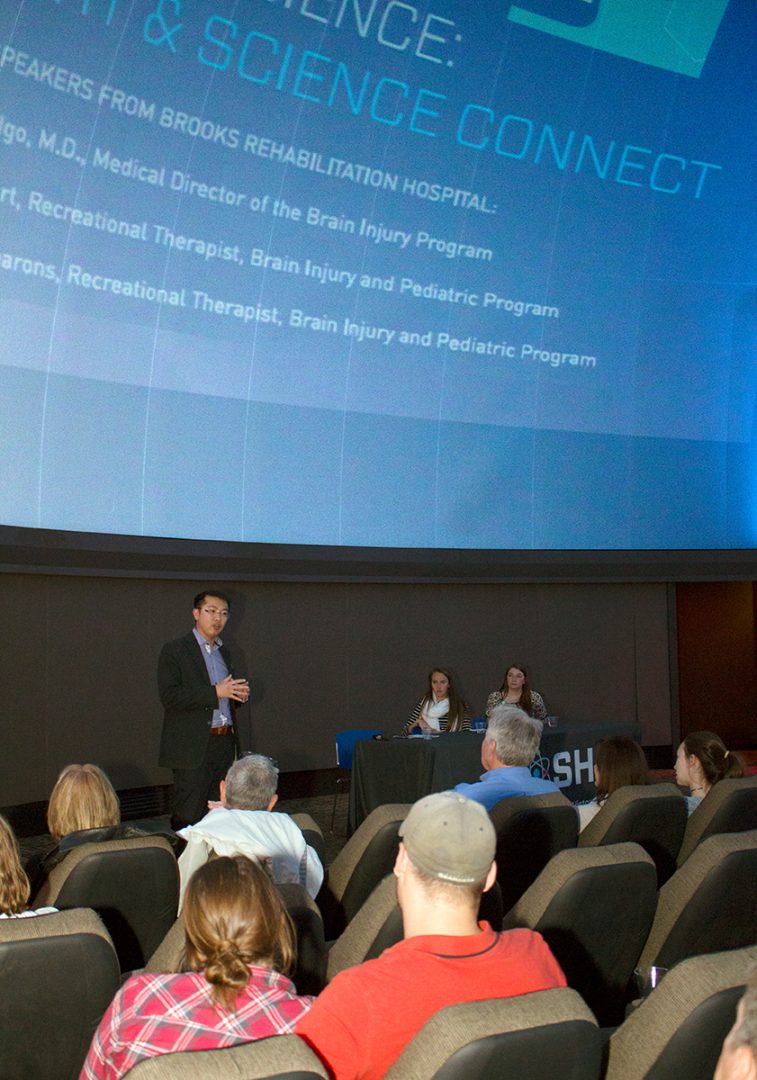 During the presentation, the role of art was highlighted and how art helps with brain injury recovery. In addition, attendees participated in various brain teasers to simulate what it's like for brain injury patients to carry out day-to-day tasks.
Art therapy is one of many treatment modalities used daily with brain injury patients throughout Brooks' continuum of care. Art aides in the recovery process by allowing the patients to do something they enjoy. When utilizing art therapy as a treatment intervention, Brooks clinicians are working on various functional skills such as: fine motor skills, gross motor skills, standing tolerance, endurance, communication, expression of feelings, relaxation, socialization, memory and problem solving skills.
In the inpatient setting, art is used on a daily basis with both pediatric and adult patients. Art allows children to be creative while motivating them at the same time. One young patient, Claire, was very interested in coloring and painting. To help with her walking and coordination, her therapist painted her feet and had her walk throughout the gym. This allowed Claire and her family to see the progress she made by the footprints she created. She was allowed to express herself daily by choosing the colors for her footprints.  Claire enjoyed this so much that she was motivated to continue walking more each day.
Art therapy is also utilized at the Brooks Clubhouse with brain injury survivors. By utilizing arts and crafts, performing arts and gardening, clubhouse members can tap into their creativity and self- expression.  Brooks also teams up with various non-profit organizations, such as Hope at Hand and Art with a Heart, by engaging our patients in group and bedside art therapy.  Our Pediatric Adaptive Recreation (ASR) is another platform that offers increased socialization, while participating in structured art activities.
If you would like to learn more rehabilitation options for individuals with brain injuries, please click here.