With Art, Words are not Required
Innovation
---
Jul 5, 2017
When Dr. Christine Sapienza, Dean of the Brooks Rehabilitation College of Healthcare Sciences at Jacksonville University (JU), wanted artwork for the speech therapy classrooms, she called in the "Art Nurse." Dian Renfro, Assistant Professor of Nursing at JU, has been an artist her whole life. She particularly enjoys painting and photography, but dabbles in clay as well. Her greatest passion is utilizing art in healing and she teaches an elective class at JU entitled, "Using Art in Healthcare."
Dr. Sapienza, Dian and Jodi Morgan, manager of the Brooks Rehabilitation Aphasia Center (BRAC) and Clinical Assistant Professor at JU, met to discuss the scope of the project. "We were originally thinking about children's artwork but the logistics didn't work. Jodi mentioned the BRAC so I decided to visit one day, just to observe," said Dian.
The BRAC is a community-based program that provides people with aphasia an opportunity to express themselves through interactive and creative programs in a supportive environment. Aphasia is an acquired communication disorder that impairs a person's ability to speak and understand others, but does not affect intelligence.
Art seemed like a perfect medium to help individuals challenged with communication to express themselves. "The nice thing about art is that it doesn't require words. It accesses a completely different part of your brain," said Dian. She started teaching Jodi about the healing values of art and Jodi taught Dian how best to communicate with individuals with aphasia.
From that first observational visit, Dian was hooked. She started coming in on her day off every week to work with the BRAC members. "Somehow, I just clicked with this group," she says.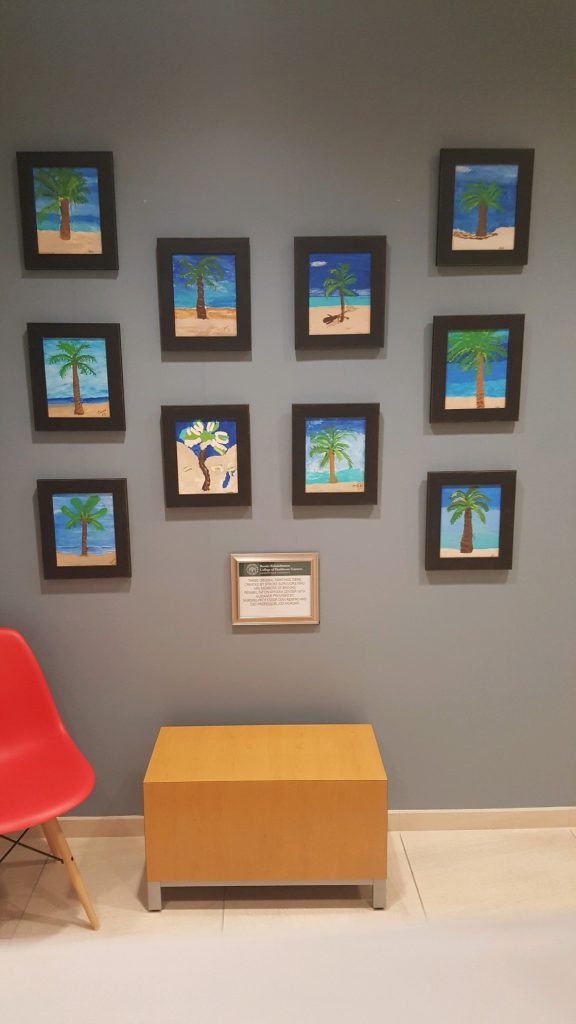 Toward the end of each semester, Dian decided to bring her "Art in Healthcare" students into a real-world setting to complete a project. The project focused on helping BRAC members paint a palm tree for the JU classrooms. Dian ordered specialized easels and paint brushes that would allow members to paint with ease.
Members were reluctant at first, but Dian and her students were helpful every step of the way. When the palm tree paintings were completed and presented, Dr. Sapienza was so impressed that she decided they should be displayed in a more prominent location at the JU Brooks Rehabilitation College of Healthcare Sciences. The BRAC artists were invited for the unveiling and a special luncheon was held in their honor.
Although the JU art project has been completed, Dian continues volunteering at the BRAC each Friday. Members get to choose the type of art project they'd like to work on next. It can be anything from adult coloring books to paintings.
On one particular Friday afternoon in June, Dian asked the group to paint birdhouses. Harley Rockhill painted with meticulous detail, even though he had to learn to use his non-dominant hand after his stroke. Carol Strohecker had entered the classroom looking somber. As a former librarian assistant, she then began to paint her birdhouse like a school. When asked what she wants her birds to learn, she whistled, unable to find the words.  As she painted, she began to smile…the joy on her face expressing more than any words ever could.