Brooks Rehabilitation Honored for Employee Wellness Initiatives
Culture
---
May 21, 2019
Brooks Rehabilitation was awarded the First Coast Healthiest Companies PLATINUM Level from the First Coast Worksite Wellness Council, Inc. (FCWWC). This is the sixth year Brooks has received this highest attainable level. The award is an indicator of our commitment and dedication to provide Health and Wellness activities within the workplace.
At Brooks, we've made a commitment to improve the health of not only our patients, but our employees too. The Brooks Wellness Program incorporates a variety of education and activities that help employees engage in healthy behaviors. The focus is on key areas such as awareness of personal health, increasing physical activity, stress reduction, and healthy nutrition.
This year, Brooks rebranded the Wellness program as "Be Well For Life, Because You Matter."  The goal is to make health free of judgment, shame and guilt; and to instead make health fun, easy and enjoyable. It will also address other aspects of health, including emotional and mental health, and to eliminate any stigmas around these dimensions of wellness.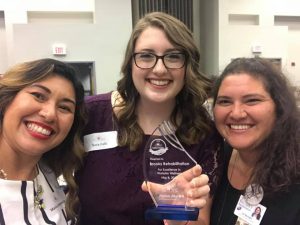 "Ultimately, our goal with the Brooks Employee Wellness Program is to help employees and their families become more engaged in their health and well-being to improve overall quality of life. We aim to do this through challenges, activities, and initiatives that address the different aspects of wellness, which provides all-encompassing approach to health. It is our priority to improve health and wellness at the work site, which will have a lasting effect on the overall lives of our employees," said Sara Falk, RD, LD/N, Brooks Wellness Coordinator.