A Valentine's Day Love Story: Sarah and Harris
Patient Experience
---
Feb 14, 2020
The motto for Brooks Adaptive Sports and Recreation (BASR) is "Fun, Fitness and Friendship." Sometimes participants find love too.
Harris Blackwell grew up in Decatur, Ala., where he actively participated in swimming and basketball at the Lakeshore Foundation during his childhood and teenage years. He got his first Master's Degree in Vocational Rehabilitation from Auburn University. In 2008, after an internship in Savannah, Ga., he applied for a Vocational Rehabilitation Counselor position in Augusta, Ga. By chance, during his first few weeks in Augusta, he met the head coach of a local basketball team. When he attended the first practice, he met Sarah Williford, the only female on the team.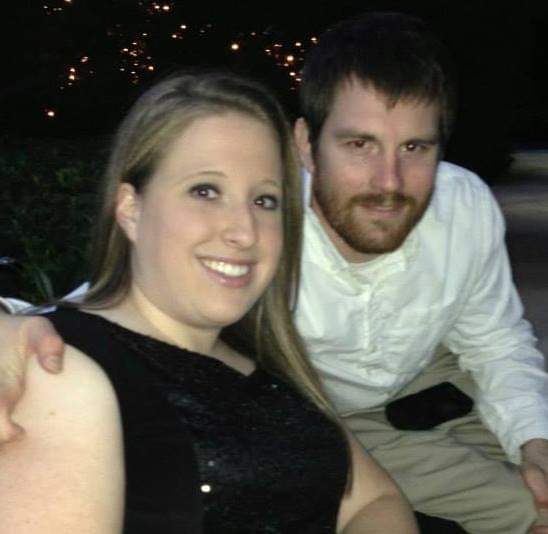 Sarah grew up in Augusta, Ga. When she and Harris met, she was attending undergrad at Augusta State University with the hopes of getting into pharmacy school in the future.
"We didn't hit it off right away. As we got to know each other, I started pursuing him. He is so mellow and chill that I knew I'd have to make the first move," said Sarah. "I had just moved to town and started a new job. I wasn't thinking about romance. I just go with the flow. It became a casual thing and we'd spend more time together. And one day we realized that we're doing this," said Harris.
In 2011, Harris switched his career focus and worked to get his second Master's in Social Work at the University of Georgia, while Sarah pursued her Doctorate in Pharmacy at the Georgia-Philadelphia College of Osteopathic Medicine. Harris and Sarah maintained a long distance relationship while both attended school. They were met with some hard times along the way, but eventually came back through on top together.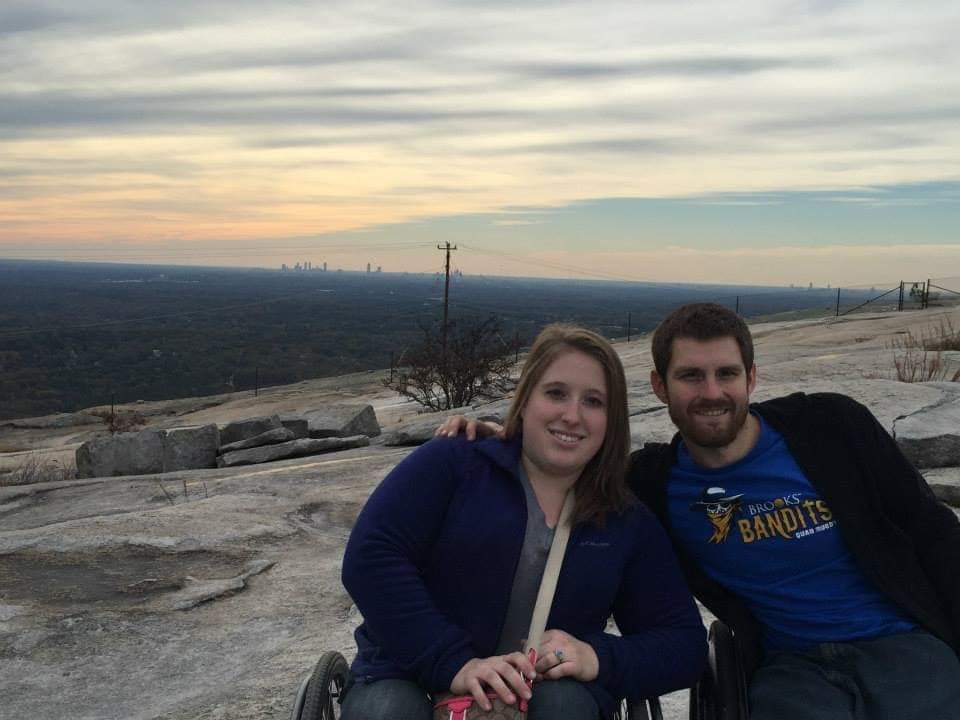 "After I graduated, I spent a little over a year looking for a job. Along with Cerebral Palsy, I have a visual impairment that prevents me from driving so that made it even more challenging," said Harris. He heard about an opening at a methadone clinic in Jacksonville, Fla. and got the job. "I knew Brooks Rehabilitation had a rugby team so I knew I could still participate in sports in Jacksonville," said Harris. Unfortunately, it would mean living in a different state than Sarah.
Harris and Sarah continued a long distance relationship for another year while Sarah finished her studies. In 2015, she graduated with honors and a PharmD. Sarah then made the life-changing decision to move to Jacksonville as well.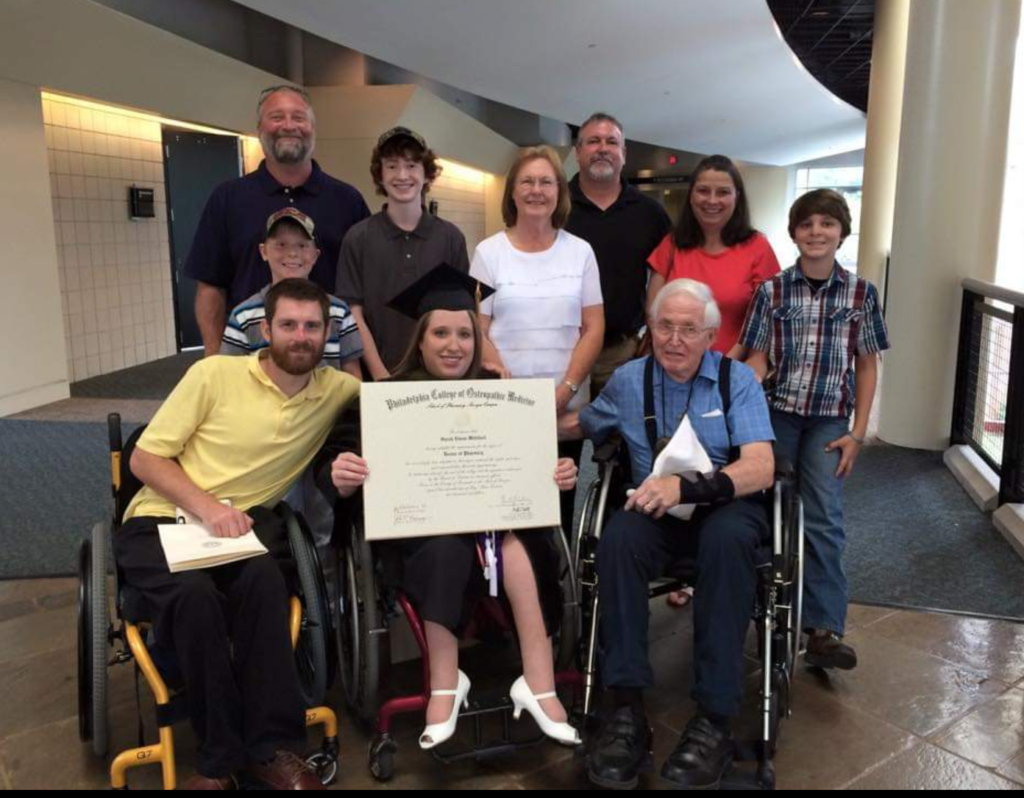 Having a doctorate degree in a town with many hospital systems, Sarah thought she could easily get a job. It took her three years to land a paid pharmacist position. It then took almost another year to get a full-time position. "Employers are going to look at you and your disability, no matter what they say," said Sarah.
While they were both settling into their careers, they participated with Brooks Adaptive Sports in a variety of activities. Sarah still enjoys playing basketball, and is once again the only female on the team, while Harris' favorite is rugby. They are both big racers, and on almost any given weekend weekend they can be seen doing a 5k, 10k or half marathon around town.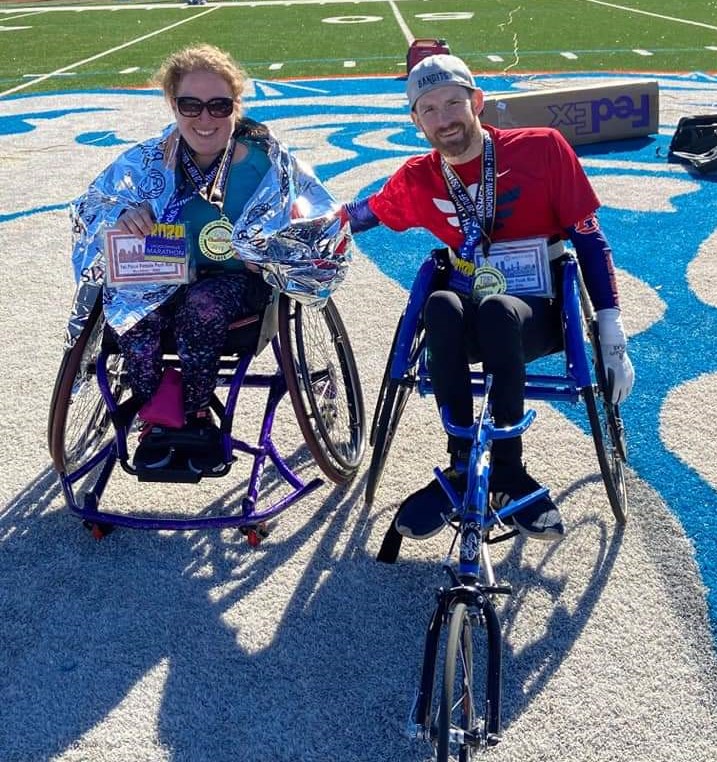 On Jan. 5, 2020, they participated in the Ameris Bank Marathon. This was the first marathon that either of them had pushed in their sports chairs (Sarah in her basketball chair and Harris in his racer). Excitement was high as they completed the race and had lots of support at the finish line from friends. That afternoon when they got home, Harris surprised Sarah with an engagement ring.
They haven't set a date for the wedding yet. "It took this long to get engaged. It's going to be a little while before the wedding," jokes Sarah. Whenever they decide, they'll have the full support of their BASR team.
Happy Valentine's Day, Sarah and Harris!