Brain Injury Recovery: Do you believe in magic?
Patient Experience
---
by John Weidner | Mar 27, 2015
Nearly a year after the accident that first brought them to Brooks, Ryan Boyd and his mother Dawn returned as guest speakers at the annual Healing Garden Donor Reception. Ryan, an 8-year-old Star Wars fan and magic enthusiast, performed a couple of his favorite magic tricks for guests at the reception. His performance is a true testament of the magical work done by Brooks' therapists and clinicians every day.
"As a parent, you only want the best of the best for your kids, and that's why we chose Brooks."
After meeting Ryan it is hard to believe that less than a year ago he was fighting for his life. Last March, Ryan was knocked unconscious after falling off a Gator utility cart and hitting his head on the pavement. He was airlifted from the scene to a pediatric acute care hospital in Orlando where he spent two weeks in an induced coma to allow time for his brain to heal. Ryan's family was devastated.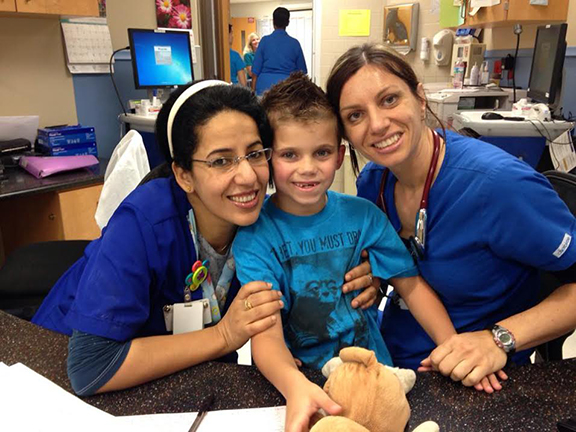 "The first couple of weeks were tough, we didn't know if he would be able to walk or talk- or if he would ever be our Ryan again." said Dawn. "As a parent, you only want the best of the best for your kids, and that's why we chose Brooks."
Ryan was transferred to Brooks Rehabilitation Hospital in a minimally conscious state and was admitted to the Response Evaluation Program, where his progress was monitored closely for two weeks. His injury was deep in the frontal lobe of his brain, which affected his left side, leaving him weak and unable to walk or talk. Closing in on the end of the evaluation period, Ryan had made little progress and it seemed highly likely that he would have to be transferred back to an acute care hospital because he wasn't responding to therapy.
Then suddenly, as if by magic, Ryan began to wake up. He started responding to therapy treatments and made significant progress and was graduated to the traditional program three days later. "They really cared and rallied behind Ryan. We loved the continuity of caregivers that made it possible to establish personal relationships. Ryan always says 'Let's go back to Brooks!' They made it fun for him," Dawn recalls. "Brooks is a place where kids can find their magic again."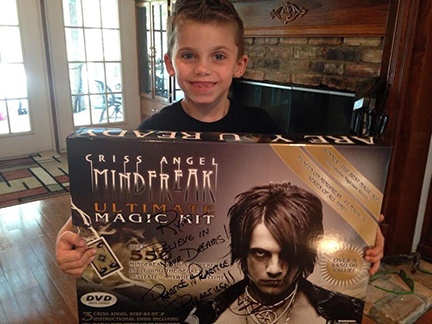 Ryan began working with a teacher twice a week for 3 hours during his stay at Brooks, and continued home bound visits for the remainder of the summer after he was discharged. With the help of his therapists and the School Re-entry Program, Ryan has made an amazing transition back into school and is now on the "A" honor roll. Additionally, he recently received a perfect score on a writing test, a difficult task for most students, his teacher reported.
When he has free time, Ryan enjoys playing the piano and has even started learning how to play the guitar. He loves performing magic and even went to Las Vegas to see his favorite Magician – Criss Angel – after being nominated to the Dreams Come True Foundation by one of Brooks' clinicians!