Celebrate Life Event | Trauma and Stroke Awareness Month
Clinical Expertise
---
May 29, 2019
During Trauma and Stroke Awareness Month, Brooks Rehabilitation honored the skilled clinicians that save lives every day at our "Celebrate Life" event. The event was held at the Regional Medical Center Bayonet Point (RMCBP) in Hudson, Fla. Former patients, Rolando Solis and Derrik Amaral, shared their powerful stories of courage and healing to the crowd of more than 100 people. 
Doug Baer, CEO of Brooks Rehabilitation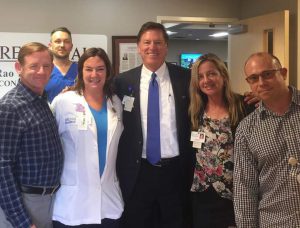 , Joe Rudisill, COO RMCBP, and Melanie Wetmore, CNO RMCBP, started the program by discussing the valued partnership between Brooks and RMCBP. Members of Rolando and Derrik's care teams were on hand, including those that saved their lives and those at Brooks that helped with their recovery to provide the best life possible.
As an emergency room technician, Rolando Solis was well aware of the signs of stroke but didn't recognize them in himself. Luckily, his coworker, John Ramirez, noticed and called in the help of April Johnson, Emergency Department (ED) charge nurse who confirmed stroke symptoms and called over Dr. Chapala. Dr. Chapala spoke to the amazing team work by all departments involved and how the entire team moved quickly to get Roland to imaging and on to SICU for the best care. Phil Lynn, ED RN, gave a humorous speech about his relationship with Roland and how he and his co-workers only wanted the best for him. Walt Weston, director of ED, spoke to how impressed he was when the entire Bayonet Point family came together to help raise money for Roland's care. Henk Rosheuvel, PT and Clinical Manager of Brooks New Port Richey, spoke to Rolando's 3-week stay at Brooks Rehabilitation Hospital in Jacksonville to his months of physical therapy in New Port Richey. Henk described how Rolando worked so hard he wore out two pairs of shoes.
Rolando walked up to the stage and did his best to fight back tears as he thanked each and every one who helped his progress and independence today.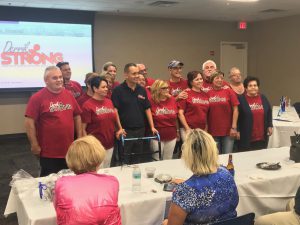 Derrik Amaral, a nurse assistant in Hernando County, Fla., was returning from his lunch break when a car struck his car from behind, sending him spinning. The same car hit him two more times. Derrik sustained a severe spinal cord injury due to a burst fracture of his C4 vertebrae. Chief Lopez, Hernando Fire & Rescue, told the story from the scene of a horrific crash. At first, it appeared there was no driver until he found Derrik in the back seat. He was stabilized and taken to what was then a relatively new Level II trauma Center Bayonet Point. Dr Soliman, neurosurgeon, explained via video how he removed bone fragments and stabilized Derrik's neck after multiple surgeries. Cyndy Maksymkow, PTA, gave an emotional speech about how Derrik would smile at her and try his best even during those worst of times. Dr. Tonuzi, Medical Director of the Spinal Cord Injury program at Brooks Rehabilitation, shared how hard Derrik worked and took on every challenge even in the darkest moments. After weeks of therapy in Jacksonville, Derrik came to outpatient therapy at the Brooks Hudson clinic. Maria McCurdie, OTR/L, spoke about how Derrik and his family inspired her, when it should have been the other way around. 
Derrik then spoke about his accident, his faith and the strength he pulled from his family and the support of his friends. When he finished speaking, he stood and took a few steps to show how far he'd come. 
"I truly believe this night displayed the teamwork between Brooks and RMCBP, our dedication and quality of care that we provide all our patients every day. Thanks to everyone who helped make this evening a success," said Michael Imbimbo, PTA, Brooks Director of Rehab at RMCBP.
Special thanks to our sponsors: Regional Medical Center – Bayonet Point, Hanger and the Prosthetics Clinic of Florida for the décor, food and beverages. Thanks also to the Brooks Clubhouse for creating the centerpieces for the events.