Demetris Brisby's Story of Recovery: Rare Disease Neuromyelitis Optica Couldn't Stop Her Smile
50 Year Anniversary
---
Dec 3, 2020
Brooks Rehabilitation is celebrating 50 years of caring in 2020. Throughout the year, we'll be sharing 50 Stories for 50 Years. These will include our history, patient stories, employee highlights and recaps of the many ways we've grown through the years to better serve our communities. Through five decades of rehabilitation, we have been privileged to assist millions of people achieve their highest level of recovery and participation in life.
Happily married for 35 years, Demetris and Tyrone Brisby raised a beautiful family and were enjoying life as grandparents. Demetris loves shopping and began collecting various items when she and Tyrone were first married. After many years, she amassed an extensive collection of unique items. "I try to find things that you won't see at anyone else's house," she said. But in June 2020, she almost lost the ability to see the treasures in her own home.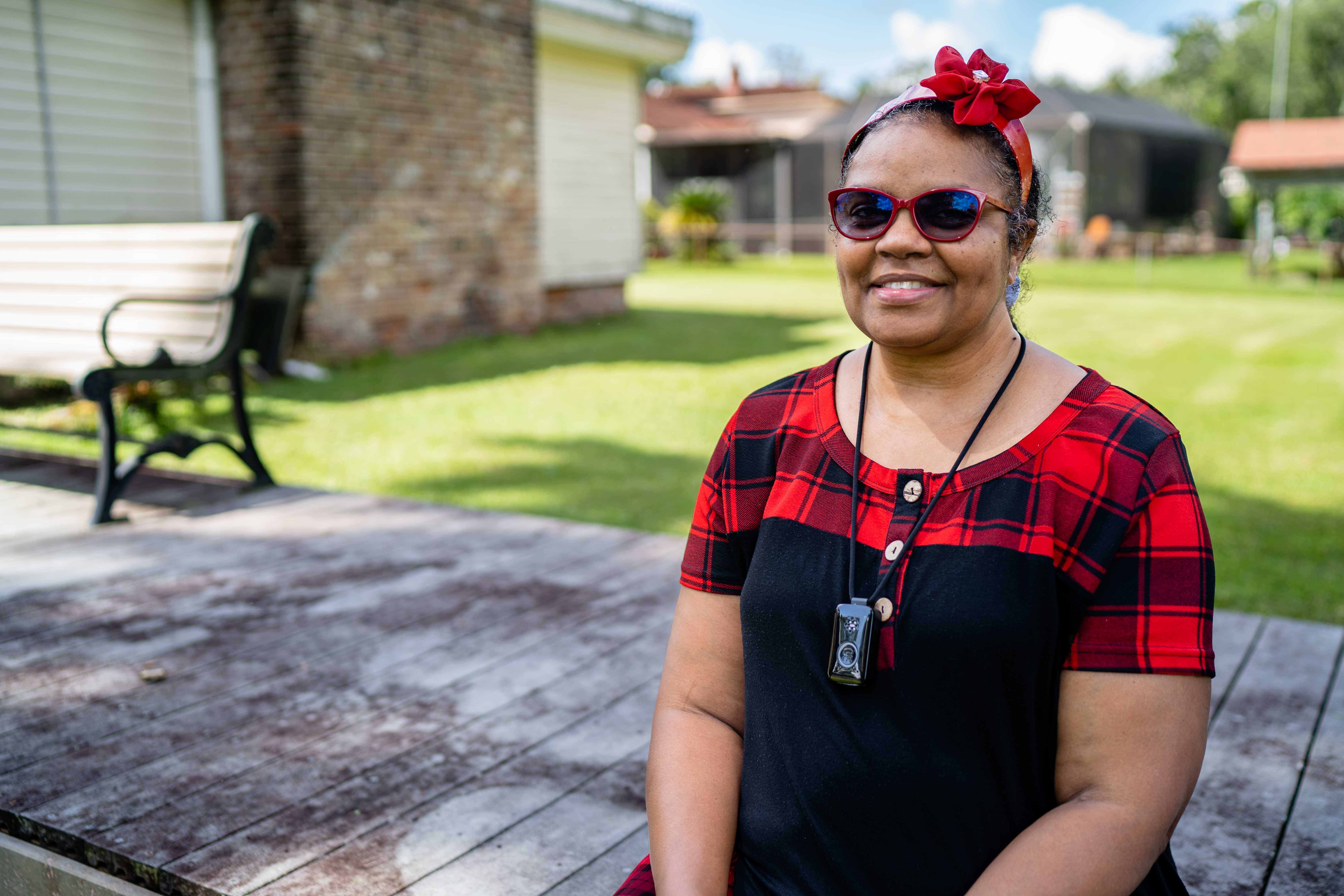 "I went to bed one night, and I woke up and I thought my hands were numb, like I fell asleep on them, but it was these three fingers on the right," Demetris said. By the next evening, her whole hand was numb and the tingling started on the other hand. In the morning, her arms, stomach, legs and feet were numb. She called her doctor who scheduled an MRI. After reviewing the results, he called Demetris and told her to come to the hospital immediately. Demetris and Tyrone already knew something was wrong because Demetris couldn't walk by the time they arrived at Memorial Hospital in Jacksonville, Fla.
Demetris was diagnosed with neuromyelitis optica, a central nervous system disorder that primarily affects the eye nerves and the spinal cord. If Demetris hadn't gone in for care when she did, she could have been left permanently blind.
"It was hard and difficult to accept that because it is a very serious disease, a very rare disease. And to see her up and around with the kids and grandkids and myself being normal to just all of that taken away overnight. Within days, she went from being independent to dependent on me for everything, even the little minor things that you take for granted, she couldn't do," said Tyrone.
"They showed me the MRI and they said it's almost to my brain. And if it reached your brain, that's not good. So they progressively put me on real high doses of medicine just to get the inflammation down," Demetris shared. She was put on prednisone and heavy doses of pain medication because the nerve pain was excruciating. Brooks Rehabilitation clinicians working within Memorial Hospital began therapy soon after she arrived, which has been shown to improve a patient's recovery.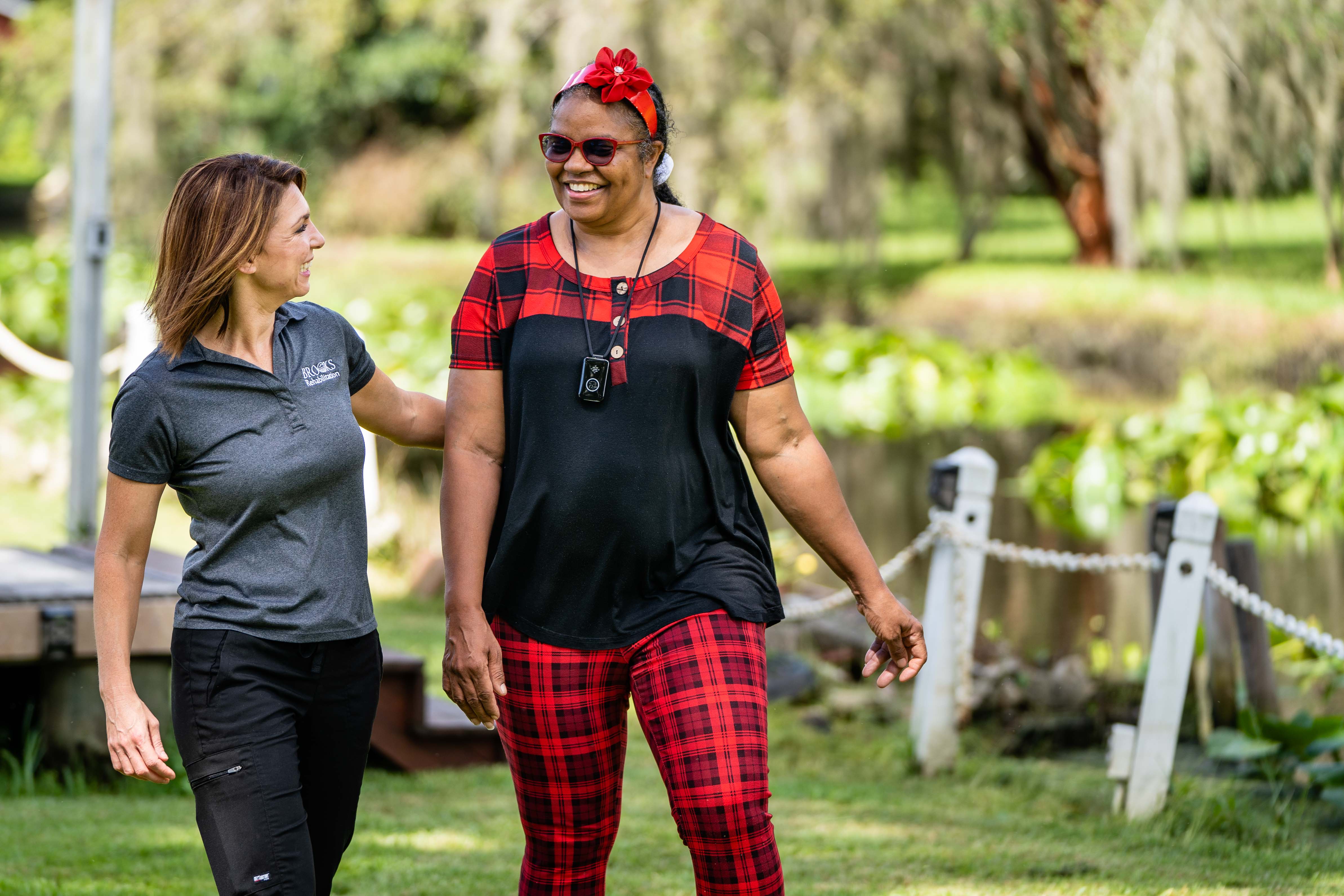 "Brooks came in every day and worked with me and gave me rehab and worked with my hands and worked with my legs and my feet. They got me out of the bed and they helped me get in the chair and reclined me up. They just did all kinds of stuff and I appreciate Brook working with me," said Demetris. With hard work, Demetris was able to walk with a walker and ultimately on her own when she left the hospital.
She was thankful to be able to return home to her family and her collections. While in the hospital, she kept an eye on her museum-like home through cameras inside and outside. "I even did a little shopping. As soon as I could move a finger, I could purchase things online," she said with a smile.
Demetris struggled at home though. Her legs and hands were still weak. She couldn't brush her hair. She was told not to use a knife or cook because she might burn herself. Her walking was unsteady and she would fall frequently. Once she fell and stayed on the floor for hours until Tyrone found her. At that point, her daughter suggested she contact Brooks for home health care. Since Demetris' immune system is weakened right now because of the neuromyelitis optica, she was thankful to have Brooks come to her house to do occupational and physical therapy.
"My occupational therapist is working with my hands and my arms to strengthen them and physical therapy is working with my legs and walking with me and helping me doing squats and hard stuff. I'm getting better and better and better each day. I'm counting my blessings," Demetris said. Demetris was also given an alert button to wear in case she does fall again. She feels at ease knowing her Brooks team will be there the minute she calls. Thankfully she hasn't fallen in over a month.
"There's no overnight cure for her disease. There's a lot of pain involved, a lot of medication, a lot of follow-up, a lot of therapy. And what really shocks me really about a lot of this is that her attitude is so positive. I was like, wow. I mean, most people would just have a meltdown. She remained positive even as of today, just totally positive," said Tyrone. "Just a few months ago when she was diagnosed, she couldn't move anything. And to see her walking now and moving around, laughing and being somewhat back to her normal self is truly a blessing," he continued.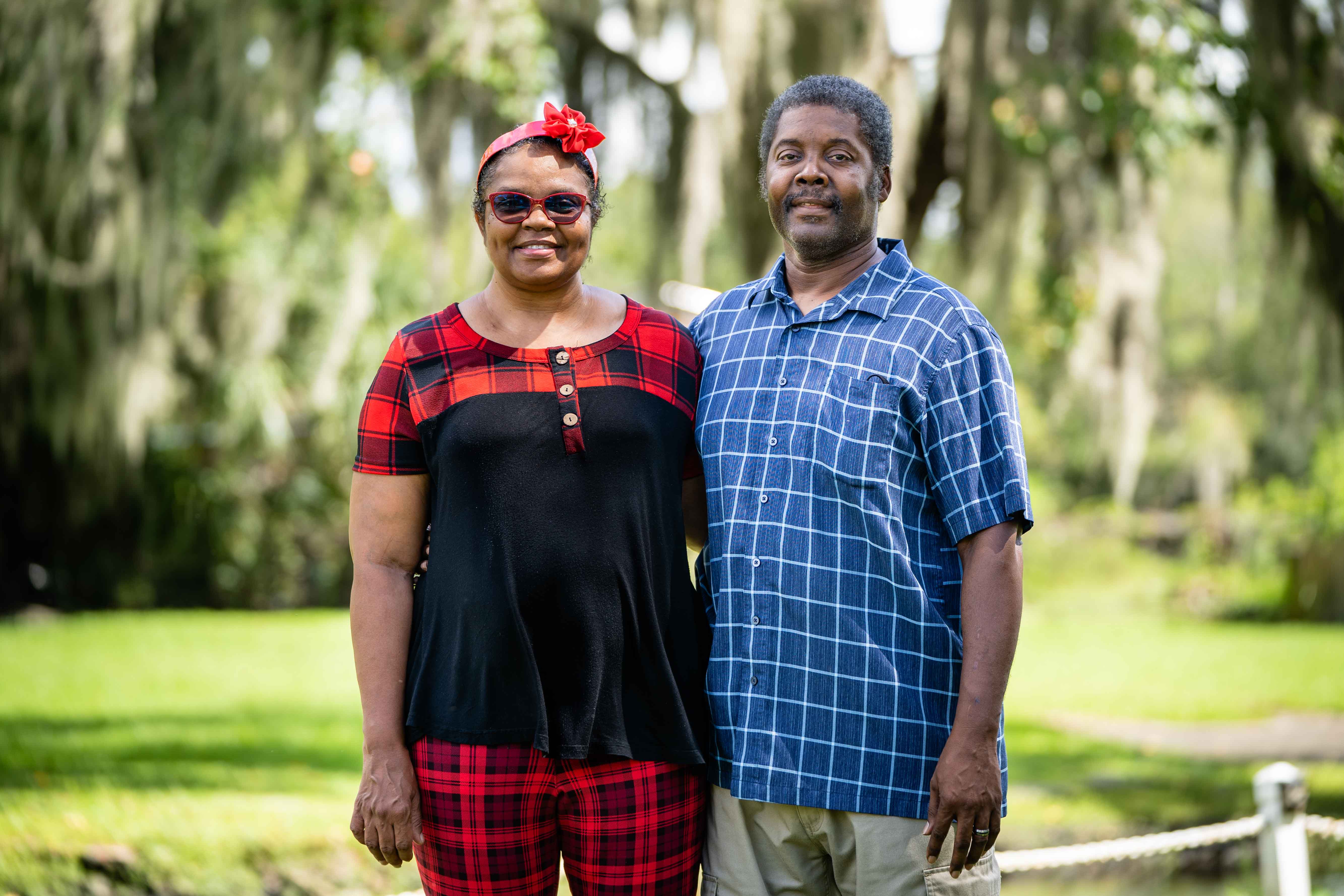 Demetris is excited to be able to sweep and dust her collectibles again, things most people consider a chore. "I would definitely recommend Brooks for rehab for anyone that needs it. Brooks is really encouraging and helped me along the way," she said. "You're not the normal person that you used to be. Now you've got a new life, but you got to get used to it and keep going. And my spirit is still up and I still smile and keep going because I got a life, I got a life to live. I'm able to get up in the morning. And I'm just a walking miracle. That's what I am. A walking miracle."
Brooks Rehabilitation Home Health focuses on providing the best patient care with a personal touch. We take great pride in providing professional, compassionate and reliable services, and our team is committed to ensuring an excellent experience with every visit. Brooks Rehabilitation Home Health is a Medicare and ACHC-Certified Home Care Agency with stellar patient care and great outcomes.