As Brooks Rehabilitation Celebrates 50 Years, We Remember J. Brooks Brown, MD
50 Year Anniversary
---
Jan 7, 2020
Brooks Rehabilitation is celebrating 50 years of caring in 2020. Throughout the year, we'll be sharing 50 Stories for 50 Years. These will include our history, patient stories, employee highlights and recaps of the many ways we've grown through the years to better serve our communities. Through five decades of rehabilitation, we have been privileged to assist millions of people achieve their highest level of recovery and participation in life.

January 2020 marks the start of our celebrations for Brooks Rehabilitation's 50-year anniversary. The tremendous growth and excellent care we provide for our patients began with a vision from our namesake, J. Brooks Brown, MD.
J. Brooks Brown was born in the small farming town of Hurtsboro, Ala., in 1920. His mother was a nurse, his father a pharmacist, and Brown knew early on that medicine was going to be his life. He earned his undergraduate degree from the University of Alabama and medical degree from Tulane University. After service in the U.S. Army Medical Corps as a captain, Brown completed his surgical residency at St. Luke's Hospital in Cleveland, Ohio, and a thoracic surgery residency at the Medical College of Virginia. In 1953, he, his wife Helen and their two children arrived in Jacksonville, Fla. For 30 years, Dr. Brown was in private practice in general and thoracic surgery. 
Transformational leader Dr. Brown was a risk taker, an innovator, a civic leader and philanthropist who was committed to improving North Florida's quality of life. A shortage of hospital beds in Jacksonville, Fla., was the catalyst for him and fellow physicians to build Memorial Hospital in 1969. In the early 1980s, Dr. Brown oversaw the hospital's acquisition of bed licenses from Cathedral Rehabilitation formed in 1970. He was passionate about advancing health care and led an effort to build a freestanding, nonprofit rehabilitation hospital that opened in 1994, ultimately named Brooks Rehabilitation in his honor. He served as its president and CEO through 2002 and on the board through 2005.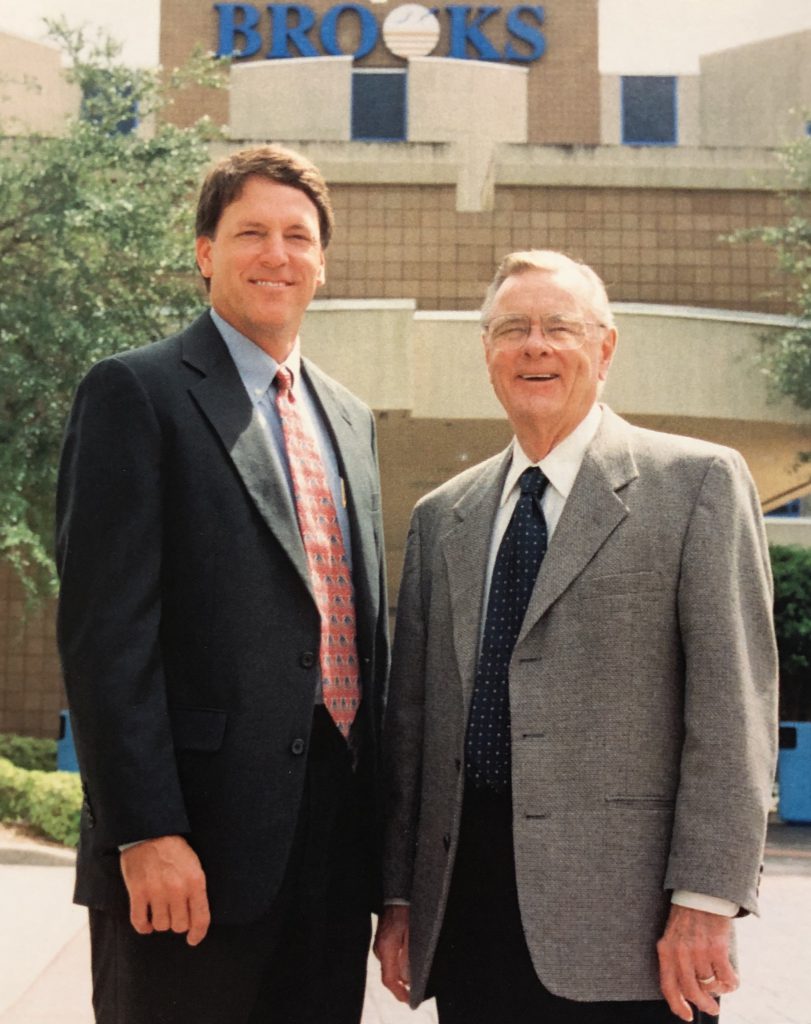 Doug Baer, Brooks Rehabilitation CEO, shares a little about the person he knew and the continuing influence Dr. Brown's vision and values have today.
What was your first impression of Dr. Brown? 
He was a "larger than life" person and admired in the community. He was a big picture guy – just one of the things that made him unique. He didn't delve into operational details – he had a unique way of focusing on strategy, the big picture and the future. If we were discussing Jacksonville and its population growth, he would talk about Florida. If I talked about Florida, he'd talk about the U.S. He taught me to elevate my thinking.
Dr. Brown was a practicing surgeon for years. What made him passionate about rehabilitation? 
When we acquired the rehabilitation beds in the early 80s, rehab was not very well understood. But he realized the importance and value of rehabilitation after surgery and knew it was going to be more and more important in the future.
Did he feel its importance from a medical sense or business sense?
Both. Interestingly, Dr. Brown would relate and apply his views and experiences from medicine, and the human body, to business. The human body is a system, something wrong in one part means the whole body will not function as well as it should. He related business principles in that way – the system of care a person needs should include prevention, recovery and rehabilitation to function the way it should. Healing involves both physical and psychological aspects.
How are Dr. Brown's interests in those aspects of healing reflected at Brooks today?
It has carried over in a very important way for what we do now and will continue doing into the future. We have invested in and grown what you can call "after-care" programs that are as robust as any in the country. These include our Neuro Recovery Centers, the Brain Injury Clubhouse, the Adaptive Sports and Recreation Program, the Aphasia Center, wellness programs, support groups and more. These keep people engaged – physically, psychologically and socially – and are all part of the whole system of care. The more you can have systems function well and be coordinated, the better outcomes you'll have. 
Innovation and continuous learning are two of Brooks' core values. How were they inspired by Dr. Brown? 
To his core, Dr. Brown believed change was the only constant. The world is always changing, and he inspired others to embrace that change. He understood the importance of testing new ideas and treatments options, heavily influencing Brooks' commitment to research and technology. He believed in innovation – we shouldn't wait for things to happen, we need to create them and be on the cutting-edge. He was a strategic thinker, a collaborator and a proponent of continuous learning. 
You called Dr. Brown "a true servant leader." Can you expand on that?
What stood out the most for me was how he treated people. He respected everyone in the organization – at every level.  For him, leaders remove obstacles for the people doing the work and help them accomplish their tasks.  
When I was first appointed CEO, I thought it would be a good idea to visit with our employees and ask them what was going well and what we could do better. I asked Dr. Brown to go with me. We visited with our employees at each location, and I watched how he interacted with them. He was always engaging, a good listener who asked questions and was genuinely interested in the answers. He treated each person we met with grace and respect. As we traveled to different locations, we talked about life, business, the world and an array of topics. I was like a sponge soaking up everything he shared. I didn't realize then what a lifelong impact this experience would have on me.
As we move forward, we have Brooks employees who never worked with or even met Dr. Brown. How do you help them to appreciate and adopt what he stood for? 
I talk about Dr. Brown to our management team, his philosophies and values, the way he thought about things. I share the spirit Dr. Brown set for us, so we understand and remember what we're building on. Ultimately, it becomes the way we operate and do things as an organization – it's our culture. He was an inspiration to all who were privileged to know him. I know he is proud of the work we are doing. His vision will live on through all of us.
For more about Dr. Brown, please visit these resources:
In Honor of a Dedicated and Driven Servant Leader – Brooks Rehabilitation
Just what the pioneering doctor ordered – Jacksonville Business Journal
Dr. J. Brooks Brown – The Story of a Medical Legend – North Florida Doctor magazine