Patient Highlight: Antonio McCoy
Beyond Magazine
---
Dec 8, 2021
Antonio McCoy went from being a lead chef with a national restaurant brand, husband and loving father to homeless and alone within a year. He had a series of three strokes that changed his life forever.
Physically and cognitively, Antonio improved. The strokes, however, caused oral-motor apraxia. Apraxia is a speech sequencing disorder. According to the National Institute of Health, "the brain knows what it wants to say but cannot properly plan and sequence the required speech sound movements." It affects each person differently, sometimes only affecting a few speech sounds, and in severe cases such as Antonio's, it can leave someone unable to speak at all.
Antonio moved to Jacksonville, Fla. to be near his two children after his divorce, but his disability left him with a very limited income. He could afford his car payments so his car became his home.
Antonio started speech therapy at Brooks Rehabilitation to help with his apraxia. His speech-language pathologist told him about the Brooks Clubhouse and recommended he join. The Brooks Brain Injury Clubhouse is a full-time day program that provides for the long-term recovery needs of individuals who have experienced an acquired neurological/brain injury, such as a stroke.
Working side-by-side with professional staff, members run every aspect of the clubhouse including meal planning and preparation (culinary work unit), business office work unit, facilities maintenance and product production. Having been a lead chef, Antonio was drawn to the culinary work unit. "His work ethic was amazing," said Clubhouse Manager, Kathy Martin, M.Ed., CRC, CPCRT, CBIST. "He reorganized our entire kitchen and helped keep everything running smoothly."
The Brooks Clubhouse also helps prepare members who are able to re-enter the workforce. Mona Taylor-Gordon, Clubhouse Work Unit Supervisor, helped Antonio prepare for an interview with a chef at Morrison's, who handles food services for Brooks. Based on his exceptional organizational skills, Antonio was given a job in the dietary department helping keep the supply rooms on the hospital floors stocked for the patients and nursing staff.
With this additional income, Clubhouse staff helped Antonio find a studio apartment. Other members donated furniture and helped him move in. Antonio was able to start cooking again and shares that his favorite meal to make is lasagna.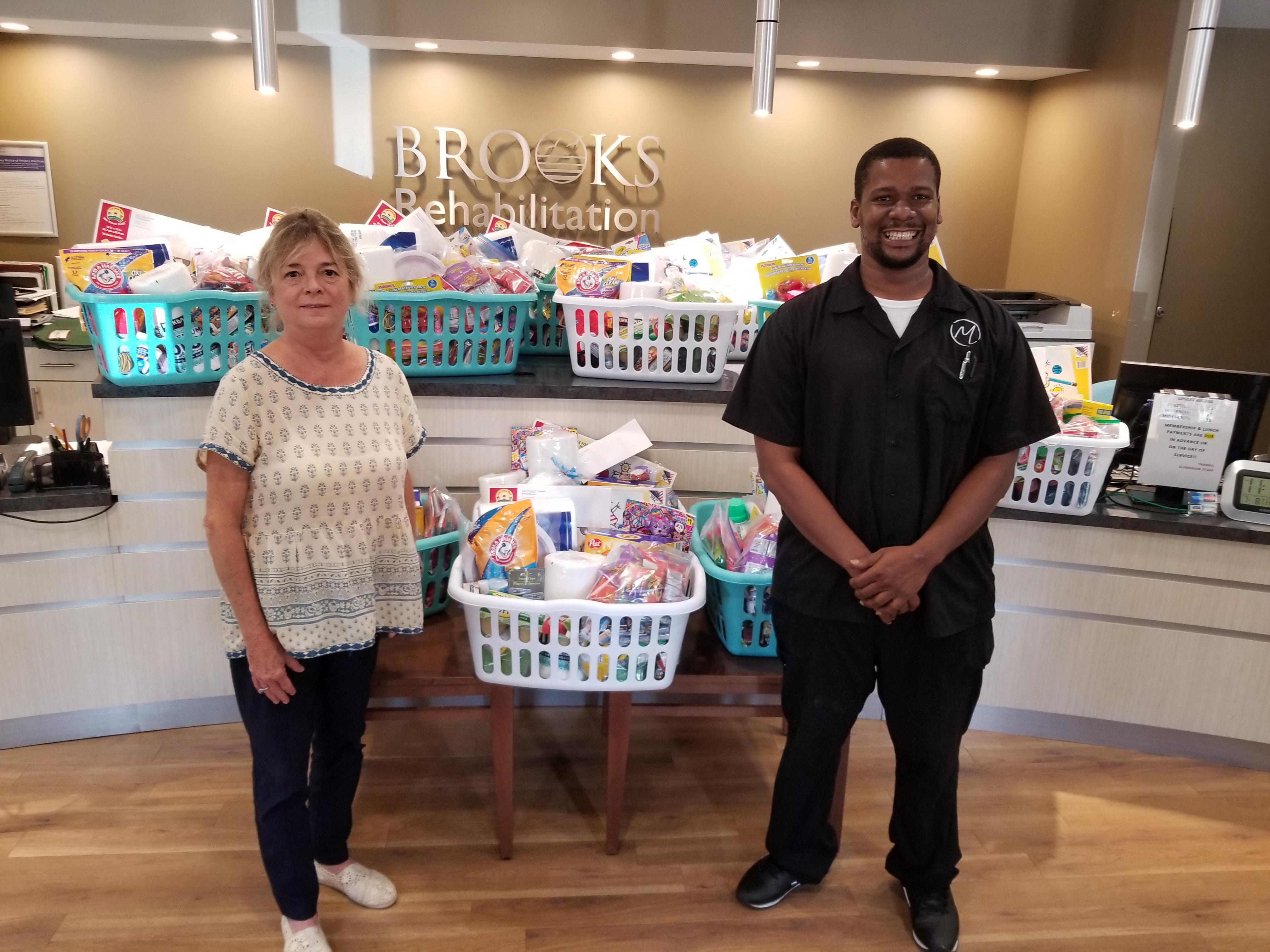 Antonio was so grateful for the support he received that he committed to supporting others. He would share leftover food and donations with the homeless community where he once belonged. He had a full BBQ lunch catered for the Clubhouse members and also recently led a donation effort for a group called Fostering Hope. He saved from his limited funds to purchase needed supplies for 12 foster families. Brooks Clubhouse members made gifts of activity books and crayons to go in the supply baskets and Clubhouse staff donated gift cards.
Although Antonio's speech is still limited, there is one phrase he's perfected and uses often – "Thank You!"