Patient Story: Alese Hairston's Miraculous Recovery from Brain Injury
Beyond Magazine
---
Aug 31, 2023
Alese Hairston has been through a series of second chances in life. She got a second chance at love when she and her husband Fred reconnected on Facebook 30 years after meeting in high school. And now she has a second chance at life after a series of complications left her unresponsive and on the verge of hospice care.
Alese's remarkable story started on April 1, 2022, when she went to the emergency room at her local Mississippi hospital for dehydration, dizziness and nausea. While in the ER, she fell from a stretcher and hit her head causing a subarachnoid hemorrhage (bleeding in the space around her brain) and hydrocephalus (a build-up of fluid in the cavities within the brain). She was airlifted to University of Mississippi Medical Center (UMMC) where she was put into a medically-induced coma, put on a ventilator and had a ventriculoperitoneal (VP) shunt placed to drain the fluid.
Alese was discharged home Memorial Day weekend and was "almost walking" her husband said. Her shunt then failed and from there "it was one setback after another," said Fred. Over the next five months, Alese and Fred truly lived through a nightmare.
Alese had multiple surgeries due to complications with her VP shunt. She developed sepsis, a sacral wound with osteomyelitis, multiple infections and was on a ventilator. She was transferred back and forth from the ICU at UMMC to a Long Term Acute Care Hospital (LTACH) and was now "basically unresponsive," said Fred. He was told there wasn't much hope and plans were underway to transition Alese home with hospice services…until fate intervened.
"I needed dog food and randomly stopped at a Walmart in Tillman's Corner, Ala., with our Yorkie. A couple stopped to pet the dog and we struck up a conversation," said Fred. "We talked awhile and I eventually shared Alese's story. They asked me if I ever heard of Brooks Rehabilitation in Jacksonville, Fla. I never got their names, but I'm not sure they were real. I honestly believe they were angels sent to help us."
"I received a referral from an LTACH in Mobile, Ala., in October," said Wendy Morris, MSN, RN, Brooks Regional Liaison. "As I read and reviewed Alese's medical records, I thought this couldn't possibly have all happened to one person."
Fred wanted to make sure he gave Alese every opportunity to recover. His gut was telling him that she was "in there" and trying to get out. He wanted her to have the ability to start to respond to others, to express feelings, to begin to follow commands and have quality of life.
"After talking with Fred, I spoke with our medical team at Brooks. It was decided that we would admit Alese to our Disorders of Consciousness (DoC) program to see if our team of brain injury experts could make a difference and help Alese emerge," said Morris. "What did we have to lose? Fred already agreed to hospice. If we brought her to Brooks and she made no gains, we could at least provide education to Fred and emotional support through our neuropsychology team to help make the transition home with hospice easier and more bearable. And Fred would at least have the satisfaction of knowing he had given Alese every opportunity."
But Fred truly believed that Alese would recover. "Why would God allow me to meet a random stranger in Walmart in Tillman's Corner, tell me about Brooks Rehabilitation Hospital and not provide the miracle?"
Miracle or clinical expertise can be debated, but Kenneth Ngo, MD, Medical Director of Brooks Rehabilitation Hospital – University Campus, Medical Director of the Brain Injury Program & Brain Injury Day Treatment Program, claims Alese "made a remarkable recovery, like top five in my entire career for someone with such severe debility and injury."
Alese was admitted on Oct. 31 to the DoC program. On the morning after her admission, she received a DoC team evaluation, with all members of her rehabilitation therapy team, led by Clinical Neuropsychologist, Angela Colaiezzi, Psy.D., in order to provide Fred with an accurate picture of where Alese was at in her recovery.
As Amela Trako, Brain Injury COTA/L, CBIS, BSH, shared "She needed 100 percent help for all self-care and often even a second person to assist, extensive wound care requiring a wound VAC, tube feeing for all nutrition and trach care. She truly had all disciplines working together throughout her recovery."
The team soon learned that Alese was indeed "in there." She first began to track with her eyes, then started moving and responding on command. She emerged from a DoC state a short time after that. Her clinical team began working on strength building and swallowing. Alese started to mouth words with no sound and then progressed to a whisper before starting to talk again. They consulted with the Brooks Low Vision Center to help with her visual challenges.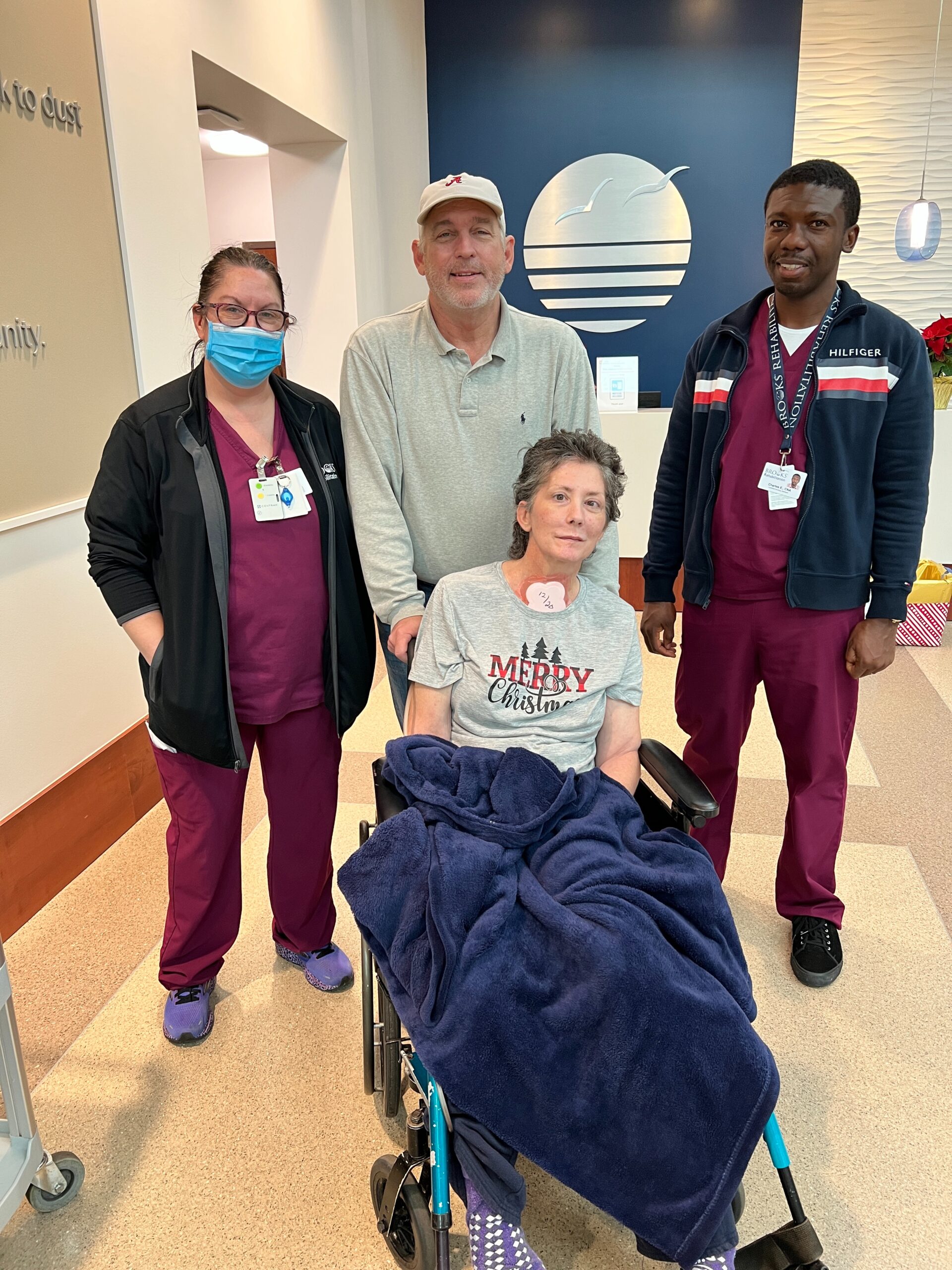 When Alese was discharged home right before Christmas, she just started taking steps using a specialized Arjo walker to support her. She was also stating meal trials and intake with her speech-language pathologist.
Hannah Sabourin, MSOT, OTR/L, said "Alese is a warrior! She manually propelled her wheelchair 15 feet with only 25 percent assistance. She was able to feed herself with supervision, wash her face, comb her hair, wash her hands and brush her teeth with less than 25% assistance."
"Once we arrived at Brooks, there was never a plateau, just a steady incline in her abilities," said Fred. I truly believe it was divine intervention that led us to Brooks. Obviously, HE has bigger plans for my beautiful wife!"