The Need for Aphasia Treatment Centers is Growing in Jacksonville
Clinical Expertise
---
by Jessica Ward | Jun 26, 2023
Medical Reviewer:
Madelynn Adams, CCC-SLP
Last Updated:
June 27, 2023
Over 2 million people in the United States have aphasia. It affects nearly 180,000 Americans each year, according to the National Aphasia Association. While this disorder is more prevalent than multiple sclerosis or Parkinson's disease, the majority of the population remains unaware of this impairment.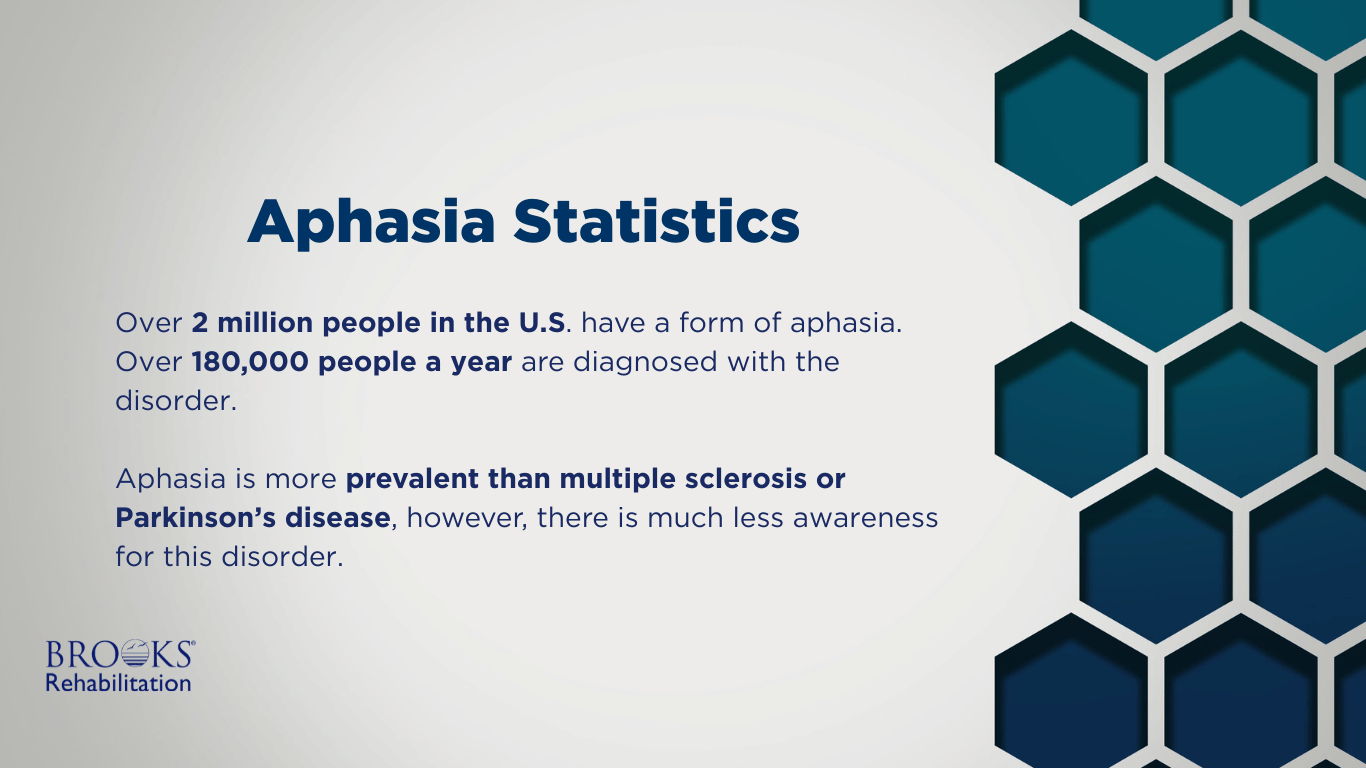 Definition of Aphasia
Aphasia is a condition that can occur after a brain injury. Most commonly after a stroke, head trauma, tumor or infection. There is a rare form of aphasia, known as primary progressive aphasia (PPA). It is a neurologic condition that causes a person's language capabilities to become slowly and progressively impaired over time. Actor Bruce Willis was diagnosed with PPA, which has increased awareness of aphasia in general.
There are seven different types of aphasia.  However, at its core it generally affects one or more language modalities such as talking, reading, writing or understanding spoken language. It is important to remember that even though a person is impaired, their intellect is not affected.
After the initial recovery phase from the medical condition, many patients see a significant return to their speech. They often need additional intensive therapy to regain more of their language abilities or learn new ways to communicate.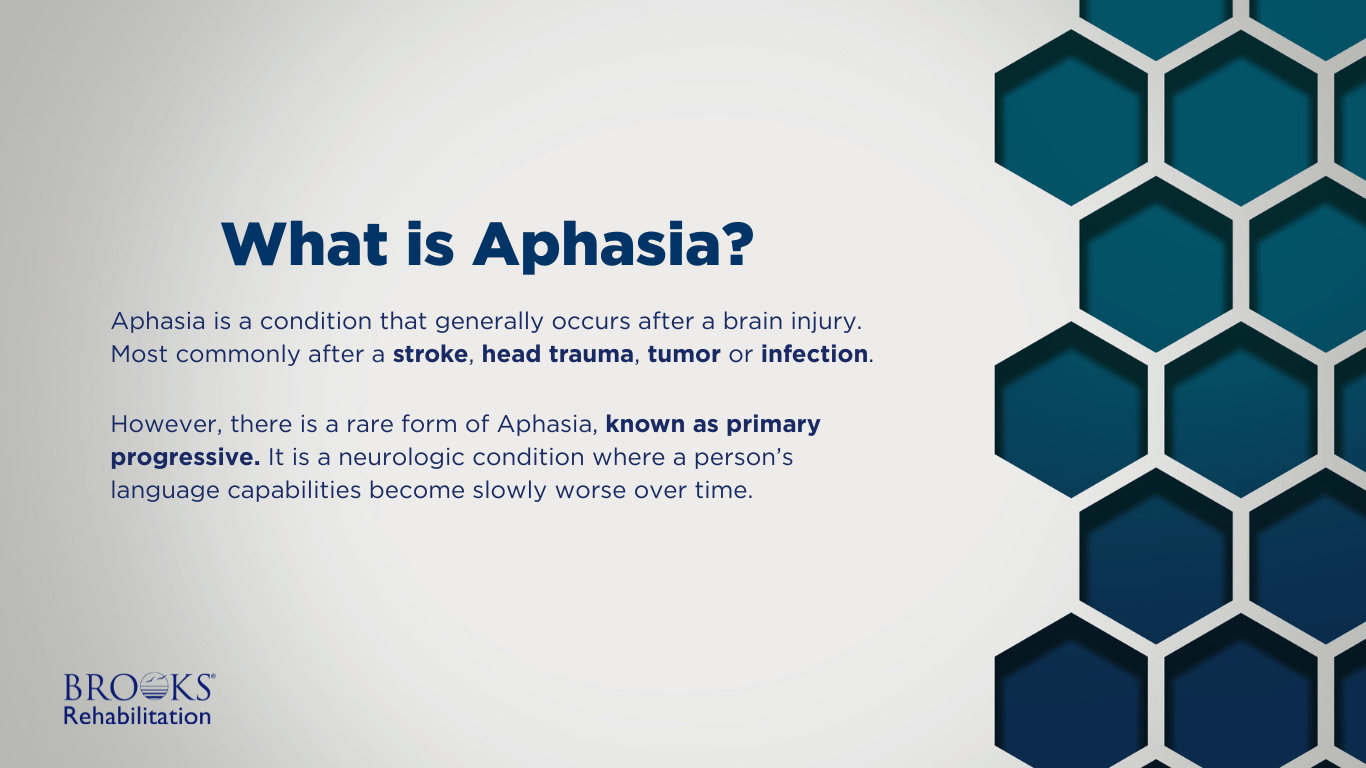 Experiencing Aphasia
Having aphasia is similar to suddenly being dropped into a foreign land with no way to communicate. The written symbols and spoken words are meaningless to you. You can't order off of a menu or communicate with people. You are still the same person as you were before and your intellect is intact, but you are unable to share your needs or thoughts.
Continued Treatment Helps Improvement
Although aphasia has no cure, individuals have an opportunity to improve over time through speech-language therapy and continuing to participate in life and conversation.
Aphasia Centers help with ongoing treatment and therapy after patients are discharged from the hospital. The group setting helps reduce barriers to communication and increase confidence and socialization.
A research study conducted by Brooks Rehabilitation and Columbia University has found that participation in these treatment centers can result in significant changes in language, functional communication and quality of life.
Expanding Treatment Services Locally
As part of its comprehensive system of care, Brooks Rehabilitation has developed an aphasia center for patients after they are discharged from the hospital. The center focuses on providing people with the disorder the opportunity to re-engage with life and get back to the things they love.
Since its launch, the center has served people from across the globe with patients coming all the way from Canada and even Abu Dhabi.
Now, the Brooks Aphasia Center (BRAC) is expanding with a satellite center at its outpatient clinic in Orange Park. And the need for the additional center location on the First Coast is evident, according to the center's aphasia program manager.
"I have about 20 to 25 members, broken into two groups, that come once every week for an hour and a half each time,"  said Madelynn Adams, CCC-SLP,  a speech-language pathologist who runs the program at the Orange Park site. "Right now the groups are free, and it has grown really quickly."
According to Adams, many of the members come regularly and they have all become friends. She has seen firsthand how effectively the community and group environment created by the center has naturally stimulated conversation and communication.
"I've had people in therapy that can't get a single word out, but when they're in a group setting it feels like they naturally can talk," said Adams. "I think that communicating and connecting with people is just really important for this population, and that's what we stress at the BRAC."
Why Aphasia Centers are Important
Adams notes that studies show depression in aphasia patients increasing up to 70%, compared to 10% in the general population. BRAC and its satellite locations work to make people's lives better through social communication in a place where they feel comfortable communicating.
"A lot of people lost their jobs, their spouses. They felt like they did not serve the same role in their family," said Adams.
Adams, who had the desire to help aphasia patients when she majored in communication sciences and disorders as an undergraduate, said her mentor once shared with her that people with aphasia feel like they lose so much of their identity quickly due to the loss of language.
"I joined a research lab for aphasia, and my mentor was doing a project focusing on how you lose so much of your identity, so quickly, with a loss of language," said Adams. "I found myself interested in this vulnerable population and making them feel like they still have a purpose and that they can still have the life that they want.
Her experience led Adams to prefer the Life Participation Approach for aphasia, which is what BRAC practices. This approach is more about reintegrating people back into their community instead of just a singular focus on getting better.
Celebrity News Brings Awareness and Struggles
Awareness of aphasia has increased after actor Bruce Willis' recent diagnosis. And, while awareness of the disorder is a good thing, the actor's struggles have raised issues that Adams says need clarification for the general population.
"I know there's been a lot of confusion with the news of Bruce Willis," said Adams." Some patients at the BRAC have said they've had trouble going back to work because people think they're going to have cognitive problems. Cognitive decline isn't a part of their form of aphasia."
As mentioned before, Willis suffers from primary progressive aphasia, a much rarer form of aphasia caused by a neurodegenerative disease such as Alzheimer's or Frontotemporal lobar degeneration. PPA is a neurological syndrome where language capabilities become slowly and progressively impaired. It starts with language problems and as the brain tissue deteriorates, cognition may be affected.
BRAC does have members with primary progressive aphasia, and Adams notes that the programs are also beneficial for them.
Find a Treatment Center Near You
Brooks Rehabilitation Aphasia Center is located in Jacksonville, Fla., but has attendees from around the globe. The center utilizes the latest research and recovery options in both an individual six-week icap program and community group settings.
For a list of other intensive aphasia treatment centers and camps, visit the American Congress of Rehabilitation Medicine here or the National Association for Aphasia here.
This article was written in conjunction with June being Aphasia Awareness Month.