Medical Reviewer:
Jodi Morgan, CCC-SLP
Last Updated:
April 19, 2022
What is Aphasia?
Aphasia is an impairment of language, affecting the production or comprehension of language and the ability to read and/or write. Aphasia is usually caused by a stroke or brain injury, however it does not affect intellect.
If you have aphasia, the Brooks Rehabilitation Aphasia Center (BRAC), can help. We are dedicated to helping you achieve your highest level of recovery and participation in life. We are committed to providing support, education and training for you or anyone else who is important to you including family members or caregivers.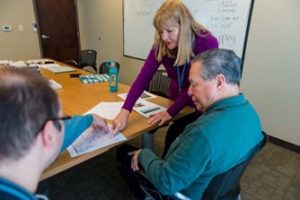 We leverage the latest research and recovery options – in both individual and group settings to provide opportunities to enrich communication skills. BRAC programs focus on helping restore connections with family, friends and community. BRAC programs encompass the Life Participation Approach to Aphasia.
We offer two specific programs, both a community (social communication group) and a six week Intensive Comprehensive Aphasia Program (ICAP).
Community Aphasia Program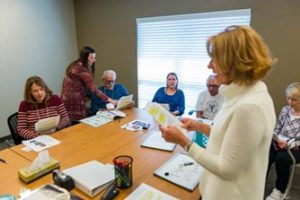 The BRAC community aphasia program provides an opportunity to connect with others with aphasia through interactive and creative programs, groups and activities in a supportive community environment. This program encourages multi-modality communication techniques and increases confidence to help live successfully with aphasia and learn new ways to communicate. The program provides an aphasia-friendly environment to help build relationships with others with aphasia, families and communication partners.
The community program provides a matrix of coordinated group activities led by licensed speech-language pathologists. These activities are designed to encourage group learning, communication skills and social exchange. Some examples include:
Conversation corner
Advocacy
Newsletter production
Book and movie clubs
Creative writing
Arts, crafts and gardening
Exercise and wellness
Computer and assistive technology labs
Electronic communication and social media
Storytelling
Hot topics in the news
Famous faces
Community outings to local events, restaurants and businesses
Communication partner training and support groups
Education and Volunteer opportunities
Virtual aphasia groups
The Community Program offers a yearly program with groups available from 9 a.m. to 2 p.m. You or any family members may participate in this program for as long as interested.
Intensive Comprehensive Aphasia Program (ICAP)
This six-week intensive individualized program runs five days a week from 9 a.m. to 2 p.m. It provides an immersive rehabilitation experience that includes:
Comprehensive aphasia assessments and recommendations specific to communication goals
Evidence-based individualized therapy
Group and social communication groups
Community re-entry and life participation activities
Communication partner/family training and support
Outcome/improvement reports
Lunch daily (therapeutic language based lunch)
Integration of electronic programs and applications for computers, cell phones and tablets individualized to meet specific needs of the individual
Individualized home treatment, training, virtual aphasia groups and carryover home programs
This program is run by highly specialized, trained speech-language pathologists and is available to anyone with aphasia, regardless of the time post onset of their neurological event. Communication partner participation and training is an integral part of this program.
Highly Specialized Staff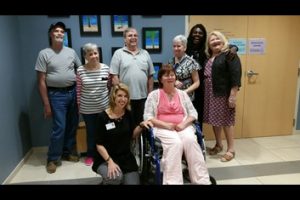 Regardless of the program, members are cared for by a designated team of experts in aphasia recovery. Our clinicians are among the top in their field, and actively participate in clinical research and education on both the local and national levels. Our staff and network of services include:
Education and Training Programs
Both programs include communication partner training and education components such as:
Communication partner training
Counseling
Education on stroke, aphasia and communication disorders
Computer lab, applications and resource library
Support groups
Community education and outreach
Advocacy
Research initiatives at BRAC are led by nationally recognized leaders in Aphasia recovery and focus on the understanding of best practice care and support through the collection of outcome data and observation.
Purpose
The Brooks Rehabilitation Aphasia Center is dedicated to helping those with aphasia achieve their highest level of recovery and participation in life. We are dedicated to providing support, education, training and friendship for those with aphasia and their families.
Who can join
Anyone 18 and older who has a diagnosis of aphasia can join. The individual must be able to toilet and eat independently and participate in 5 hours of language rich activities.
Benefits of joining
Brooks rehabilitation Aphasia Center connects people with aphasia and their families to rebuild self esteem, improve communication, provide training and tools, education and communication access in the community.
Contact us
For more information, email [email protected] or call (904) 345-6780. For our address and driving directions, visit our Brooks Rehabilitation Aphasia Center location page.
Additional Websites & Resources
Aphasia Hope Foundation
AHF was founded in 1997 as the result of a personal experience of an aphasia survivor and his caregivers. After consulting professionals and researching available literature, they found it very difficult to obtain even the simplest information on aphasia.
National Aphasia Association
The National Aphasia Association (NAA) is a non-profit organization founded in 1987 by Martha Taylor Sarno, MA, MD as the 1st National organization dedicated to advocating for persons with aphasia and their families.
Our goal is to provide access to research, education, rehabilitation, therapeutic and advocacy services to individuals with aphasia and their caregivers. The NAA acts as a syndicate of resources, promoting sense of community among individuals and caregivers.
American Heart Association
Our mission is to build healthier lives, free of cardiovascular diseases and stroke. That single purpose drives all we do. This site provides information about stroke and aphasia.
ASHA
American Speech Language Hearing Center site that has information on stroke, aphasia, apraxia, providers and ways to improve communication and much more.
Aphasia Access
We empower busy healthcare professionals faced with the difficult task of giving or getting reliable information from someone struggling to communicate. We help speech-language pathologists deliver reimbursable, person-centered aphasia treatment.
Aphasia Alliance
The Aphasia Alliance is a coalition of key organizations from all over the UK that work in the field of aphasia.
Aphasia Recovery Connection
ARC is an award winning nonprofit organization for people with aphasia, families and professionals. The mission is to connect people via articles, events and interactions and end isolation in aphasia. Found on Facebook, online and via phone at (702) 336-0200.
Aphasia Institute
The Aphasia Institute and website is a community-based centre of excellence, pioneering programs and practices that help the 100,000 Canadians with aphasia learn how to communicate in new ways so they can re-join life's conversations.
Aphasia Toolbox
Founded by Bill Connors in 2005, Aphasia Toolbox is the official website of the Aphasia Center of Innovative Treatment, inc. Therapy tasks on line, information, newsletters and conferences. Aphasiatoolbox.com is the world leader in providing innovative tools, techniques, software and self-help materials for aphasia treatment and intensive practice. Consumer and Speech Pathologist members of aphasiatoolbox have full access to these tools in order to truly exploit neuroplasticity in order to maximize their recovery from Aphasia and related disorders
Aphasia United
The Aphasia United site lists 10 best practice points and treatments for people with aphasia. It is a national site that features information from across the world.
Speech Bite
SpeechBITE is a database of intervention studies across the scope of speech pathology practice. Founded in 2008.
Understanding Aphasia
onlinespeechpathologyprograms.net/aphasia-speech-language-disorders/
These sites provide information for speech-language pathologists and their patients on a wide range of symptoms, causes, and side effects of aphasia and other neurological speech-language disorders. This list isn't a ranking of these sites, but a broad overview of some of the most reliable online information resources covering speech-language disabilities.