Turning a Personal Tragedy into Safer Streets for All
Patient Experience
---
Nov 21, 2019
"As unfortunate as it was that he got into the accident," said Barak Alexander of his son, Elijah, "he was just as fortunate to have received the care he did. He's still with us, to hug and hold. It's a blessing."
In the early afternoon of May 1, 2018, 22-year-old Elijah Alexander was riding his motorcycle when a driver ran a red light and crashed into him. The accident occurred at Gulf to Bay Boulevard and Belcher Road in Clearwater, Fla., which news reports say is one of the most dangerous intersections in Pinellas county. Elijah was wearing a helmet, and first responders happened to be nearby and rushed him to a Level II Trauma Center, all factors that saved his life. Elijah spent the next 24 days in a coma, and the Alexander family wondered what the next steps would be. It was then that Brooks Rehabilitation entered the picture.
"Our case manager spoke with a Brooks liaison who was at the hospital," said Mr. Alexander. "I had no clue what Brooks Rehabilitation Hospital was. It's in Jacksonville? I had never heard of it. The liaison examined Elijah and said, 'Yes, we can take him and help him.' I knew there wasn't a facility in our area that could provide hospital rehabilitation. They told me that Brooks was the best in Florida. I said my son deserves the best, so let's do it."
Three days later Elijah was transported to Brooks Rehabilitation Hospital. "The ambulance got there before we did," said Mr. Alexander. "I was impressed just walking into the lobby. You knew that rehabilitation was what they did – this was the place. Everyone was at ease. The care he got that very first night made me think, 'what a staff.' It was all teamwork. You could tell they loved what they did and loved their patients. They treated us like family from the start." 
Over the next months, Mr. Alexander and Elijah's mother took turns travelling to Jacksonville to be by Elijah. "We stayed at Helen's House," said Mr. Alexander. Brooks' Helen's House is a hospitality residence offering affordable temporary lodging to Brooks patients and their caregivers. "The community environment at Helen's House was a big part of the process for us as family members," said Mr. Alexander. "We bonded with the other guests, we shared experiences, stories, updates and meals. Interacting with others helped everyone. It gave you perspective and kept you grounded."
Elijah was under the care of Kenneth Ngo, MD, Medical Director of Brooks' Brain Injury Program. "Dr. Ngo was always very positive, and you could tell each of his patients meant something to him," said Mr. Alexander. "I was amazed by the amount of medical and patient information he had in his head. He would talk to us about what was going on without looking at a chart. He cared and was very interested in his patients as people. It was a high level of personalized care that made you feel good."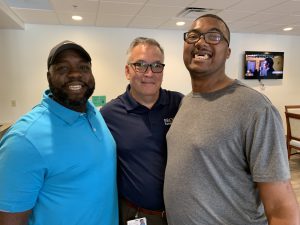 Elijah made such rapid improvement that many people called it a miracle. "In May, he was transported to Brooks in a minimally conscious state," said Mr. Alexander. "At the end of October, he walked out of the hospital." Staying at Helen's House himself, Elijah spent the next several months receiving intensive outpatient therapy at Brooks' Brain Injury Day Treatment Program (BIDT). The BIDT offers individual therapies, as well as group sessions with intensive, interdisciplinary care – with physical, speech and occupational therapies, psychotherapy,  biofeedback and neuropsychology – working together on a patient's goals. It helps provide a transition between inpatient care and home.
Now back in the Clearwater area, Elijah still struggles, but is always improving. He was recently featured in local news reports talking with the first responders who saved his life, and advocating to make the intersection of his accident safer. "His personality is coming back," said Mr. Alexander. "He's quicker, wittier and more logical. But we all have to be patient and get rid of the expectation that the 'old self' will be back exactly the way it was." Whenever Mr. Alexander is in Jacksonville, he stops by Brooks to see the nurses and therapists who helped his son. "They mean so much to us," said Mr. Alexander. "I want to make sure they understand the difference they made."