VIDEO: Colon Massage to Improve Bowel Mobility
Clinical Expertise
---
May 11, 2021
Medical Reviewer:
Jillian Miller, PT, DPT
Last Updated:
November 29, 2023
Colon massage, or colonic massage, is a home remedy you can perform on yourself to help relieve symptoms of constipation. It is fairly easy to accomplish and only takes a few minutes.  
Watch our video to see a step-by-step demonstration.
Who Benefits from a Colon Massage?
Constipation affects about 24% of the population with most people being able to manage the symptoms with over-the-counter medicines or lifestyle changes. However, in people who have neurological conditions, such as a spinal cord injury or multiple sclerosis, over 80% suffer from chronic constipation. Over-the-counter remedies or lifestyle changes do not always help resolve the issue. 
Long-term laxative use is also not an ideal solution for anyone suffering with chronic constipation as it can lead to dependency, increase constipation and impacted bowels. A colon massage can help ease the symptoms and increase a person's ability to have a bowel movement, which helps reduce the need for laxatives. 
What is a Colon Massage?
A colon massage is a deep abdominal technique that can be performed by yourself to stimulates the intestines to release gas and pressure. According to Jillian Miller, PT, DPT, a physical therapist at Brooks Rehabilitation, the massage should be completed 20 minutes prior to a bowel movement and the entire massage should take five to seven minutes
How to Perform a Colon Massage (step-by-step instructions with visuals)
To perform a colon massage on yourself, make sure you are lying flat on the floor. The massage should follow the path of your colon and take 5-7 minutes. 
Follow the path of this diagram for performing your colonic massage.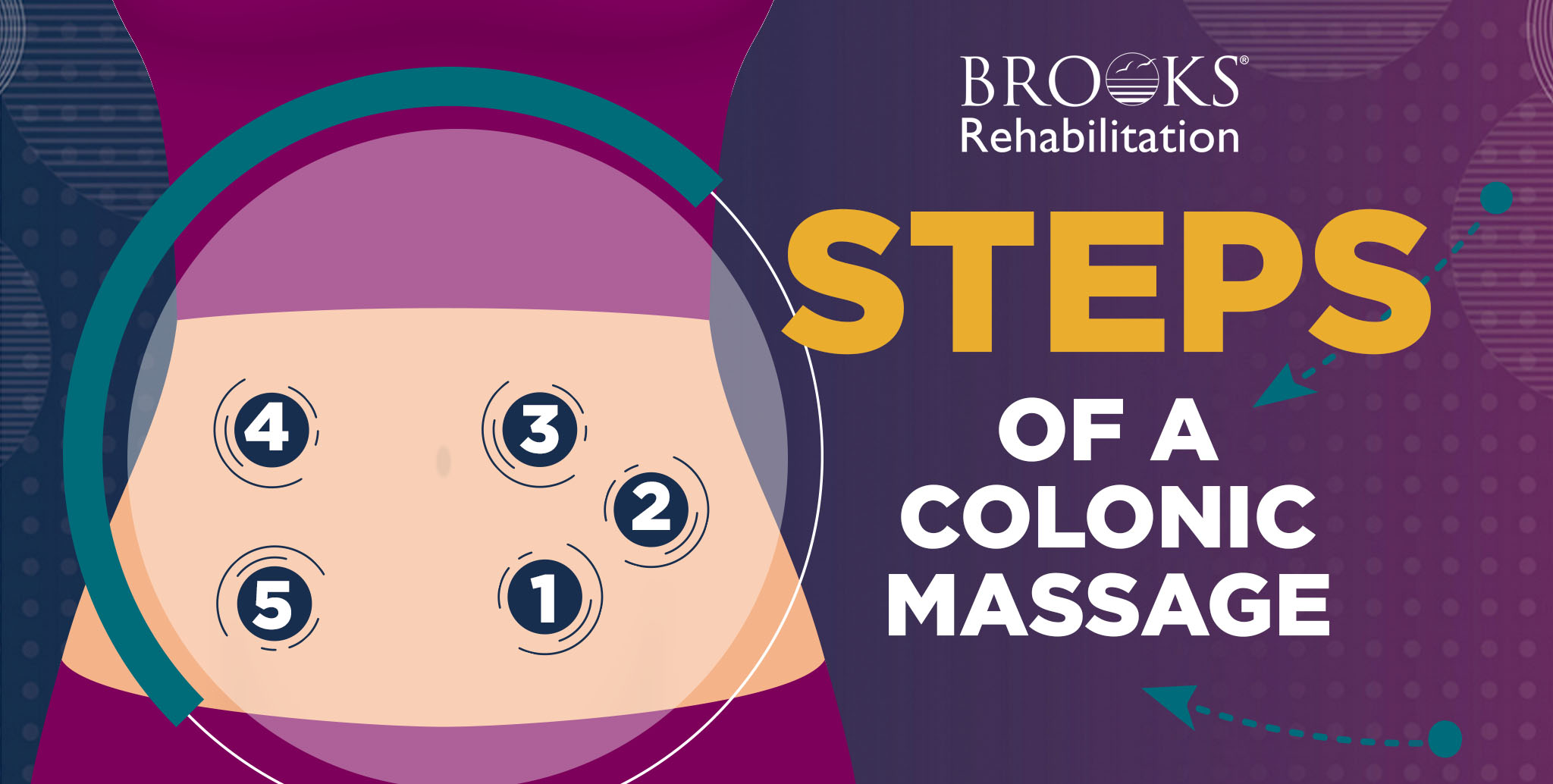 Step 1: Start with sweeping strokes on the bottom right side of the abdomen and move upward towards the rib cage, across, down and inward, five to seven times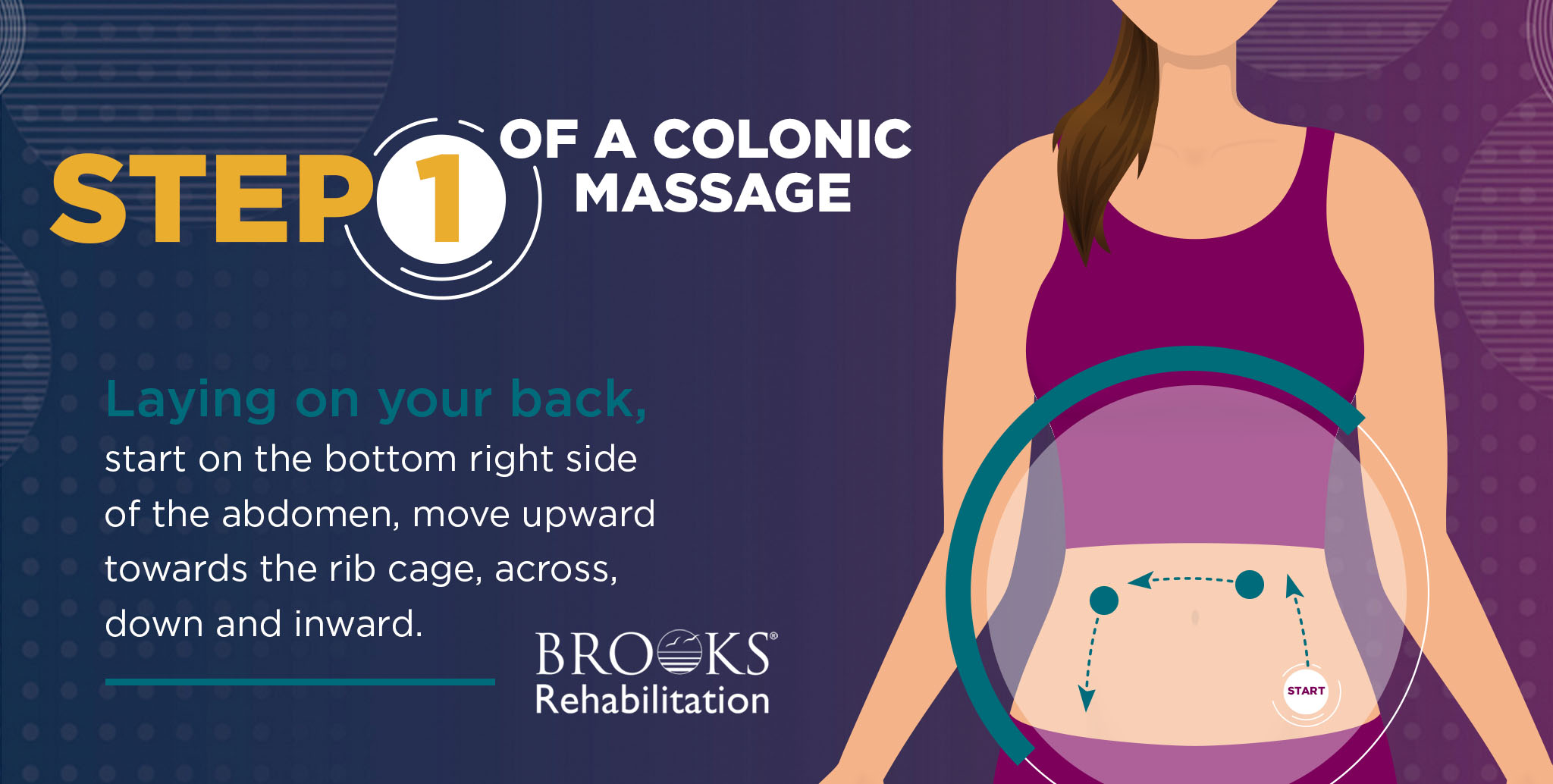 Step 2: Switch to a scooping C-shaped stroke, again, bottom right side, moderate pressure, scooping upwards three to five times. Do three to five of these strokes in each of those five positions in the first diagram.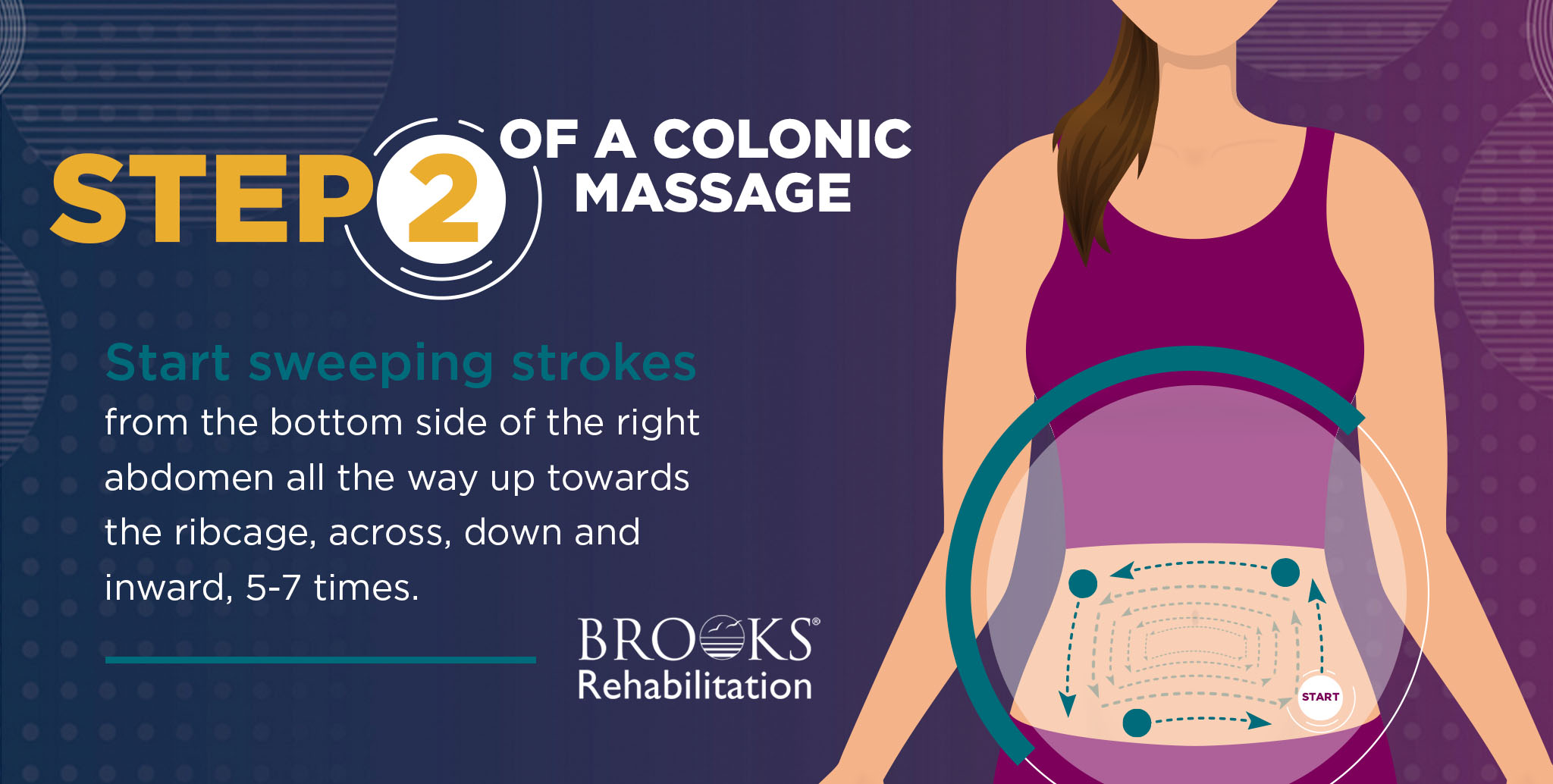 Step 3: Go just under the rib cage three to five times, across to the other side, three to five times, bottom left side, three to five times.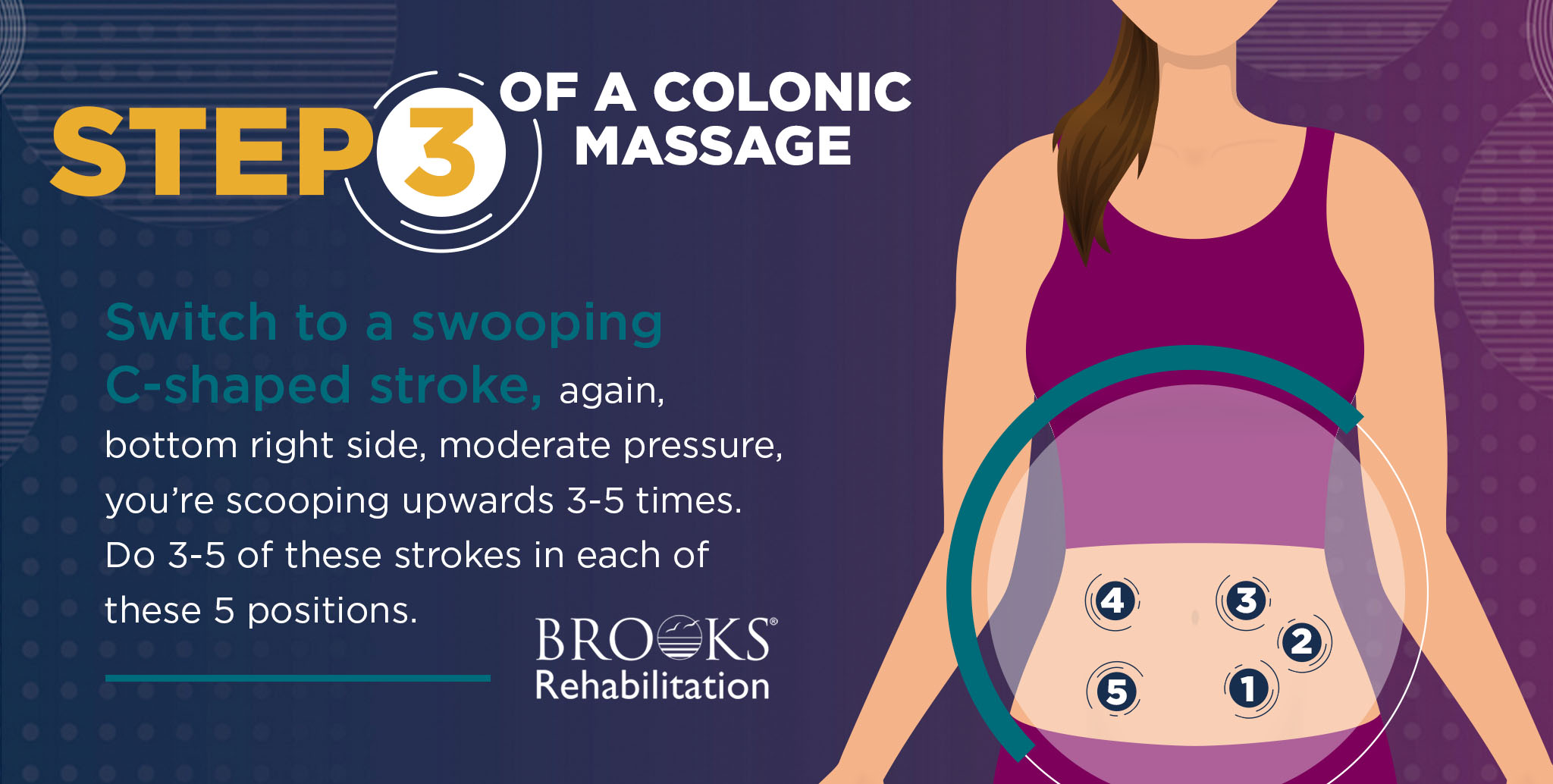 Does a Colonic Massage Work?
Studies have been conducted on the effectiveness of colon massages. Evidence is not conclusive. However, several studies demonstrate a high probability that it does improve the quality of life for participants, encourage bowel movements and relieve symptoms.  
In a 2018 study of 191 people with MS suffering from chronic constipation, participants conducted abdominal massages daily for six weeks. After conducting abdominal massages, they felt they were able to pass stools more frequently, empty their bowels more fully, took fewer laxatives and felt better overall.  
Most recently, an analysis was done on 13 randomized research papers on the topic. The analysis concluded that based off of the data from the published papers, abdominal massage does improve constipation symptoms when constipation is the only issue and not affected by an underlying medical issue.  
Additional Tips for Relieving Constipation
Besides a colon massage, these additional tips to patients when dealing with chronic constipation, according to Miller:  
 Drink enough water. This is roughly half your body weight in ounces. 

 

Increase exercise 

 

Eat more fiber. If your stools tend to be on the harder side, avoid soluble fiber. Consume more insoluble fiber to loosen the consistency. Fruits and vegetables contain both types of fiber. Make sure to research to better understand which types are right for your diet.

 

Schedule your bowel movement the same time everyday

 

Use a stool to ensure your knees are higher than your hips while sitting on the toilet. 

 

Avoid straining

 

Take stool softeners

 

Keep track of your stools

 
If you are unable to resolve your constipation, it is important to visit a doctor. Constipation can lead to serious issues including hemorrhoids, fissures, impacted bowels or a rectal prolapse. 
How Brooks can Help
Brooks is a leading expert in provide rehabilitative therapies for complex neurological disorders and traumatic injury in all care settings. Learn more about us and how we can help.