What is a Physiatrist and Why Would You Need One
Clinical Expertise
---
Mar 30, 2017
Unless you or someone you know has required physical rehabilitation, you've probably never heard of a physiatrist. At Brooks Rehabilitation, our physiatrists are crucial members of our care team.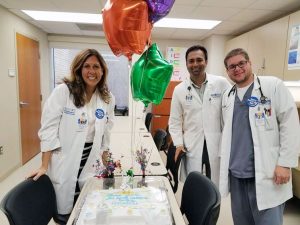 Physiatrists are medical doctors, with specialized training in physical medicine and rehabilitation. They treat a variety of disabling conditions such as stroke, spinal cord injury, brain injury, neurological disorders, musculoskeletal disorders, developmental disorders and chronic pain. Physiatrists work throughout our Brooks system of care to provide services at all stages of a patient's recovery.
Physiatrists empower patients to reach their highest level of ability and participation in life. They treat the whole patient, not just the specific area of injury. This includes their physical, emotional, medical, and social well-being. Each patient receives an individualized plan of care dependent on their unique needs.
There are three ways that physiatrists help patients in their rehabilitation journey:
Medical Management
First and foremost, physiatrists treat the medical issues related to a particular illness or injury. They understand that patients will not be able to participate in rehabilitation if they are not medically stable enough to do so. This may involve working with physicians in other specialties to provide the highest level of care.
Restoring Function
Physiatrists lead interdisciplinary teams, which often include physical therapists, occupational therapists, speech-language pathologists, nurses and physician assistants. This team helps patients maximize what they can do and adapt to new ways of doing things when needed.
Education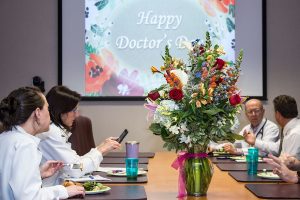 Physiatrists serve an important role in educating patients and families. They help patients understand their injuries and teach family members how to provide proper care assistance during the recovery process. A physiatrist can provide useful information about what to expect, caregiving and support, and how long recovery might take.
"We understand the impairments associated with illnesses and injuries," says Kerry Maher, M.D. "We recognize the importance of saving of lives in medicine, but we also understand that the quality of that life is really important."
In honor of National Doctor's Day, we would like to thank our hardworking physiatrists for all they do to serve our patients every day. To learn more about our medical group, please click here.