Brooks Rehabilitation Ranked No. 1 Rehabilitation Hospital in Florida and Among the Top Rehabilitation Hospitals in the Nation by U.S. News & World Report
Press Releases
---
Aug 7, 2023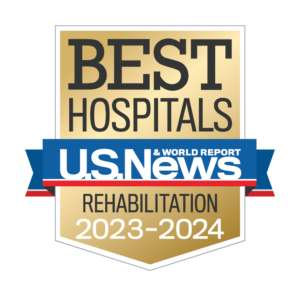 Brooks Rehabilitation is honored to announce that they have been ranked the No. 1 rehabilitation hospital in Florida and one of the top 20 in the nation on U.S. News & World Report's 2023-2024 "Best Hospitals for Rehabilitation" list.
Brooks was selected for their excellence in patient services and expertise in treating patients after a stroke, traumatic brain injury and traumatic spinal cord injury. Brooks is also well-known for its innovative technology, including Cyberdyne's HAL, the world's first advanced robotic treatment device shown to improve a patient's ability to walk. Additional robotics, wearable technology and virtual reality tools earned Brooks an "Excellent" rating in the advanced technologies category.
Overall, USNWR evaluated 4,515 hospitals for their care of rehabilitation patients recovering from events such as stroke, spinal cord injuries and traumatic brain injuries. To be nationally ranked in a specialty, a hospital must excel in caring for the sickest, most medically complex patients. Out of the total number, 3,524 hospitals did not treat a significant volume of complex cases in this specialty. The remainder were scored on specific criteria and the top 50 ranked.
Doug Baer, Brooks Rehabilitation President & CEO, said, "Patients from across the U.S., and the world, come to Brooks for our rehabilitation expertise in caring for the most complex injuries and illnesses, including spinal cord injury, brain injury, stroke and multiple traumas. For more than 50 years, we've been known for our cutting-edge technology, advanced clinical research, and – most importantly – our exceptional patient outcomes. We're thrilled that the dedication and commitment from our staff to enhance our programs and services was recognized with the high ratings this year."