Caring for Patients with COVID-19 Throughout our System of Care
Patient Experience
---
May 1, 2020
We recognize that Brooks plays a critical role in the healthcare system of our communities, so we are taking every step possible to meet the needs of our patients and employees. To best support our patients and acute care partners, Brooks Rehabilitation has been treating Coronavirus (COVID-19) patients in various care settings.
New Hospital Unit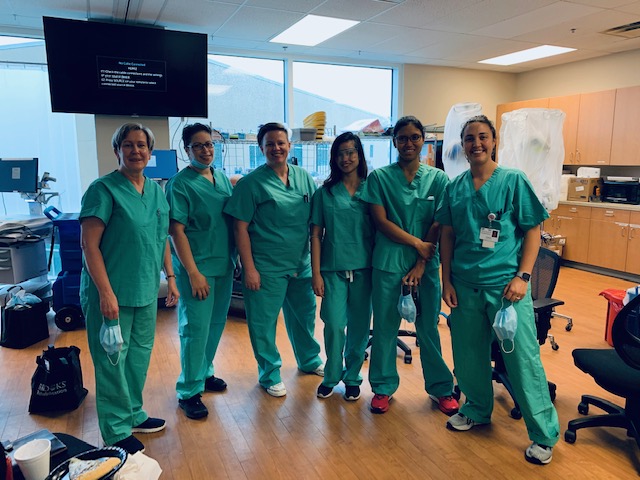 Brooks Rehabilitation Hospital opened a new unit dedicated to patients recovering from Coronavirus (COVID-19). Each hall in the hospital is named after an area on the First Coast with the new unit being on the Mandarin hallway. Staff made a distinct decision when naming the unit, the Mandarin Pod, not to have COVID in the name to provide patient privacy and dignity. "Patients are going through devastating emotional and psychological challenges in addition to their physical issues. Once they reach Brooks in their recovery, we want them to focus on the future, not their diagnosis," said Corinne Romano, RN, DNP, CRRN, CENP, VP of Nursing for Brooks Rehabilitation Hospital.
Everything about the eight-bed unit was designed with safety in mind. The negative pressure rooms are isolated from the rest of the floor by a newly constructed wall. There is also a transition area where staff can change into hospital-issued scrubs and change back before going home. Our dedicated staff remain on the unit for their entire shift and even have their own elevator to the unit.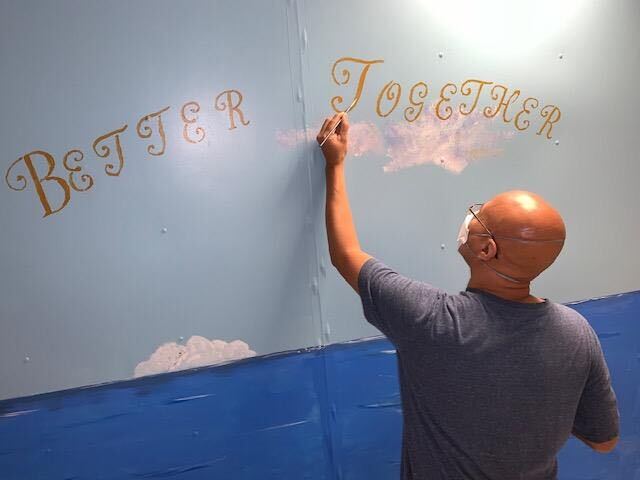 Michael Greene, PTA, spruced up the Mandarin wing of the hospital with a beautiful painting! Michael is a great ambassador of thoughtfulness here at Brooks. We are so thankful to have him on our team!
To maintain negative pressure, the doors of the rooms need to remain closed, posing a challenge for staff to see and hear patients at all times. To overcome that issue, clinicians worked closely with our IT department to find the best solution. They equipped each room with an iPad that monitors the patient 24/7 via a camera. Nurses have iPads outside the room allowing them to see all of their patients at once. They also have the opportunity to talk with patients to find out their needs before donning PPE. Using technology allows us to conserve PPE and mitigate exposure while still providing top quality care for our patients. Staff are also assigned cell phones to use while on the Pod so they aren't carrying in their own.
In addition to virtual communication with staff members on the Pod, the iPads are also used for telehealth visits. Patients have two face-to-face visits with their physiatrist, a physician that specializes in physical medicine and rehabilitation, twice a week and three virtual visits a week. Other attending physicians such as pulmonologists and infectious disease specialists, along with Brooks dieticians, case managers and psychologists also visit remotely to limit exposure for staff and other patients.
When the decision was made to accept patients with a COVID-positive diagnosis, staff in multiple departments truly partnered with leadership to meet the needs of these patients. The nursing and therapy staff working in the Mandarin Pod then received additional training in infection control and proper PPE usage. The unit has a designated resource nurse whose job is to maintain proper infection control standards as designated by the Centers for Disease Control (CDC) and ensure all team members are taking PPE on and off correctly. They have taken ownership of managing their PPE supplies and are good stewards. The Pod also has a dedicated environmental services employee working along with the clinical staff to maintain stringent cleanliness standards.
Patients are receiving individualized therapy within their rooms. A dedicated physical therapist and occupational therapist are on hand to meet the unique needs of each patient on the pod.
Admission criteria:
To be eligible for the Mandarin Pod, patients must have some functional need for rehabilitation in addition to their COVID-19 diagnosis. Many are debilitated from the damaging effects of the virus in addition to their prolonged acute-care hospital stay. Patients are generally admitted approximately 10-days after they are removed from a ventilator. The additional time allows patients access to their primary hospital team in the event of any complications.
"The staff have all banded together and become a remarkable team. Brooks is a Magnet-certified hospital and this is the epitome of Magnet. We've started a momentum now where others are volunteering to work on the Pod as well. I am truly proud of the team effort from the entire organization to make this the safest place to be for our staff and patients," said Romano.
Healthcare Heroes: Home Health and Memorial Therapy Team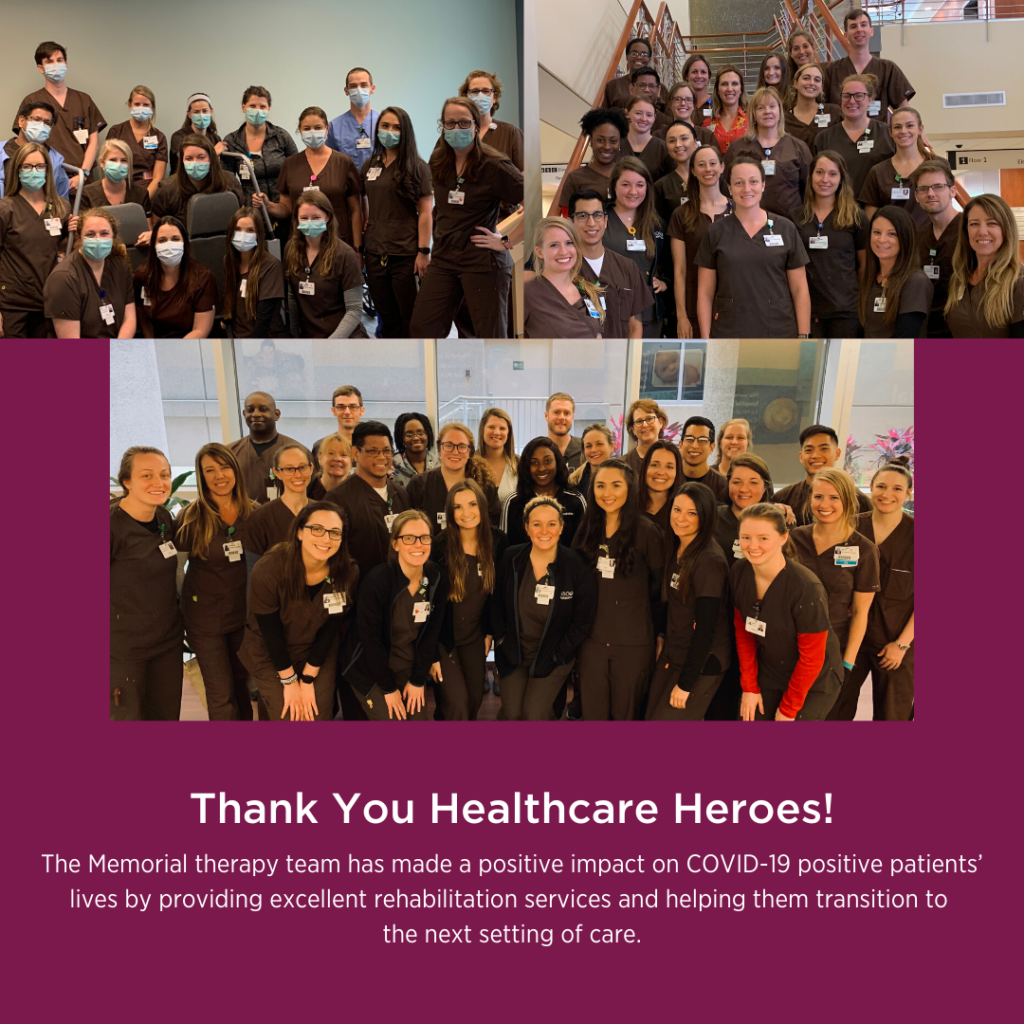 Our Home Health team began admitting patients with COVID-19 several weeks ago.
Tammy Williams, RN, was one of the first employees to treat a COVID-19 positive patient. "I was a nurse for a long time, but this is all new. I read a lot about it. Brooks provided extra training specific to PPE and I had all the supplies I needed. I was covered from head to toe," said Tammy.
Her nervousness lasted for about half a day. The patient she was caring for had a less intense form of COVID with a mild cough and a slight fever. She was used to having her grandson bring her food but her family wasn't allowed to see her anymore. "The first day I saw her she was crying. She was pretty upset about the whole thing. By the end of that visit, I knew it was going to be fine."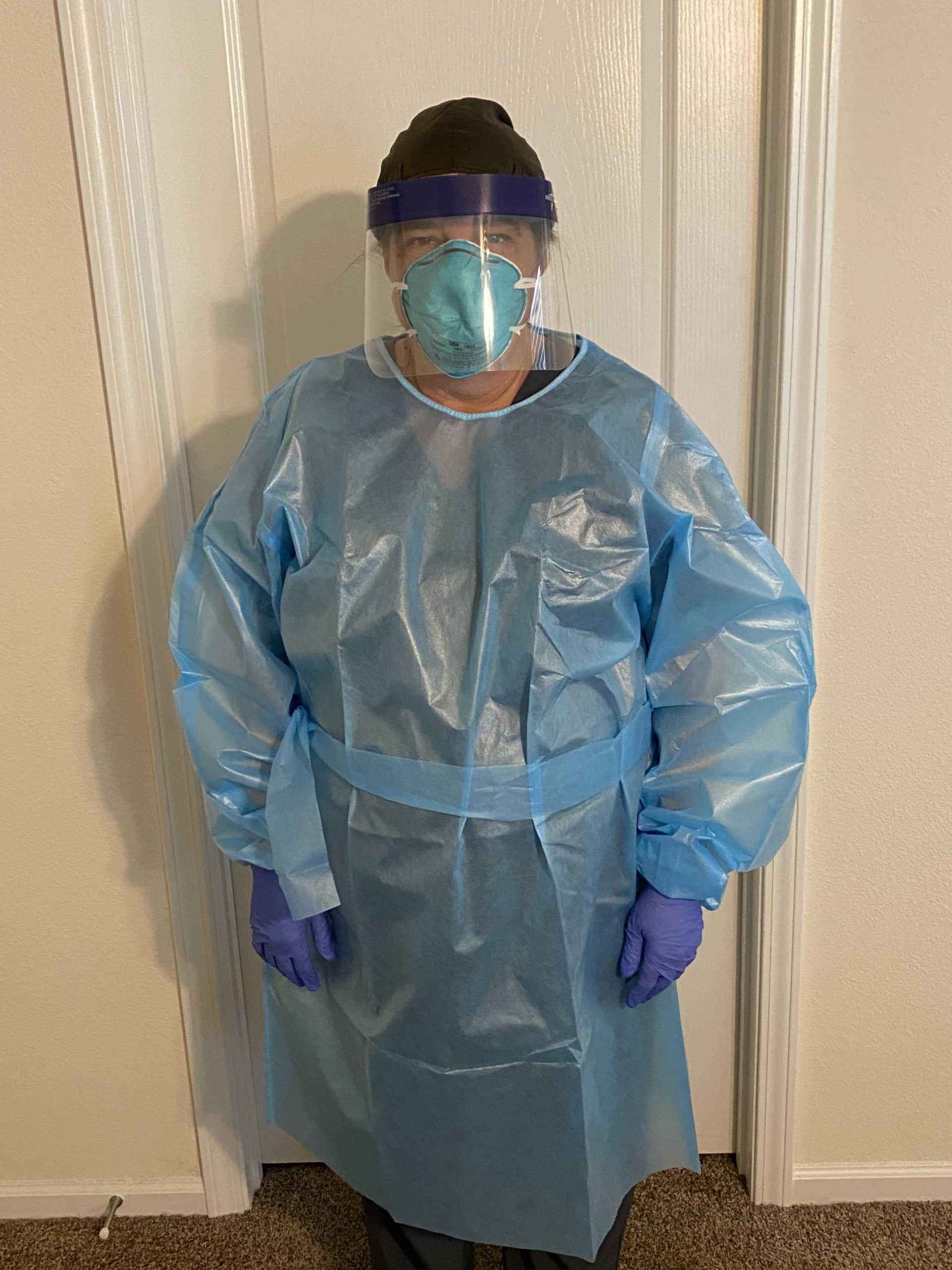 Tammy became a friend as well as a nurse during this lonely time. "It feels good to be able to help. She needs us. The virus wasn't her fault and she should get the care she needs just like anyone else. We just take extra precautions and do what we are here to do," said Tammy.
Our Memorial Hospital acute therapy team was ready and willing to work with COVID-19 patients and was the first group in the Brooks system to rise to the challenge and embrace the opportunity to make a positive impact in the lives of their patients.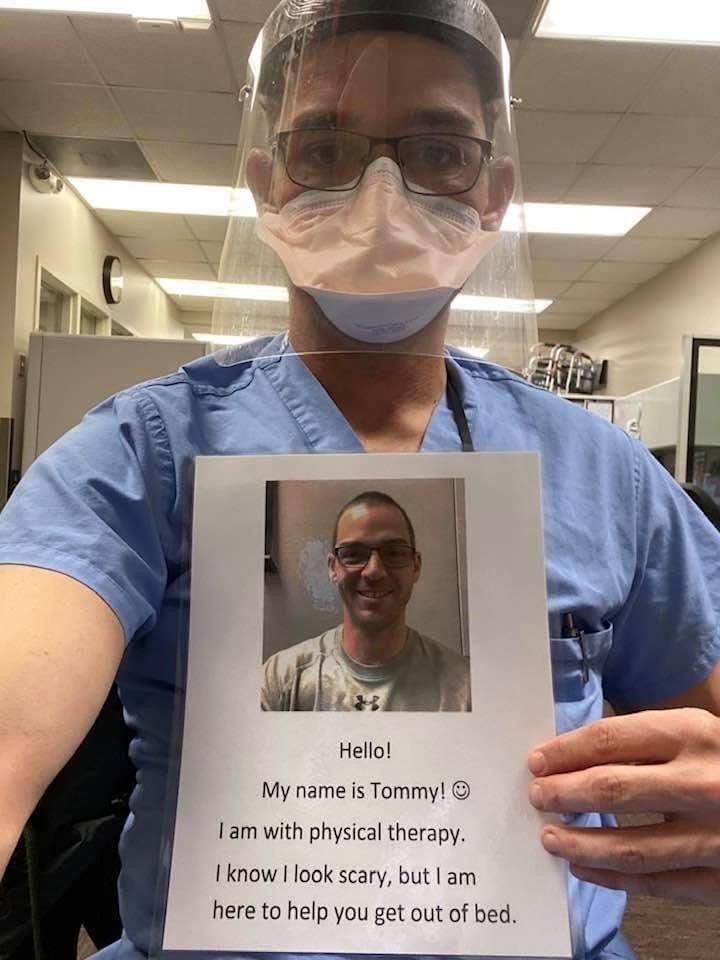 As a rehabilitation department inside an acute care hospital, collaboration was required to determine the best way to care for them, and a designated team of therapists was identified to decrease exposure and conserve PPE use. The team has now cared for more than 10 positive patients and several persons under investigation. The team has provided excellent care and we are grateful for their work in helping patients transition to the next setting of care.
We are grateful for our staff who are ready and willing to care for all patients during these unique times.