Children with Limited Mobility Receive Adaptive Toy Cars
Culture
---
Apr 19, 2023
Brooks Rehabilitation hosted its sixth annual First Coast Cruisers event on Saturday, April 15. With the help of volunteers and corporate sponsors, 16 modified ride-on toy cars were built and gifted to children with mobility impairments.
Brooks accepted nominations from the community to identify young children who would benefit from an alternate, fun transportation option. Brooks then coordinated with 55 volunteers from local universities and the community to build the modified cars. Eight of the 16 cars were sponsored by the University of St. Augustine, Jacksonville University, Brooks clinicians, Lakeside Jr. High School robotics Club and Medtronic. The City of Jacksonville Disabled Services Division sponsored the venue for the build.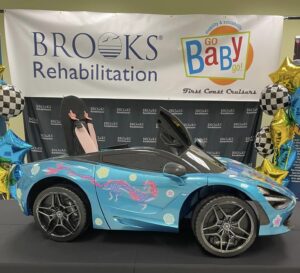 The morning was dedicated to modifying the toy cars for each selected child's unique needs. During the afternoon, participants held a "road rally" where the cars were gifted to the selected children and the new drivers were able to take their first spin around our track.
"Research shows that young children who are unable to independently move about their environment are at risk for cognitive, social and developmental delays. First Coast Cruisers gives children with disabilities the gift of independent movement so they may explore, learn and play like any other kid," said Jessie Kristof, PT, DPT, PCS, Brooks Rehabilitation Pediatric Physical Therapist.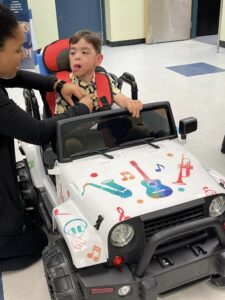 The event is part of the world-wide Go Baby Go initiative. Go Baby Go is a community-based research, design and outreach program that provides these modified ride-on cars to children free of cost. The Brooks Pediatric Physical Therapy Residency program founded the Go Baby Go chapter at Brooks Rehabilitation in 2018. The modified cars were distributed to various outpatient and inpatient Brooks clinics specifically for patient use. In 2019, the Go Baby Go chapter adopted the name "First Coast Cruisers" and began awarding the modified toy cars to children with disabilities within our community.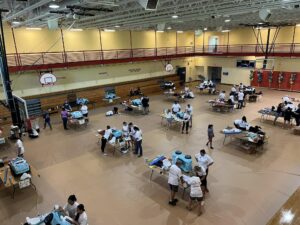 For more information on Go Baby Go, click here.
To view media coverage of the event, please check out this story on News4Jax.