Advances in Rehabilitation Technology
Beyond Magazine
---
Jan 15, 2021
This article was originally published in our Fall 2020 Issue of Brooks Rehabilitation Beyond Magazine. Subscribe online.
Technologies Driving Better Outcomes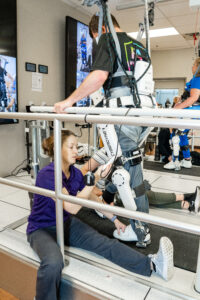 There are exciting new advances in rehabilitation technology happening today, and Brooks Rehabilitation is committed to implementing the newest innovations. Many times, our expertise in evidence-based rehabilitation helps develop these emerging technologies and gets them into wide-spread use sooner. "We see technology not as a tool, but as a resource to help our clinicians achieve higher quality outcomes during a patient's rehabilitation," said Robert McIver, PT, DPT, NCS, Director of Clinical Technology and Wellness Programming at Brooks Rehabilitation. Here are three of the latest resources our clinicians are using:
Robotics
Exoskeletons such as Indego and the Hybrid Assisted Limb (HAL) help patients exercise in ways that they otherwise would not be able to. These two devices not only help patients, but they also assist our clinicians in better understanding a patient's recovery and progress. HAL, in particular, provides real time data so therapists can see and adjust settings and movements to produce the desired result.
Virtual Reality (VR)
VR is an area we are growing rapidly. We use an immersive environment to assess a patient's function, and then provide appropriate activities to enhance their recovery. VR uses include balance, visual and mobility issues. We are currently developing our own VR applications, which our therapists will control to provide functional tasks for each patient.
Assistive Technology
As the name implies, this covers a broad spectrum of new ways to give patients more functional independence in their lives. We train patients and caregivers to use new innovations to help with everyday activities – even simple tasks like eating a meal or getting in the front door. Assistive technology can move a patient from very dependent to more self-sufficient, creating a better quality of life.
"Whether the technology is part of our community programs to promote socialization or in our rehabilitation settings to promote greater function, we know that ultimately the latest technologies will help drive better outcomes for our patients. We're dedicated to always being on the forefront of 'what's next,'" said McIver.