Cyberdyne Update: HAL Brings New Hope
Beyond Magazine
---
Jul 30, 2019
This article was originally published in our Spring 2019 Issue of Brooks Rehabilitation Beyond Magazine. Subscribe online.
In the Fall 2018 issue of "Brooks Rehabilitation Beyond," we detailed our recent partnership with Japanese medical innovation company Cyberdyne, to bring Hybrid Assistive Limb (HAL) technology to the U.S. The Brooks Cybernic Treatment Center was the first facility in the U.S. offering the innovative, landmark treatment to individuals with spinal cord injuries.
When the brain / muscle connection is disrupted because of a spinal cord injury, the HAL exoskeleton detects any faint bio-electric signals between the brain and the skin surface above the muscles, and converts that signal into muscle movement. HAL is the world's first advanced robotic treatment device shown to improve a patient's ability to walk.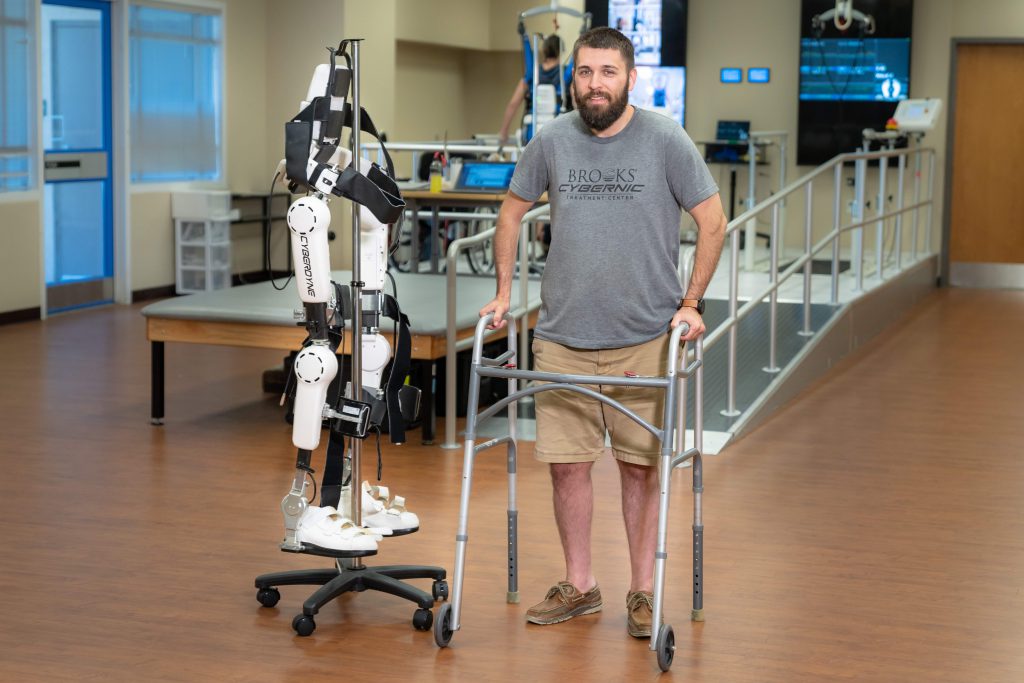 Almost eight years ago, Chris Howell was in a terrible car crash, leaving him unable to move from his chest down after breaking his C5 vertebrae. He transferred from central Florida to Jacksonville to begin rehabilitation at Brooks. Chris and his mom intended to stay for five weeks of inpatient therapy that turned in Chris moving to Jacksonville. His commitment to his outpatient rehabilitation, positive attitude and mentoring of new patients led to a job offer. Chris has been a Brooks employee for a little more than five years, and currently helps run Brooks' wheelchair clinic. Despite his rehabilitation efforts, Chris remained mainly wheelchair bound, walking only short distances with equipment in controlled situations.
As a Brooks employee, Chris was aware that HAL technology was coming. Bob McIver, PT, DPT, NCS, director of Brook's Clinical Technology and Wellness Programming, approached Chris about being a Cyberdyne candidate. Chris tried other exoskeleton-type equipment at Brooks that hadn't provided significant improvements. "I really didn't have any expectations, since it had been eight years since my accident," said Howell. "But I always have a goal to get better. I was willing to try it and see what would happen." 
Since Chris already had some movement in his legs and a little bit of control with his steps, he and his therapists used the HAL bio-electric signal connection to focus more on his gait mechanics, timing and endurance. The HAL protocol is intense, calling for 60, Monday through Friday sessions of 60 minutes each. "Day to day, it was hard for me to tell the progress," said Howell. "There would be good days and bad days. But overall the progress was easy to see, especially with the testing we did." Twice a week, before the HAL treatments, Chris and his therapists would do a 10-meter walking test, using a walker. At the beginning, it took Chris almost five minutes to go 10 meters. At the end of his 60 sessions, his best time was 36 seconds.
"Before HAL, I could use a walker but it wasn't anything practical," said Howell. "I couldn't do it on my own. I had to have someone right there with me. Now, it's easier to stand up on my own with the walker. I'm gaining more confidence on getting around with a walker on my own, in real-life situations, instead of just at therapy." Chris uses the gym at one of Brooks' Neuro Recovery Centers to continue working on his walking, focusing on doing something every day.
Chris was nominated to receive funding for his Cyberdyne treatment from the JT Townsend Foundation, whose mission is to help those living with disabilities through financial assistance for equipment and services. The Foundation, which has helped many Brooks patients, had already connected with Brooks when it heard about Cyberdyne. "I was awarded the majority of the funding through the JT Foundation. I'm very grateful for their support," said Chris. 
After eight years, Chris found new hope. "There's nothing else like HAL out there. It's so new and different," said Chris. "Hopefully I can see other people go through it, and mentor them based on my experiences. Without HAL therapy, I wouldn't be where I'm at right now."