Finding Love When You Least Expect It
Patient Experience
---
Feb 14, 2017
The motto of the Brooks Adaptive Sports and Recreation Program is "Fun, Fitness and Friendship." Sometimes our participants find a little something more.
When Robert Mudge joined the Brooks Bandits quad rugby team, his father and sister Jennifer "joined" too. They came to every practice and were two of the program's most loyal volunteers. That is, until Jennifer ended a long-term relationship and needed to take time off for herself.
First Impressions
When she returned to practice, she immediately noticed a new player on the team. "I thought Cody was incredibly good looking but I was not in any way ready to have a relationship," she said.  She did ask her brother about him that night though.  When she found out he was also younger than her, she never gave dating him a second thought.
Cody was dating someone else at the time so he didn't initially see Jennifer in a romantic way. As soon as he became single, he started asking questions about her.  His teammates started to joke and tease him when they found out he thought Jennifer was "cute."  Other friends started to nudge them to talk to each other. Still, nothing happened.
It wasn't until they were at a rugby tournament in Atlanta months later that their relationship took a turn. Jennifer met Cody's mom, Jamie, that weekend.  Jamie shared a lot about Cody. And when Cody wasn't feeling well, it was Jamie that gave Jennifer his cell number so she could check on him.  Jennifer's initial text to Cody turned into a phone call that lasted until 3 am.
A New Outlook
That was the beginning of their long distance relationship. Cody was living in Lake Butler at the time and Jennifer was in Ormond Beach, two hours away. They continued to talk and saw each other at practices.  On their first 'official' date, they went to dinner and saw a movie. Three months later, Cody told Jennifer he loved her.
"I was scared. I was still very guarded and decided I was done with love.  But Cody was such a gentleman. He was the kindest, sweetest man I'd ever met and he renewed hope in me. His love saved my life," said Jennifer.  Cody also found a new outlook on his situation. He told Jennifer, "if I hadn't gotten into that accident, I would never have met you."
Soon, Cody moved into his own apartment in Jacksonville so he could be closer to Brooks and to Jennifer. They had been dating for close to two and a half years when Jennifer spontaneously drove up to Jacksonville to surprise Cody after his Paralympic tryouts. He was so excited to see her that he proposed the next morning.
Together No Matter What
The next year was a whirlwind of wedding preparations and house hunting. They had to find just the right spot for the ceremony, one that was also wheelchair accessible.  They invited the entire rugby team, volunteers and their Brooks family to the wedding.
When the day finally arrived, Cody insisted that he stand for the ceremony. He stood as long as he could. When he couldn't stand any longer, Jennifer knelt beside him.
"He felt bad that I did that. He didn't want me to have to kneel, but I didn't think twice about it. I wanted to look into his eyes as I said my vows so he could see that I meant them with all my heart."
They purchased a house together in Ormond Beach and spent the first year of married life enjoying each other's company. Cody couldn't wait to be a dad and Jennifer always wanted to be a mom so it didn't take them long before deciding to grow their family.  Their son Tristan was born just under two years later and he is the light of their lives.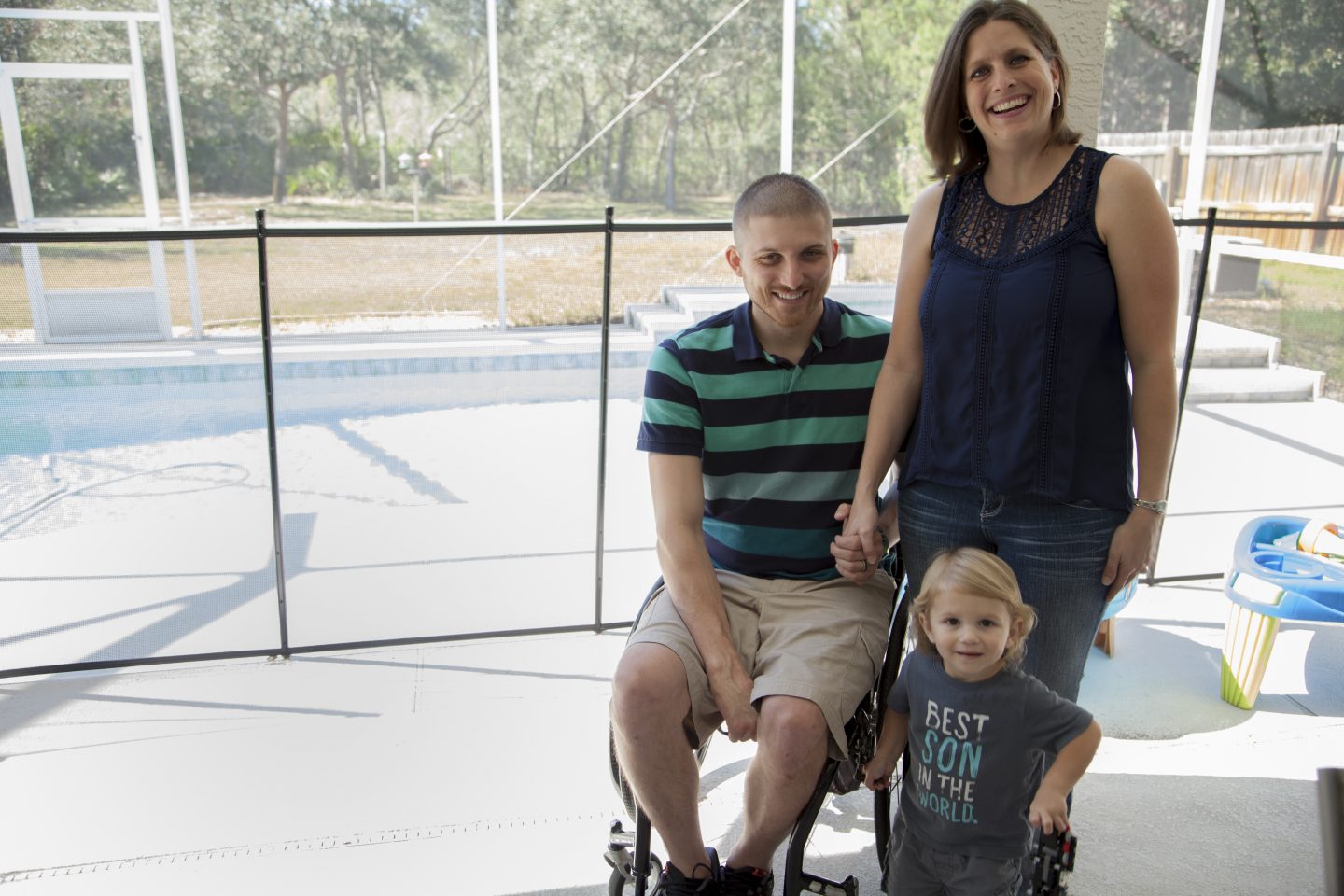 Now, Cody works as a Front Desk Coordinator at a Brooks outpatient clinic and Jennifer gets to live her dream of being a stay-at-home mom. Cody only attends rugby practices on Tuesdays, preferring to spend his weekends with Jennifer and Tristan. However, the whole family still travels to tournaments together.
"We always knew we were each other's forever. It just took us a little time to get here."