New Spinal Cord Day Program Helps Ballerina Get Back on Her Toes
Beyond Magazine
---
Aug 7, 2019
This article was originally published in our Spring 2019 Issue of Brooks Rehabilitation Beyond Magazine. Subscribe online.
In 2018, at only 14 years old, Jolie Rose Lombardo earned first place in the Youth America Grand Prix (YAGP). YAGP is the world's largest non-profit international student ballet competition and scholarship program, with over 10,000 aspiring ballet dancers competing for that top spot in their division every year. Jolie Rose's gold medal performance in 2018 made her the best in the world in her age group. Six months later, she was recovering from surgery on her spine and unable to move.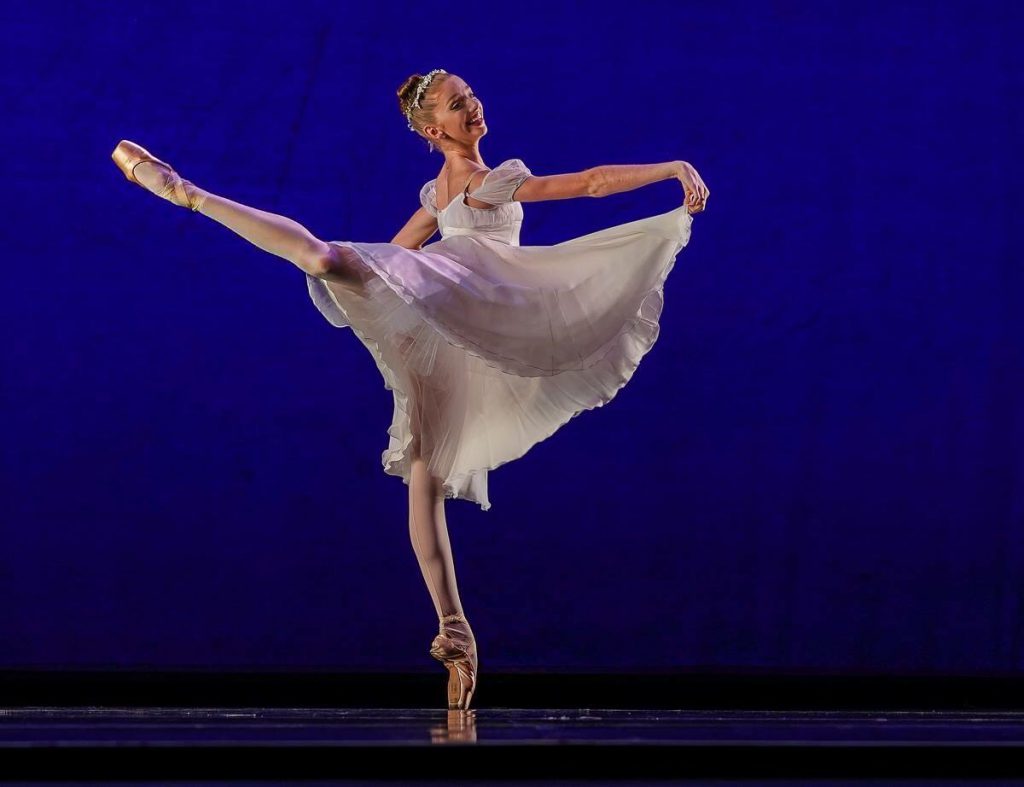 Jolie started dancing when she was 3 years old. At 10, she began her concentration in ballet. When she competed in 2018, it was her fourth attempt that finally won her the gold medal at YAGP. Also in 2018, she was honored to be a finalist at USA/IBC International Ballet Competition. With the competing age group of 14 – 23, Jolie Rose was the youngest competitor. The USA/IBC is like the Olympics of ballet held only every four years in the United States.
With her win at the YAGP, Jolie was awarded a full scholarship with room and board from Mr. Tedeusz Matacz, Director of the John Cranko Schule, in Stuttgart, Germany. It was a dream come true. 
While in Germany, Jolie was dancing over 28 hours a week. For three nights in a row, Jolie woke up with shooting pain from her back down her leg. "Ballet dancers are always in pain. We thought she pinched a nerve in her back
from all the bending in half that she does. It sounded like sciatica to me," said Jolie's mom, Stephanie Lombardo. After the third night of no sleep, Jolie told the school, and they sent her to a doctor. The MRI showed a tumor on her spinal cord. Her surgeon explained that the tumor had finally grown big enough that when she would fully relax, it would touch her sciatic nerve. "If it hadn't touched her nerve, we'd never have known it was there until she was paralyzed," said Mrs. Lombardo. 
Jolie was immediately flown from Germany to Scottish Rite Hospital in Atlanta for surgery by Pediatric Neurosurgeon, Dr. William R. Boydston. The chances of her being paralyzed were very high. Dr. Boydston wasn't sure of her prognosis until he went in for the surgery. He couldn't see space between her tumor and spinal cord, which meant that they may be fused. 
After many hours in surgery, Jolie's first words as she woke up were, "I love ballet." Luckily, the tumor and spinal cord were not fused and they were able to remove the Schwannoma tumor, which was benign. 
Jolie spent eight days in the hospital with three full days on her stomach. For those three days, she was unable to move her limbs or head. All she did was cry and watch ballet videos.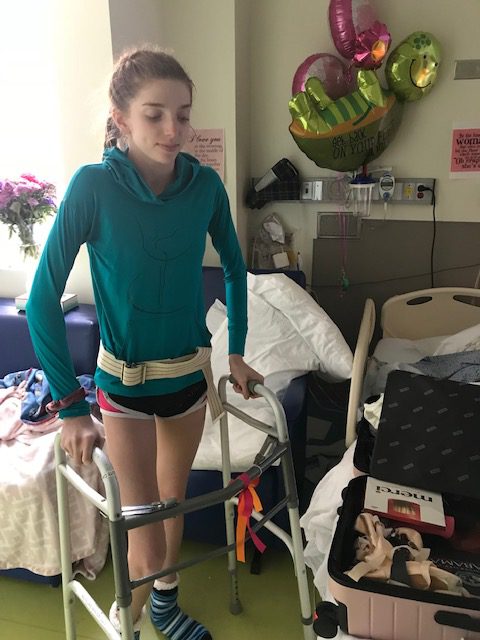 When Jolie returned home to Jacksonville, she was walking with a walker, but her back would seize up and cause incredible pain. As any parent would, Mrs. Lombardo wanted to find help for her daughter. "I had heard amazing things about Brooks Rehabilitation so I decided to call and ask if they had an intensive day program," said Mrs. Lombardo. The timing was perfect. 
Brooks recently created the Spinal Cord Injury & Related Disorders Day Treatment Program (SCI/D) after identifying a gap in service delivery between current inpatient and outpatient SCI care programs. The program is overseen by a medical director, psychologist, physical therapist, occupational therapist, speech therapist, and a nurse case manager, all with specialized training in spinal cord injuries.  Patients in the program receive therapy, both individually and in groups, for up to six hours a day, five days a week, for six to 12 weeks. The goals of the program are to have patients smoothly transition back into their community, manage their ongoing medical needs and get to the next level of care. 
"Our team at Brooks worked hard to create a collaborative and unique interdisciplinary day treatment program to work with our patients with spinal cord injuries.  We were honored to have Jolie as our first patient," said Sara C. Bertoch, PhD, licensed psychologist and center manager for the SCI Day Treatment Program. Lauren Kaminske, PT, DPT, was Jolie's primary therapist and spent the majority of the day with her.
When Jolie first started, her primary limitations were significantly limited muscular endurance, impaired balance, along with very guarded gross movements. She also had spinal precautions which limited her "normal" ways of getting out of bed, picking up objects from the floor, etc., but she would also move very slowly in order to avoid any increased pain at her surgical site. 
"We started with the basics: teaching her to properly engage her core, strengthening her hips, calves, and feet, and also performing nerve glides to increase her range of motion with less pain shooting down her leg," said Dr. Kaminske. "Then we progressed to muscle endurance activities and prolonged stretching to get her back to her 'normal' extent of range of motion. We also challenged her with high level balance activities on the BOSU ball and in pointe shoes. And, finally, we began incorporating dance-specific activities like jumping, turns and across the floor exercises."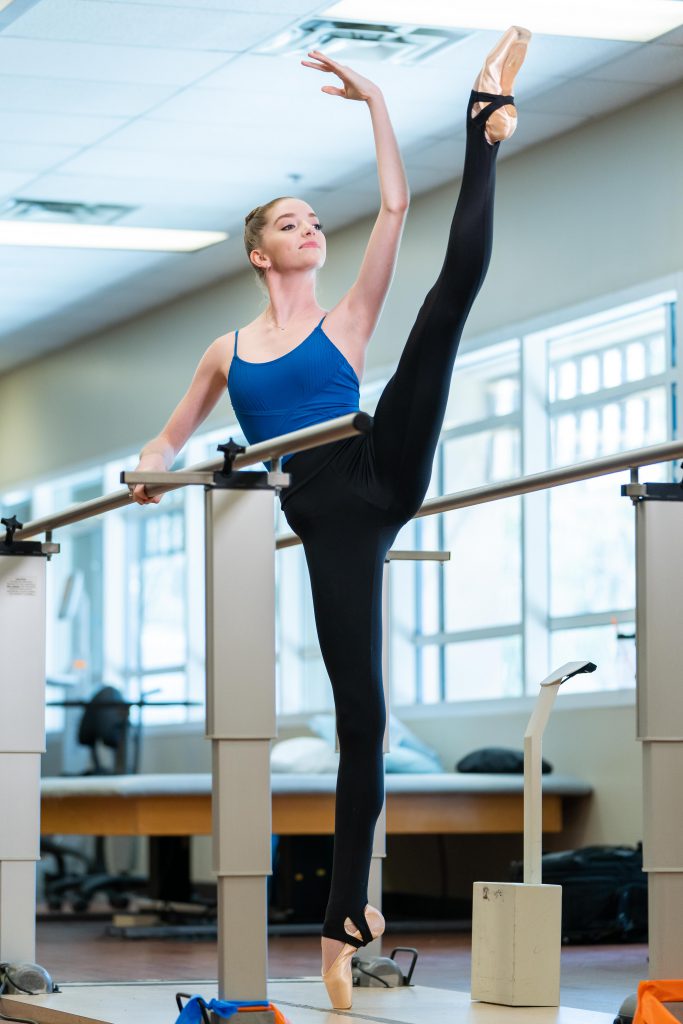 Jolie was in the program for five weeks and is now attending dance classes regularly. She continues outpatient physical therapy and is planning on returning to John Cranko Schule at the end of April at full strength. 
"I don't think Jolie could have had the improvement she did if she wasn't in this type of an intensive program," said Mrs. Lombardo. Jolie Rose would like to thank her new family at Brooks for helping her continue on her quest of a long and happy career in ballet. 
"When I see her walk through the door it's hard to imagine the first day I met her was only eight weeks ago. She is such a hard-working and dedicated individual, and I think that really had a positive impact on her very rapid physical progress," said Dr. Kaminske.
"Jolie was immensely successful at navigating through the program and achieving her established goals for rehabilitation. We look forward to following her ballet career," added Dr. Bertoch.