Learning to Appreciate Simple Gestures in a New Normal
Patient Experience
---
Mar 8, 2017
Daniel Rivera-Lugo is a fighter. He was in the Air Force for 20 years. He went through two knee replacements and survived three bouts with prostate cancer. This past year, however, has been one of the hardest fights of his life.
On June 13th, Dan brought Nancy, his significant other, to the hospital for gallbladder surgery. When visiting hours were over, Dan headed home to their seven dogs and two parrots. Sometime in the middle of the night, Dan got out of bed and fell. He called their neighbor because he knew it was bad. The neighbor immediately called 911.
Unforeseen Challenges
Although nothing looked outwardly wrong, Dan's brain was bleeding. He underwent a total of
three craniotomies within a week. He was placed on a ventilator to breathe. As soon as his condition began to stabilize, it was recommended that he travel from Debary to Jacksonville, Fla to go to Brooks Rehabilitation Hospital. Two weeks later, Nancy packed them up and drove to Jacksonville for what would become a five-month long-stay.
The first setback occurred two days after they arrived at Brooks when clinicians identified a blood clot in Dan's leg. He had an IVC Filter implanted to prevent clots and was placed on Heparin, a blood thinner. No one knew Dan was allergic to Heparin. Dan began to fill with blood clots from the waist down and gained 60 pounds in fluid. It was critical that he be transferred to an acute care hospital.
An unsuccessful, three-hour surgery caused even greater issues. As soon as the surgeon would remove one clot, three more would form in its place. Dan had to be placed on Coumadin to reduce the clots; however, it was not the safest medication for someone with brain bleeds. It was a delicate balancing act to correct and improve both areas of concern.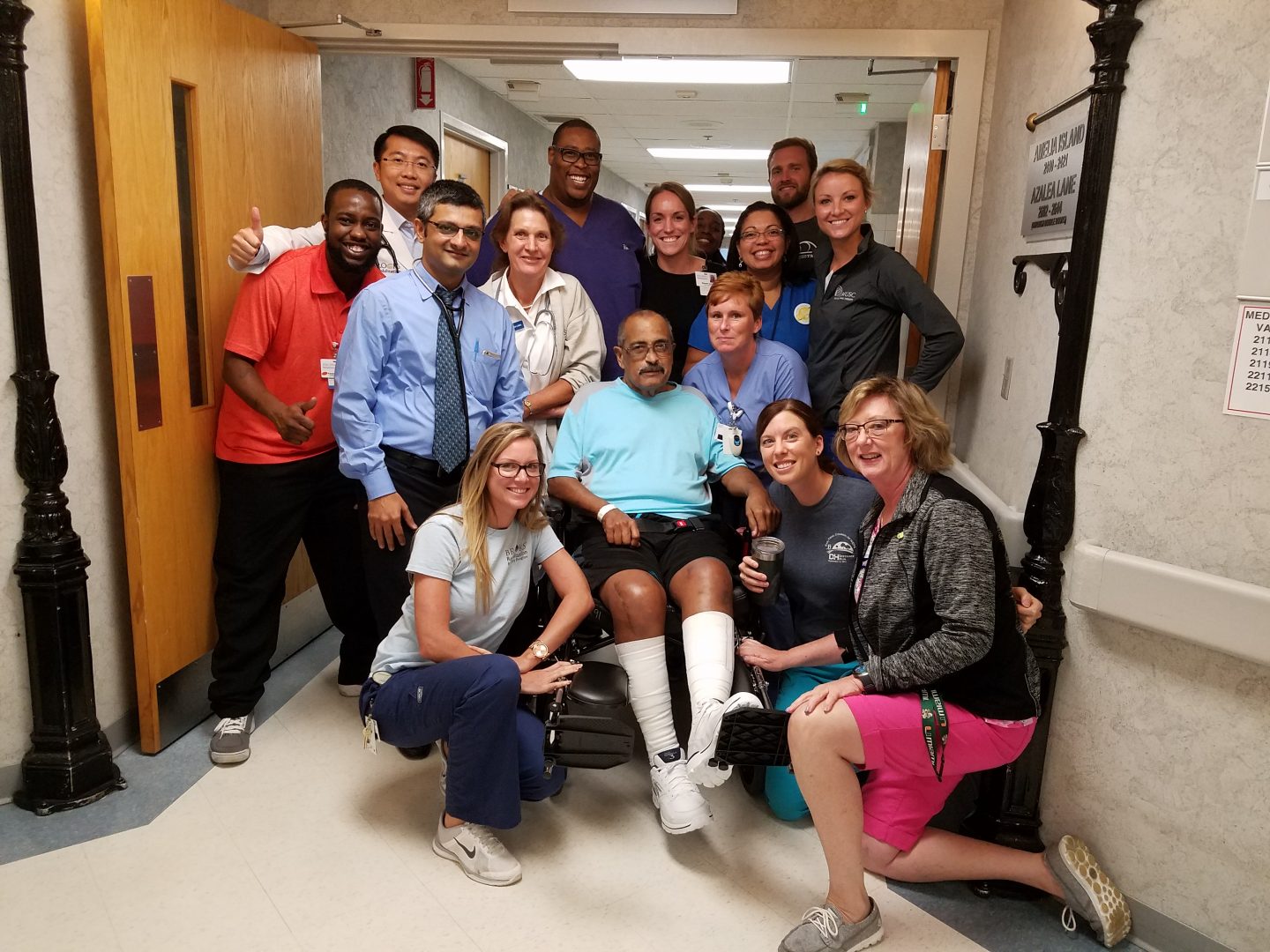 A New Transition
Dan's physician at Brooks, Dr. Ngo, promised he'd be able to return once his health improved. However, once back, Dan began having 'fight or flight' reactions. Something within his brain was triggering a hyper-aroused state where, at times, he perceived everything and everyone around him as a threat to his survival. He started lashing out at everyone, including Nancy. He was so agitated that he was given Ativan for anxiety, another medication to which he was unknowingly allergic. Dan's recovery continued to be an uphill battle.
After three long months, he transferred to Brooks Bartram Crossing. The transition between caregivers was a smooth one. Dr. Ngo provided a thorough review of his case to Dr. Dempsey at Bartram. But the first two weeks were again challenging for Dan. Dr. Dempsey spoke to Nancy about trying propranolol, a medication for blood pressure. Propranolol is also used to calm the 'fight or flight' emotion, which had reared its ugly head, once again. The medication helped and Dan began making major improvements.
When Dan was in the Air Force, he was a linguist and spoke seven languages. However, the brain injury hadcaused aphasia; an impairment of the ability to use or understand words that do does not affect a person's intelligence. Dan could no longer speak but could understand everything going on around him. His speech therapists began working with him using a Dynavox system to communicate. At Bartram, he transitioned to an iPad that he continued to use at home. And home was the next step on his journey.
Back to Moving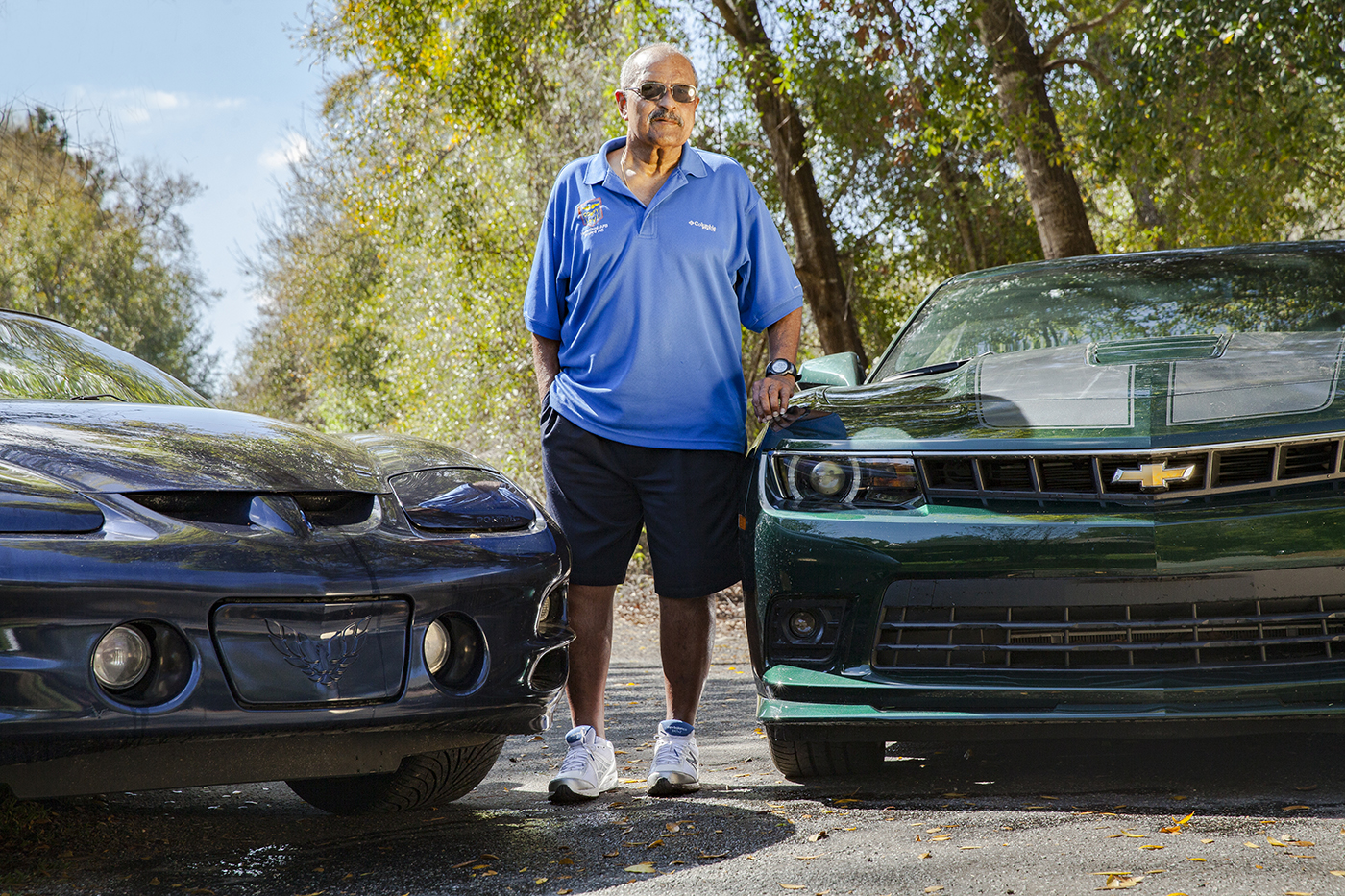 Dan has continued to improve with the help of Brooks outpatient therapy three times a week. When not in therapy, Dan loves to be outdoors. He and Nancy live on more than an acre and he enjoys walks around the property to tend to the plants, flowers, lawn and trees. Their dogs are his constant companions. Nancy and Dan are blessed to have a wonderful support system of friends and family nearby to help with any needs they have or simply to provide an afternoon out.
Dan particularly enjoys cars…riding in them, looking at them and sometimes working on them. A friend recently took Dan out for a drive. Although Dan can't speak, he directed his friend to a particular gas station and then hopped out of the car and began pumping gas. While this may seem like a simple gesture, to Dan and Nancy, it was a huge milestone. It was a sign that they were finally returning to a "normal" routine.
Nancy believes there needs to be a greater emphasis on brain injury awareness and support. "People seem to understand stroke and associate brain injury with many aspects of stroke, however, it is a much different disability," said Nancy. "We have to thank the amazing therapists, nurses, CNAs and staff who worked with Dan and me teaching both of us how to deal with the ever-changing 'new normal.' Without Brooks, we would never have made it home. They gave us the foundation to build on and progress through our journey."