Pediatric Rehabilitation Spotlight: Wyatt's Story of Recovery
Clinical Expertise
---
Sep 1, 2021
Hybrid assisted limb technology and acute inpatient therapy help a child walk and speak after autoimmune response to Coxsackie Virus.
A mother knows when something isn't right with her child. When Brittany Pitts' son Wyatt was admitted to the hospital for suspected pancreatitis, it was her motherly instinct that may have saved his life.
"We're losing him!" she yelled at the nurses and pediatrician who insisted his CT-scan was "unremarkable." What started as sensitivity to light turned into slurred speech, hallucinations, seizures and paralysis on Wyatt's right side. At Brittany's insistence, a different physician ordered an MRI, which showed two possible infarctions. Wyatt was life-flighted to a hospital in Gainesville, Fla. In the air, he slipped into a coma and was intubated.
After many tests and guidance from experts across the country, it was determined that Wyatt had a severe auto-immune response to the Coxsackie virus, a common childhood ailment known as Hand, Foot and Mouth Disease. A steroid regimen brought him out of the coma.
"I asked him to say something if he could hear mommy," Brittany said. He typed on his phone, "I can't speak. Won't let me. Trying."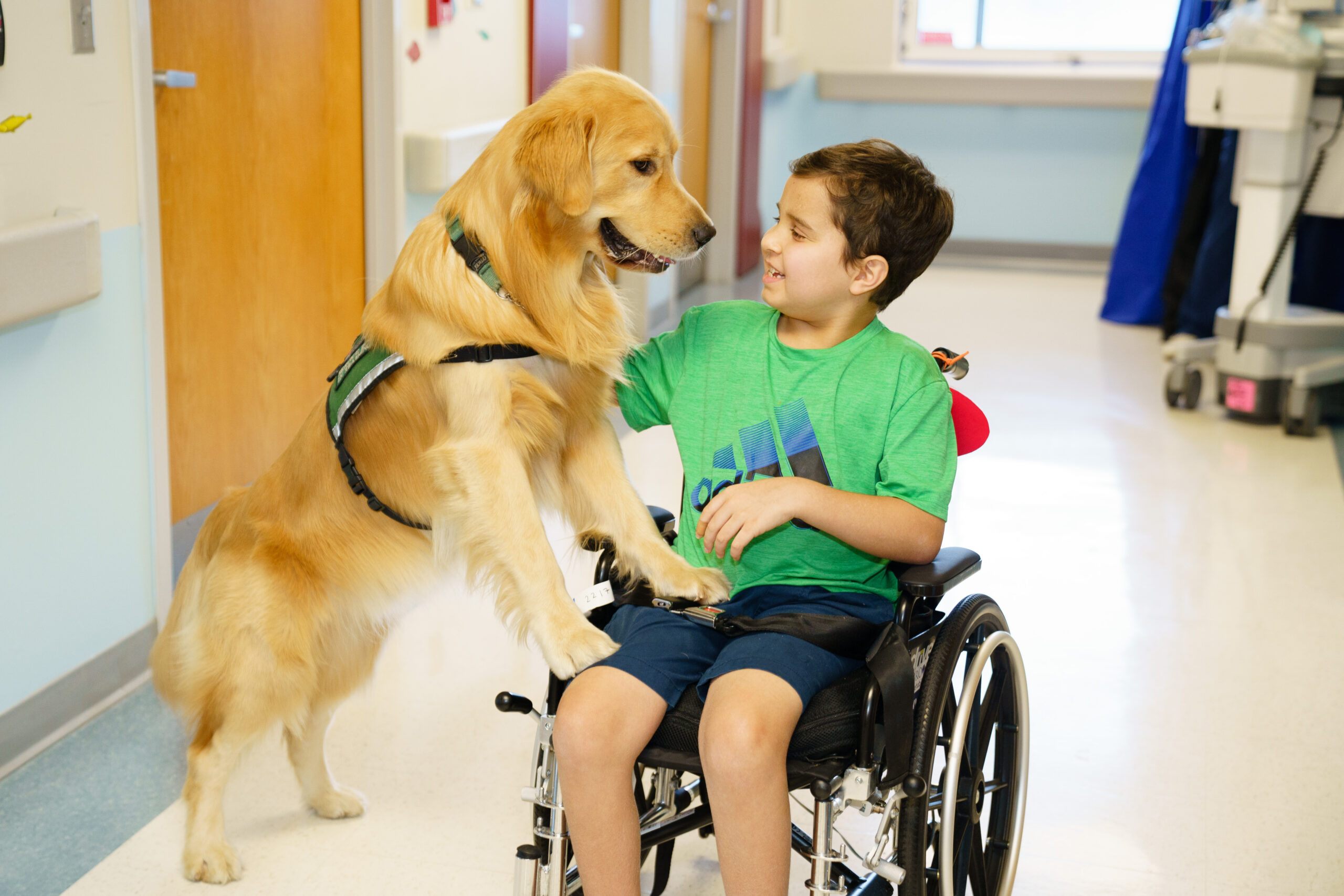 Wyatt was then transferred to Brooks Rehabilitation's acute inpatient hospital to help him regain his ability to walk and speak. "Wyatt did great at Brooks. He arrived quiet and shy but really got his personality back while he was here. On day one, he could not take a full step without collapsing. We decided to try using the Cyberdyne Hybrid Assisted Limb (HAL) robot with him," said Steve Walczak, PT, DPT, PCS, Wyatt's physical therapist. HAL is designed to read the electrical impulses sent from the brain to the muscles, enabling the patient to carry out the desired movement. It allows the patient to learn how to better communicate with specific muscles by utilizing HAL to amplify weaker muscles in order to perform the desired movement.
"If Wyatt was a larger patient, I would consider him a perfect candidate for the technology. Although it didn't align perfectly, I know we have some flexibility in how we set up HAL so I consulted with his Brooks physician and the Cyberdyne team on feasibility. With his interest in technology, I thought he may get excited about using a robot for therapy. What 9-year-old wouldn't want to become Iron Man for an hour?," said Dr. Walczak.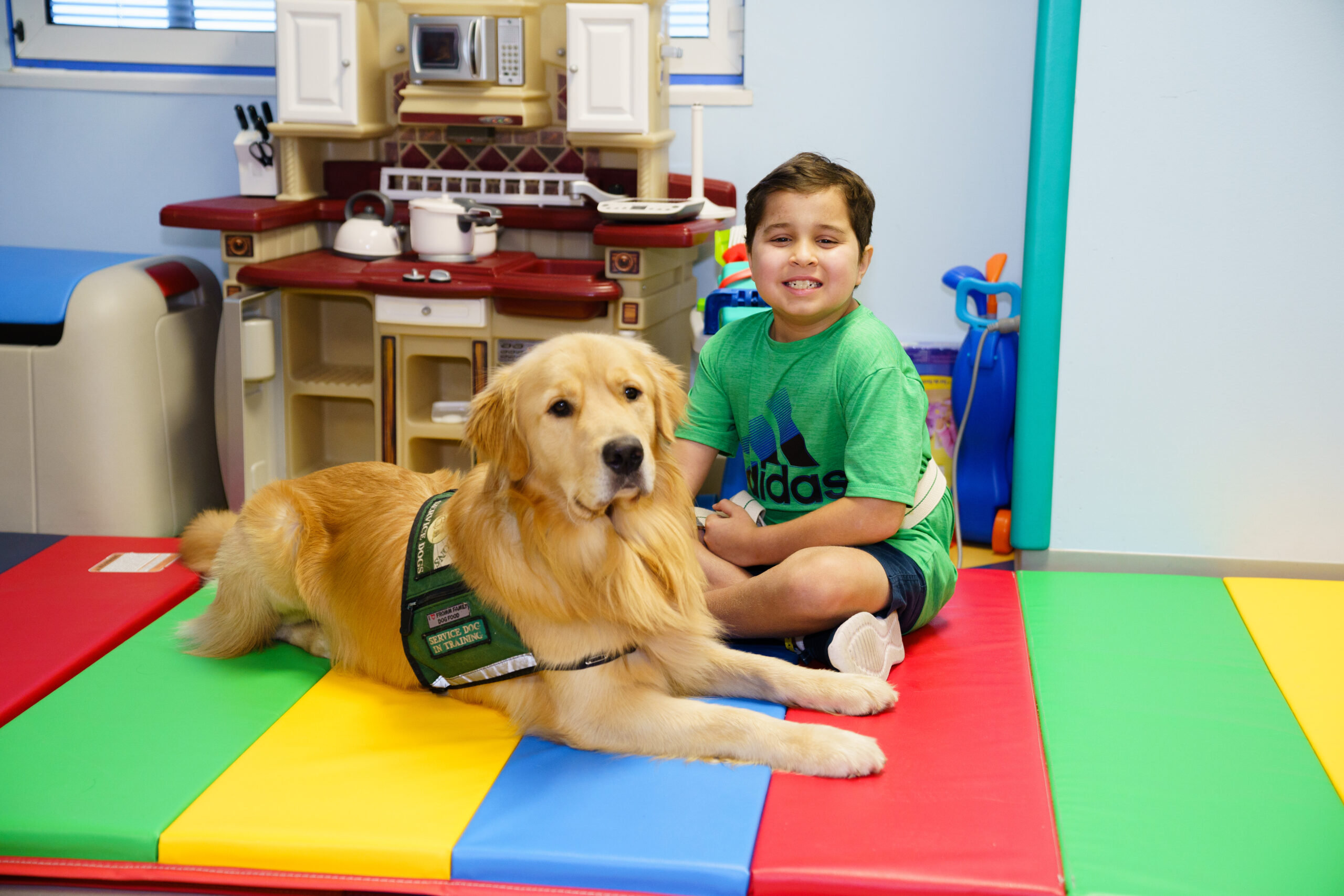 "Wyatt was the youngest and smallest patient that I've treated in HAL. Initially, he was very timid and reluctant; however, by the end of the first session – he was excited and enthusiastic because he better understood how to activate the correct muscles to prevent his knees from collapsing," said Saige Frazier, PT, DPT. "I think Cyberdyne not only improved his understanding of which muscles to turn on/off, but also helped give him more confidence in his abilities by seeing that he actually could perform squats and walk when he knew which muscles to use."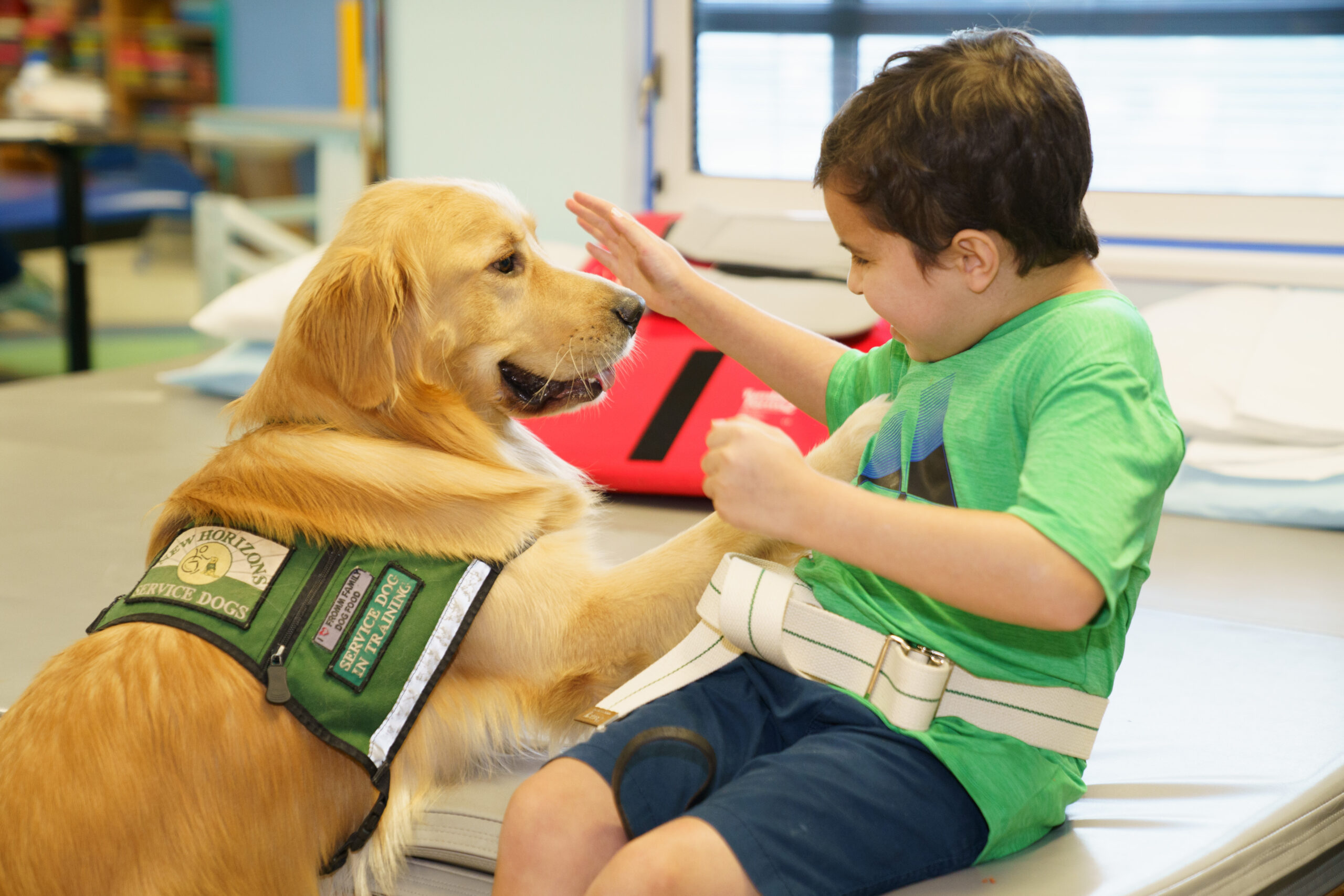 Brittany describes Wyatt as an old soul, a 45-year old man in a nine-year old body. At school, he's in gifted classes, and he hopes to be an architect one day. He is "into technology" so once he regained his confidence, he enjoyed using all of the technology at Brooks. Wyatt was finally on an uphill progression and improved each day. He also enjoyed visits from Starke, a service dog in training who also provides therapy visits.
By the time Wyatt was ready for discharge, he was chatting with all the staff and was able to walk more than 1,000 feet. Both Brittany and Wyatt were eager to return home to Panama City, Fla. to be reunited with Wyatt's younger brothers and sister – a reunion two months overdue.