Brooks Rehabilitation Hospital has been a leader in rehabilitation for nearly half a century. Our 160-bed hospital in Jacksonville, Florida provides the highest quality rehabilitation and medical care for people requiring intensive therapy, making us one-of-a-kind.
We combine highly trained clinicians with the latest technologies to advance rehabilitation through innovation and research-based practice. Our clinical staff is among the highest trained and educated in the profession for rehabilitation, medical care and nursing. This, combined with our state-of-the-art equipment, supports our commitment to providing the best therapy and care to help you achieve your highest quality of life.
Our care teams understand that a severe injury or illness can be life-altering for you and your family, which is why we strive to provide the most advanced therapy along with compassion, motivation and hope. Our comprehensive care teams include physicians specializing in rehabilitation, specially trained nurses, physical therapists, occupational therapists, speech language pathologists, recreational therapists, social workers, dieticians, neuropsychologists, psychologists, case managers and therapy dogs.
Take a virtual tour of Brooks Rehabilitation Hospital (Jacksonville):
Services
At Brooks, we provide a full continuum of care to support the comprehensive needs of patients and their families. Services offered at Brooks Hospital include:
Aquatic therapy
Chaplain services
Cognitive rehabilitation
Community re-entry programs
Family education
Nutrition counseling
Occupational therapy
Physical therapy
Rehabilitation nursing
Speech therapy
You have access to sophisticated therapeutic settings. Every floor of the hospital contains multiple therapy gyms for daily intensive rehabilitation. We also offer access to our Neuro Recovery Center, which is a specialized gym equipped with the most cutting-edge rehabilitation equipment and technology available. Under the guidance of clinicians with expertise in neurology, our patients and community members can continue to improve their neuroplasticity and maximize long-term recovery.
Outcomes
Brooks Rehabilitation Hospital is CARF-accredited in stroke, spinal cord injury, brain injury, pain, pediatrics and general medical rehabilitation. This accreditation reflects proven outcomes that we achieve through evidence-based practice.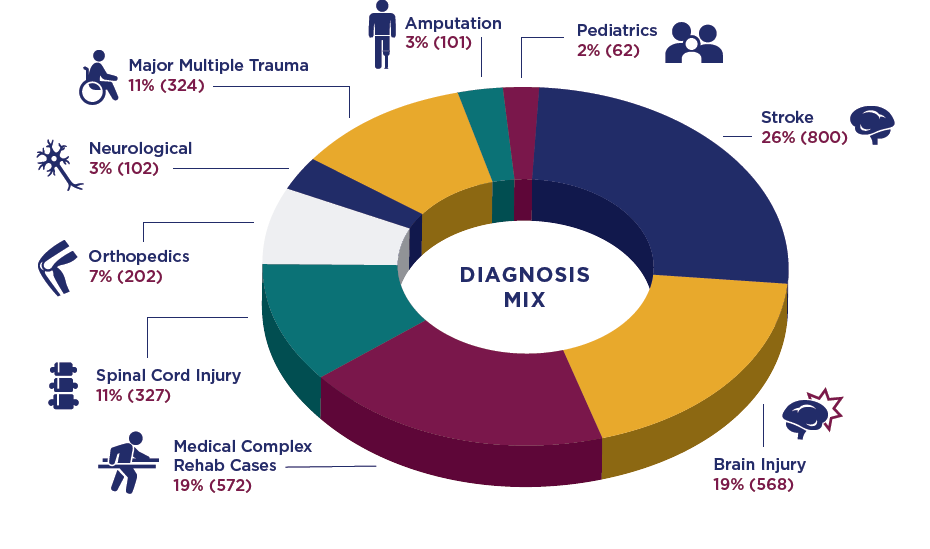 Rehabilitation Nursing
Brooks Rehabilitation Hospital provides 24-hour nursing services furnished or supervised by registered nurses. Nursing team members include registered nurses, licensed practical nurses and nursing assistants.
Brooks Rehabilitation Hospital achieved Magnet® designation from the American Nurses Credentialing Center (ANCC) as a reflection of its nursing professionalism, teamwork, and superiority in patient care.
Rehabilitation nurses make a difference in their patients' lives. They work with patients of all ages, and their families or caregivers, soon after the onset of a disabling injury or chronic illness. They restore patients' lives so they have freedom and independence once again.
As a collaborator, educator, care coordinator, advocate, and change agent, rehabilitation nurses work with other healthcare team members, including physiatrists, occupational therapists, physical therapists, neuropsychiatrists, speech therapists, and others, to create comprehensive care plans based on patient goals and maximum potential.
www.rehabnurse.org/about/roles-of-the-rehab-nurse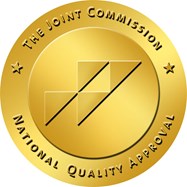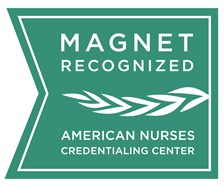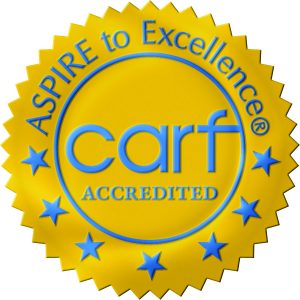 Halifax Health and Brooks Rehabilitation have partnered to create a state of the art inpatient rehabilitation center to serve Daytona Beach and the surrounding community.
Halifax Health is Daytona's only Level II Trauma Center and also holds a Comprehensive Stroke Center designation. The partnership between Brooks and Halifax Health allows you to remain close to home during your recovery.
The Halifax Health | Brooks Center for Inpatient Rehabilitation (CIR) is CARF accredited as a Comprehensive Integrated Rehabilitation Program and Stroke Specialty Program. Located within Halifax Health – Medical Center of Daytona Beach, the Center specializes in treating stroke, spinal cord injury, brain injury and other complex orthopedic conditions. A full spectrum of physical and neuro rehabilitation services are provided.
Team members use patient rooms, hallways and a dedicated gym space to teach functional improvement and compensatory skills to patients. There are also two ADL (activities of daily living) suites specially designed to help patients with their transition back home. CIR also enjoys of having an internal courtyard which allows the patients to practice mobility skills in a real environment, including negotiation of stairs, ramps and different surfaces.
Brooks Rehabilitation has been a leading provider of rehabilitation services in the Southeast for more than 47 years and is the most highly accredited rehabilitation provider in Florida. Our highly trained clinicians offer exceptional physical, occupational and speech therapy to the Daytona community.

Join our team!
Our 60-bed hospital provides the highest quality rehabilitation and medical care for people requiring intensive therapy. Located in Bartram Park, Brooks Rehabilitation Hospital – Bartram Campus will provide rehabilitation services for stroke, non-traumatic spinal cord injuries and brain injuries, orthopedic conditions and medically complex patients.
Brooks will bring its innovative inpatient rehabilitation services to Orlando's Lake Nona community with a new state-of-the-art hospital. The Brooks unique system of care for rehabilitation recovery is a perfect complement to Lake Nona's growing health and life sciences district. The world-class expertise and exceptional outcomes Brooks is known for will attract patients from around the globe while simultaneously serving the needs of the fastest growing region in Central Florida.