Turning Loss Back into Life
Beyond Magazine
---
Apr 12, 2021
Last Updated:
November 22, 2022
This article was originally published in our Spring 2021 Issue of Brooks Rehabilitation Beyond Magazine. Subscribe online.
The loss of a limb is devastating. Yet, there is a place at Brooks where this type of loss is replaced with hope, caring, camaraderie and – yes – even laughter. The Brooks Rehabilitation Amputee Program provides specialized care for patients throughout the Brooks system. The multidisciplinary team is composed of physicians, physical therapists, prosthetists, psychologists and other specialties, all dedicated to integrated, patient-centric care that dramatically improves outcomes.
One patient set the stage for a lifelong career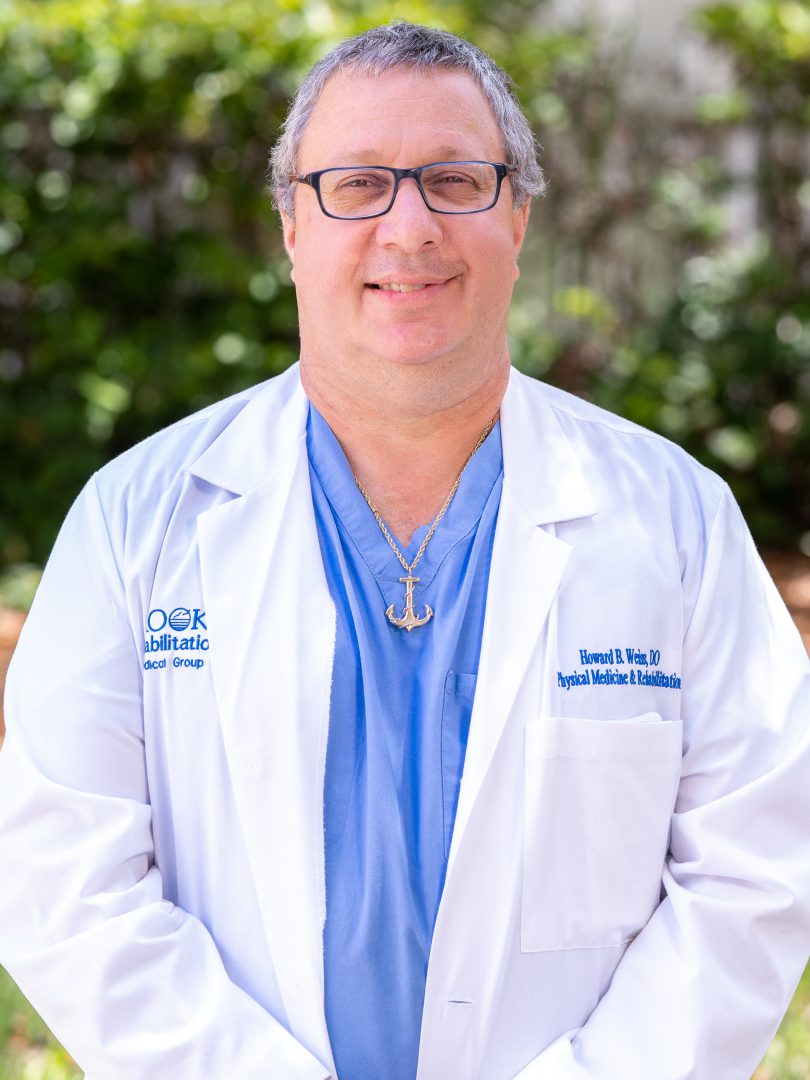 Howard Weiss, DO, a physical medicine and rehabilitation (PM&R) physician, serves as both the Medical Director of the Orthopedic/Trauma program and the Amputee program at Brooks. It was an amputee patient that led Dr. Weiss to his career path. He always knew he wanted to be a physician but wasn't sure about the area of specialty. That was until he met Bernie, a patient who had lost both his legs.
"I was a fourth-year medical student. I went into the room to examine him and he told me he wanted to die. It hurt me. I'd never met anyone who wanted to die. I didn't know what to say," said Dr. Weiss. "The next day I spoke to his wife and asked her to bring in photos of his six grandchildren. When I went to see him the following day, I told him this is who he had to live for. He called me an 'expletive' and then started to do his rehab."
The head of the department was an amputee specialist who taught Dr. Weiss how to care for patients with amputations. Bernie walked out of the hospital on prosthetics and sent Dr. Weiss a Christmas card for the next 15 years of his life.
Creating a patient-centric program
Steve Pompilio, PT, has been working at Brooks Rehabilitation for more than 25 years, and closely with Dr. Weiss for the past 10 years. Early on, Dr. Weiss and Pompilio would treat a patient, send that patient to a prosthetist, manage insurance authorizations and then go back to the prosthetist if adjustments were needed. They realized this circular treatment was inefficient and led to frustration for everyone. Dr. Weiss then invited prosthetists to meet with him, Pompilio and the patient all at once to work things out together. It was this holistic approach – and a shared philosophy of patient-centered care – that led to the current amputee program at Brooks.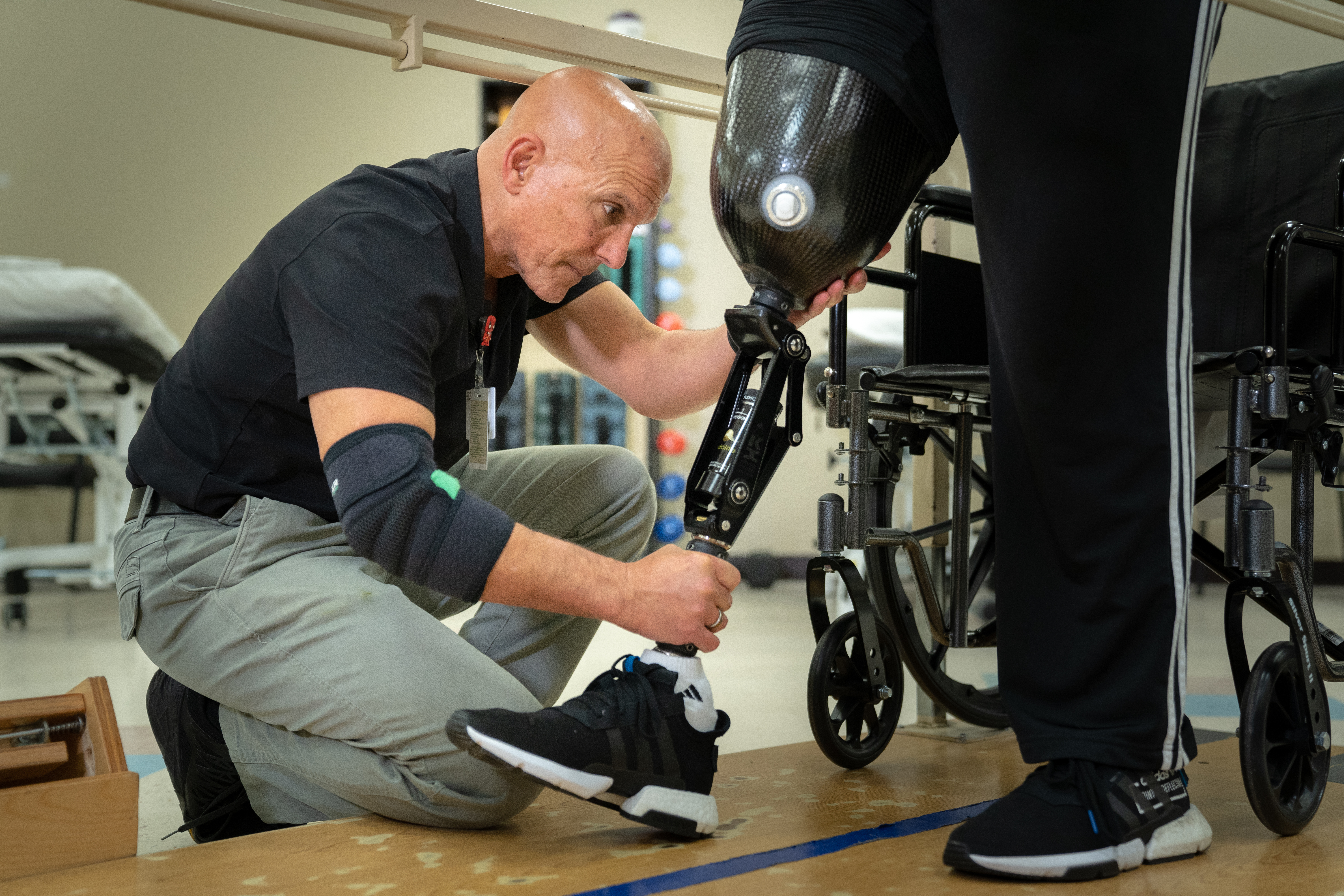 "That's where the program really came from, looking at the specific, unique needs of the patient and seeing the benefit of having everybody together to collaborate. When all providers see the patient for rounds, in real time, right there, the patient really benefits. There's no waiting or wondering if the therapist has called the prosthetist, if the physician has weighed in, and so on," said Laura Langer, PT, DPT, OCS, CSCS, FAAOMPT, the regional director at Brooks' Healthcare Plaza outpatient clinic, where the program has its home base.
Geoff Hemmen is a certified prosthetist (CP) with Hanger Clinic, a leading national prosthetic and orthotic provider. "You won't find anything as fine-tuned as this anywhere in the country," said Hemmen. "To have the volume of patients that come through here with this type of camaraderie is rare. I have two of my competitors here at the same time – and we bounce ideas off each other. There are no egos. That's the big advantage to what Brooks has here. We've been asked to try and replicate this outside of Brooks, but it just doesn't work without the PM&R doctor, like Dr. Weiss, who is the anchor for the whole thing."
Michael Richard, CPO/LPO from Advance Prosthetics and Orthotics agrees. "If we have a challenge with a particular prosthetic, we can bring it to the group and brainstorm. We are all committed to finding the best possible plan of care for the benefit of each patient."
And the holistic approach doesn't stop there. A psychologist from the Brooks Behavioral Medicine team can help with the emotional aspects of limb loss such as depression, self-esteem issues and isolation. "We try to have as many resources as possible for our patients, including community and peer support," said Pompilio. "We often need to talk to patients about wound care. We need to talk to them about their nutrition. What about potential home modifications? What's their transportation situation? All of that is so important in helping them recover."
A top team that goes the extra mile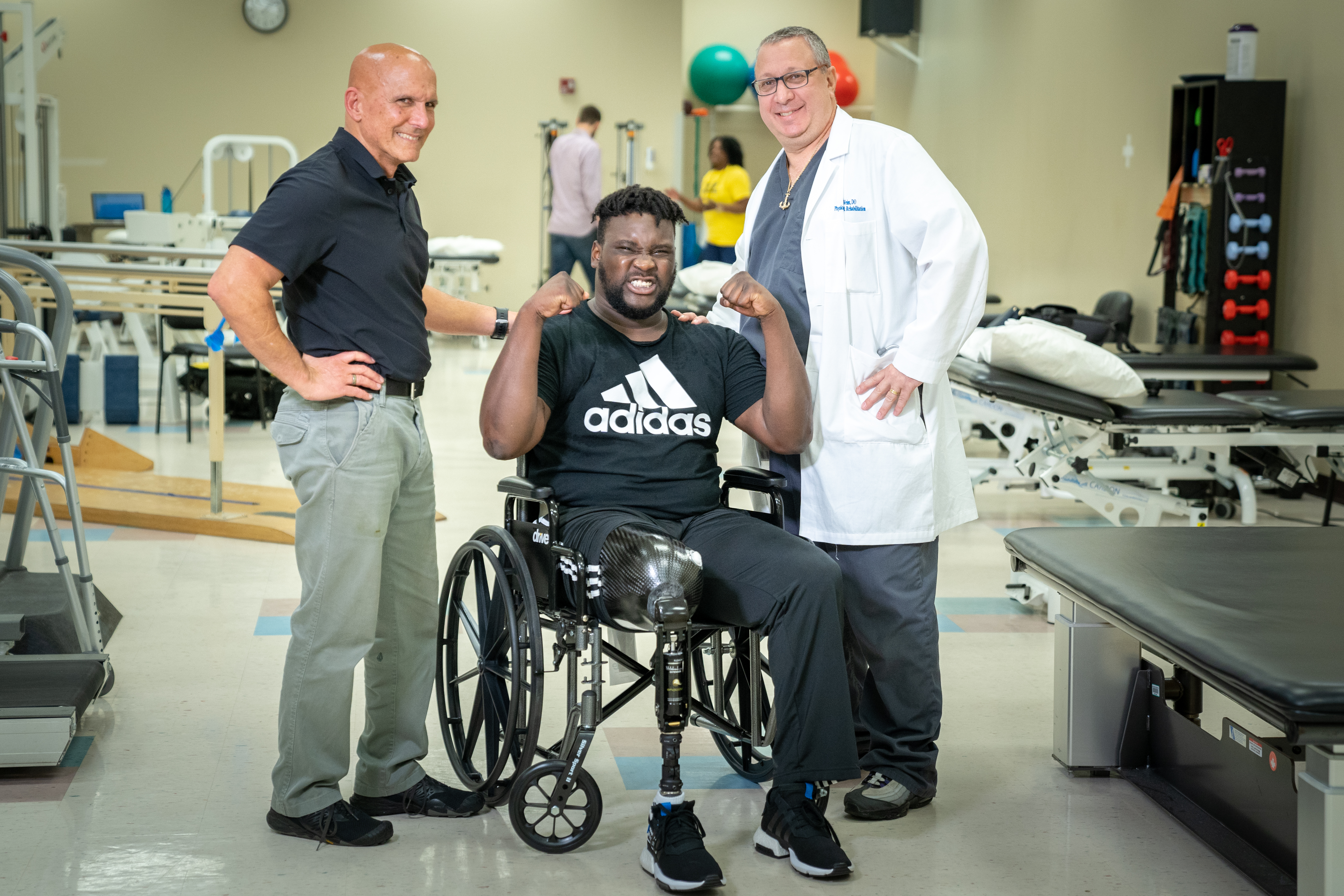 Throughout his career, Dr. Weiss made it a point to get to know each patient personally. Learning about their families, careers, and lifestyle helps him better care for their physical needs. Providing such a high level of personalized care can create strong bonds between patients and the members of the team.
"Once you are our patient, you are always our patient," said Dr. Weiss. "Every patient gets my cell number. No matter where you are in life or how long it's been since we've seen you, we are always here to help." And Dr. Weiss doesn't just mean helping with physical rehabilitation. He's helped patients get into school and get jobs. He was recently invited and attended the out-of-state residency graduation of a former patient. "I'm proud of them and their successes. My job is to make sure these people move forward."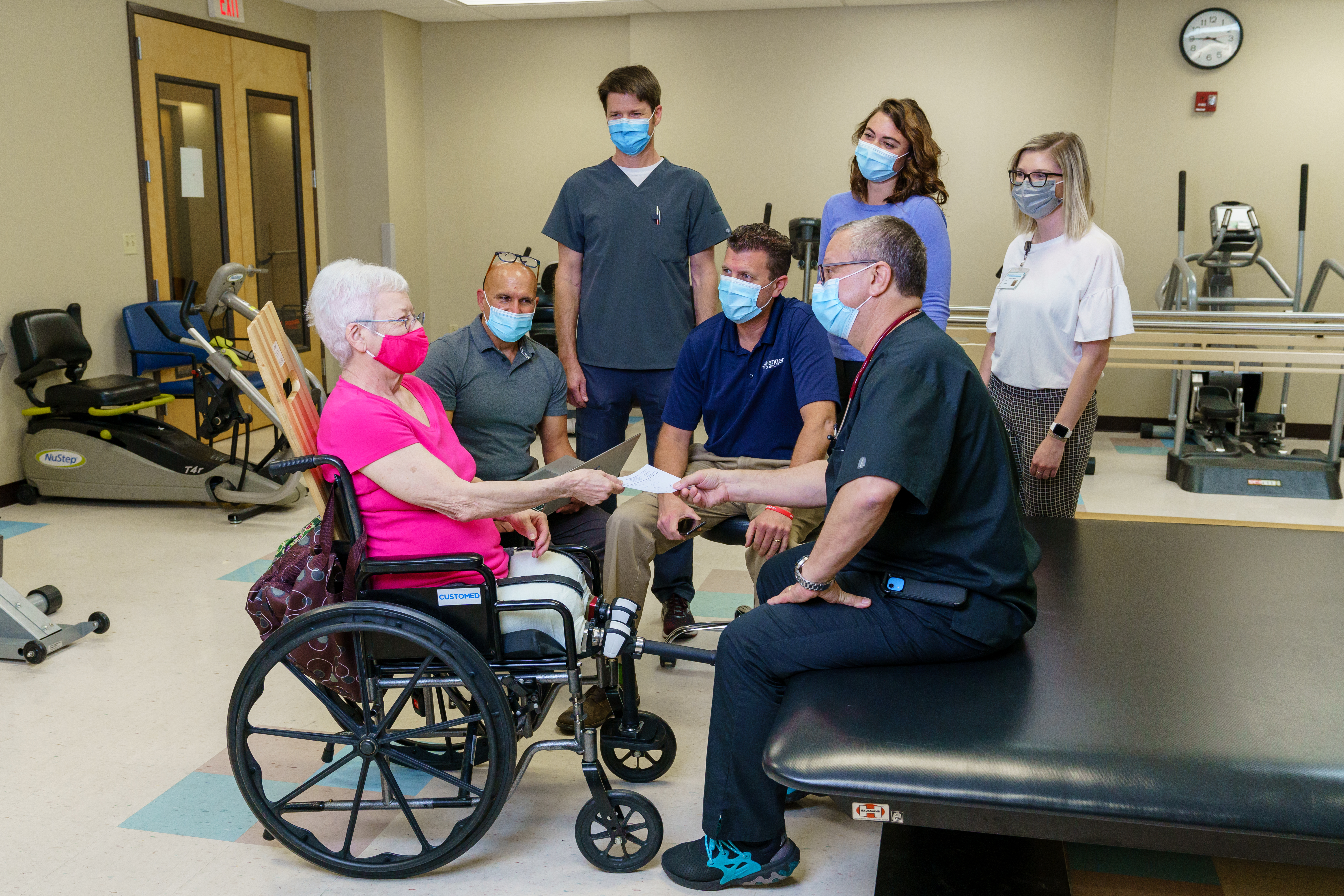 Dr. Weiss has handpicked everyone on the team because he believes they are the best in their field. That level of expertise means that many times patients come to Brooks after trying other options. "We are able to turn the failures that occurred with others into our biggest successes," said Pompilio.
"That's because one size doesn't fit all," said Todd Norton, L/CP, FAAOP, President of Bremer Orthotics and Prosthetics. "While we all offer the latest technology, ultimately we base decisions on what works best for each patient. Patient preference and individual tolerance all affect what is most appropriate, and that can change over time. It's both the challenge and reward to what we do. And it's the reason we are here for patients throughout their lifetime."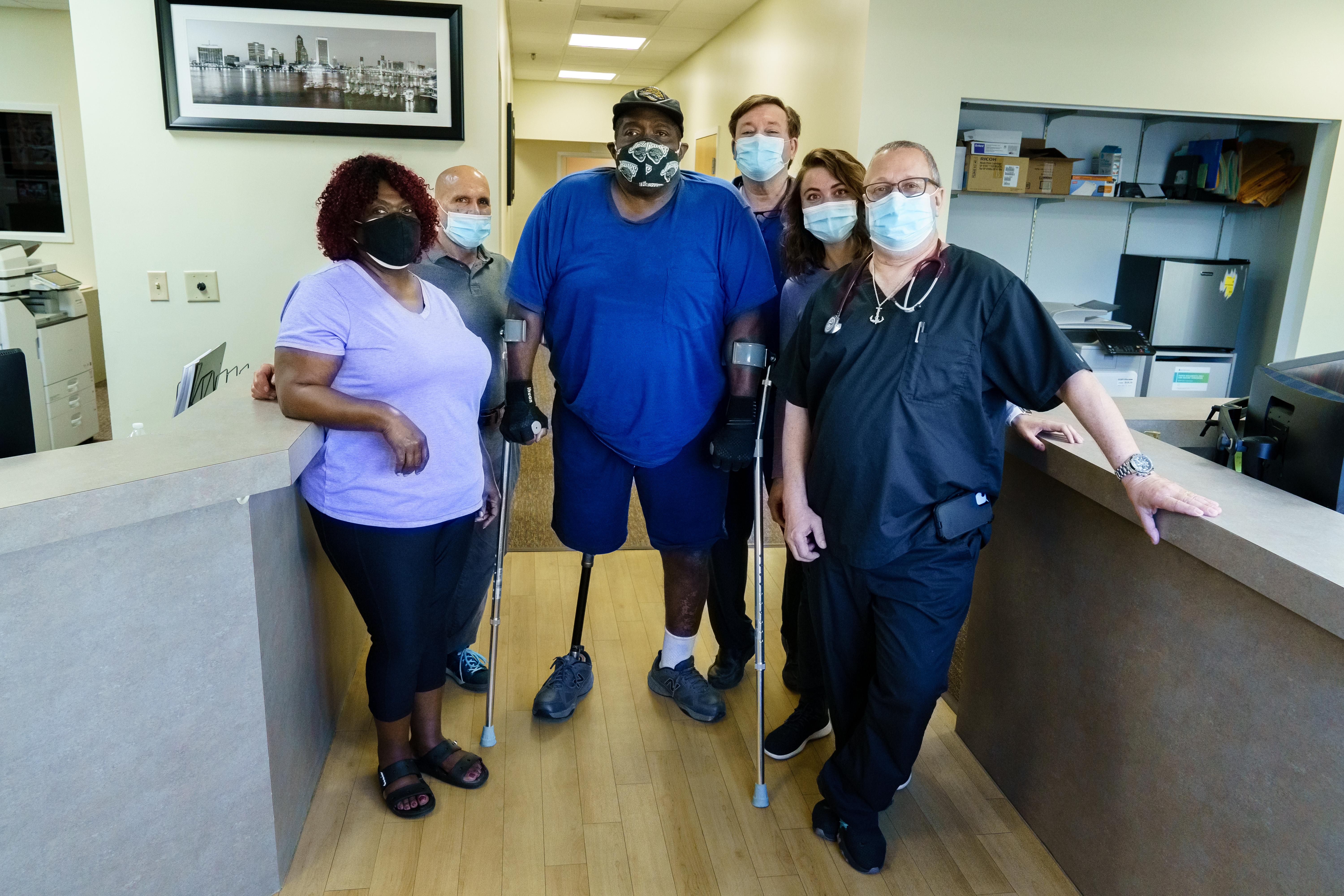 "We all have heart. Steve will tell you the success of the program is because of me, and I say it's because of him. He truly goes the extra mile for his patients. It inspires me to get excited about a patient's progress and working with the team at our clinics. We are always asking what else we can do or what's next for each and every patient. For us, every patient has a name and a life that we help them live again," said Dr. Weiss.
Into the future
"Ultimately, we want to be the destination for patients with amputations. In addition to the daily physical therapy and medical care we provide, over the last four years we've grown from holding clinic on one Thursday a month with one prosthetist to three Thursdays a month with three prosthetists here at the same time. It's the teamwork and experience that we have that brings up the level of care and improves the outcomes for our patients," said Dr. Weiss.
Pompilio has been training other therapists throughout the Brooks system to extend the reach of the program and provide additional support for those in need. For example, Emily Buras, PT, DPT, GCS trained with Pompilio to prepare patients with recent amputations in the inpatient setting for their future success in the outpatient setting. Therapists in other Brooks' outpatient clinics are also learning best practices in caring for this patient population.
Always striving to be on the leading edge of care and technology, Dr. Weiss and Pompilio are working with experts at the Mayo Clinic's campus in Florida on bone-anchored prosthetics. This new procedure uses the principles of osseointegration, which involves implanting the metal shaft of a prosthetic directly into the bone of a patient. "There are many benefits of this procedure to a patient, including better range of motion, increased awareness and sense of feel of the limb and elimination of socket related problems. We're excited to provide rehabilitation once one of the first patients in this area completes surgery," said Dr. Weiss.