Brooks Rehabilitation Goes Viral!
Beyond Magazine
---
Feb 13, 2019
This article was originally published in our Spring 2019 Issue of Brooks Rehabilitation Beyond Magazine. Subscribe online.
Thank you to everyone who attended Brooks Rehabilitation's Celebrate Independence event with Shaquem Griffin. We knew it would be a special day but could not have imagined the impact it would have on those who attended, and now those around the world.
Brooks has been hosting Celebrate Independence since 1990. This free community event features inspiring individuals, family activities, exciting demonstrations and valuable information – all in the name of living life to its fullest.
However, some of the most inspiring moments happened before the main program began. Fans donated to attend a special "Meet and Greet" with Shaquem Griffin himself. The proceeds will go toward the St. Pete Nitro Track Club, a track and field club in St. Petersburg, Fla., that he and his brother Shaquill founded in their hometown.
During the meet and greet, fans of all ages and abilities were able to visit with their hero. Seven-year-old Shepherd Reavis was too excited to sleep the night before. Shepherd was also born with amniotic band syndrome affecting the same arm as Shaquem. He nervously gifted his idol a football with his handprints and a message that read, "Thank you for being a great example! Your biggest fan … Shepherd." When asked what he thought of meeting Shaquem, Shepherd said, "he's my best friend."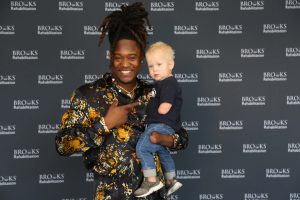 The Tidd family was equally excited to meet Shaquem. Their one-year-old son Joseph has no left hand, and they too looked at Shaquem's success as an inspiration. Video of their meeting has gone viral and was featured on NBC Nightly News, People, the Today Show, Yahoo Sports, SB Nation and the Seattle Seahawks website, just to name a few. The Tidds even had their own news crew following them to the event from their hometown. 
Miles Tidd, Joseph's dad, said, "Thank you again for the amazing day today. Everyone in the meet and greet to the flex field staff were great. We had a blast, and we will remember this experience for a long time. From the Tidd family to the Brooks family, "Thank You!"
A special thanks to Brent Martineau from Action Sports Jax for hosting the conversation with Shaquem Griffin on stage. 
We'd also like to thank our exhibitors for their informative and interactive demonstrations:
Brooks Adaptive Sports and Recreation
Brooks Center for Sports Therapy
Brooks Pediatric Rehabilitation
Jacksonville Sports Medicine Program
UF Health Jacksonville TraumaOne