What to Expect When a Friend Receives a Dementia Diagnosis
Clinical Expertise
---
Mar 12, 2019
Recently, former Mets pitcher, Tom Seaver, received a diagnosis of dementia leading former teammates to wonder how best to support him. Seaver's former teammate, Art Shamsky, revealed in an excerpt from his upcoming book "After the Miracle" that the pitcher was suffering from short-term memory loss. Bud Harrelson, another former teammate, recalled telling teammates to be prepared when they meet with him. "He can forget things that happened just a few minutes before," Harrelson told Shamsky, according to Newsday. "And he repeats himself a lot. But when he gets his rest, he still has a lot of energy."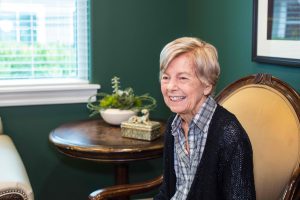 Dementia is a thief. It steals a person's memories, abilities and independence. A person with dementia often feels frightened, confused and alone. Receiving a dementia diagnosis can be devastating, but it does not need to lead to isolation. Here are some tips that may help you continue your relationship:
First and foremost, dementia is not contagious. There is no reason to avoid your friend or loved one. That person is the same one you know and love. He or she still has feelings and can experience joy and pain like everyone else.
Your friend may want to avoid going out in public. Loud noises and activities can be disturbing to persons with dementia and increase anxiety. A nice alternative is to carve out time to visit in the person's home or a quiet setting. Limiting distractions will enhance the conversation and encounter.
To facilitate conversation with a person with dementia, be prepared to SLOW DOWN. Ask short questions and wait patiently for a response. If your friend answers incorrectly or inappropriately, ignore it and move on. Trying to correct a person with dementia will lead to frustration for both parties.
Past times are the best times. While short-term memory loss is hindered for persons with dementia, long-term memories can be vivid and tangible. Bring up the good old days. Look through photos, memorabilia or newspaper clippings.
Your time and presence are the most precious gift you can give to your friend with dementia. Be there for him or her as you have always been.
By Danielle McGrath, Director of Marketing for Aging Services for Brooks Rehabilitation
————————————————————–
Brooks Rehabilitation offers specialized memory care assistant living in THE GREEN HOUSE® Residences. Brooks offers other support of persons with dementia including neuropsych evaluations, driving evaluations and therapies to help maintain cognitive function and mobility.