A Firefighter Returns Home After Long Battle with COVID-19
Clinical Expertise
---
Dec 30, 2021
When Lake City, Fla., firefighter Lt. Jeff McNeill reported for duty on July 29, he never even considered it would be his last day on the job. The following morning he started feeling ill and tested positive for COVID-19. Six others at his station also tested positive.
By August 2, a chest x-ray at an urgent care center revealed lung damage and Jeff was taken by ambulance to the hospital. He then spent 83 days in that hospital. His fire chief, Randy Burnham, was hospitalized in the next room and tragically lost his life. Jeff almost did as well.


Clinicians did what they could to see if Jeff's lungs would heal without having to intubate him. Unfortunately, ten days later, his wife Gina got the news that she would not be able to speak to him for a while. He was moving to ICU for intubation and placed in a medically-induced coma. "From that point on it was a rollercoaster," said Gina. "They thought he had a stroke. Or maybe sepsis. Possibly a brain bleed." His lungs were so damaged; they thought he would need a transplant. Everything changed when he was placed on an extracorporeal membrane oxygenation (ECMO) machine. The ECMO machine pumps and oxygenates a patient's blood outside the body, allowing the heart and lungs to rest. That was his bridge to either recovery or a transplant. Luckily for Jeff, it meant recovery.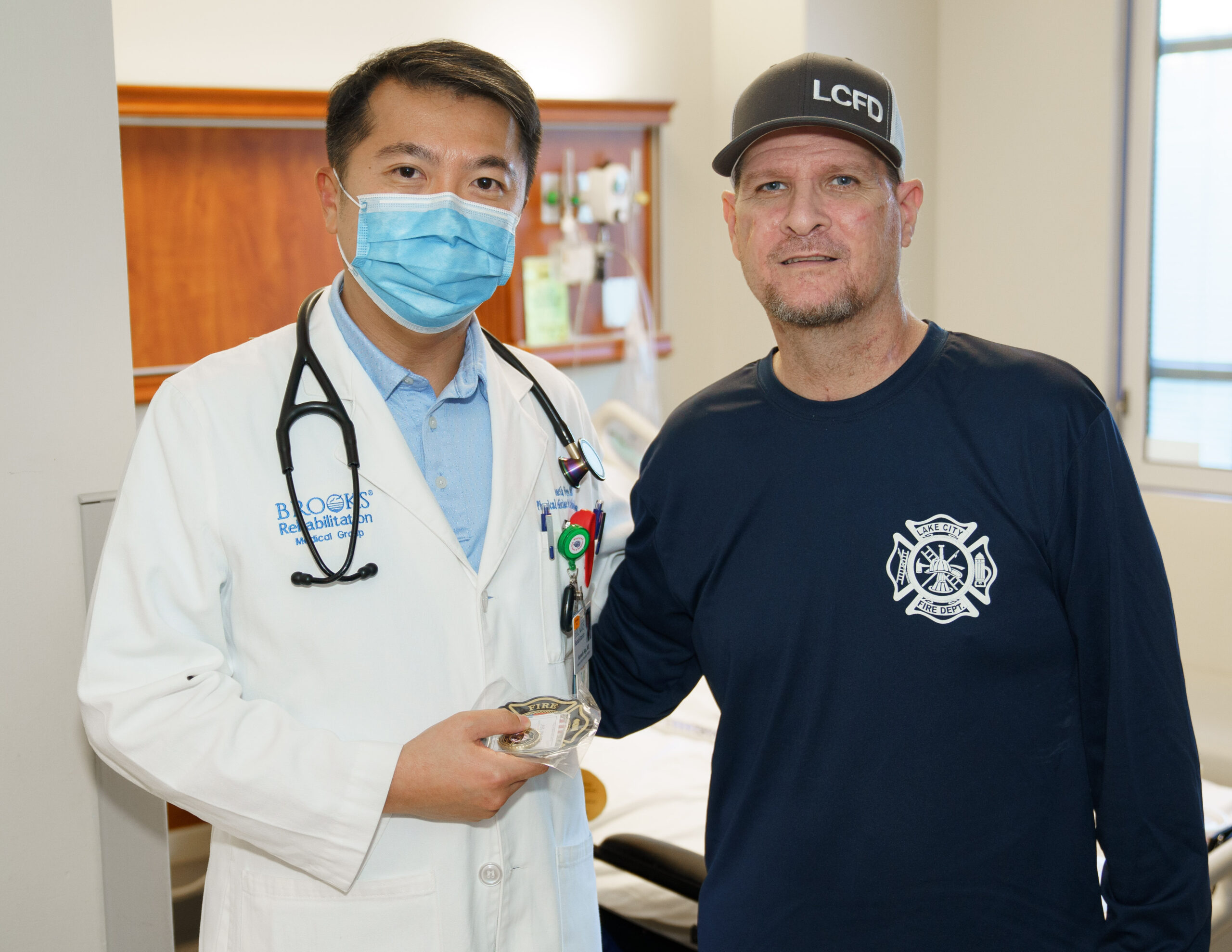 One month after being removed from ECMO, Jeff was well enough to be transferred to Brooks Rehabilitation Hospital – University Campus. His time hospitalized had taken a toll on his body and he lost all motor skills. When he arrived, he couldn't even push the nurse call button. "I could barely move. The first day at Brooks it took three therapists to get me up and out of bed," said Jeff.
His physical therapist, Heather Gosselin, PT, DPT, NCS, Cert. DN, joked, "I think he believed I was trying to kill him on his first day. He could barely tolerate being out of bed, sitting up or doing any activity without his oxygen dropping. But he truly has made an incredible recovery in a short amount of time."
Within two weeks, Jeff was walking – 10 steps the first day and then 20 steps the next. He started using a walker and progressing more each day. One of Jeff's favorite therapy sessions was getting to ride a bike around the halls and nurses stations.
Working with occupational therapist, Katie Scott, M.S OTR/L, he improved his fine motor coordination (hands) and upper body strength. To prepare Jeff for discharge, his therapists and nurses had him getting up and getting ready each morning on his own.
"The OT team helped Jeff complete a full morning routine of getting in the shower, getting dressed and brushing his teeth. He worked so hard during OT so he could be faster and conserve energy to be more independent at home," said Scott.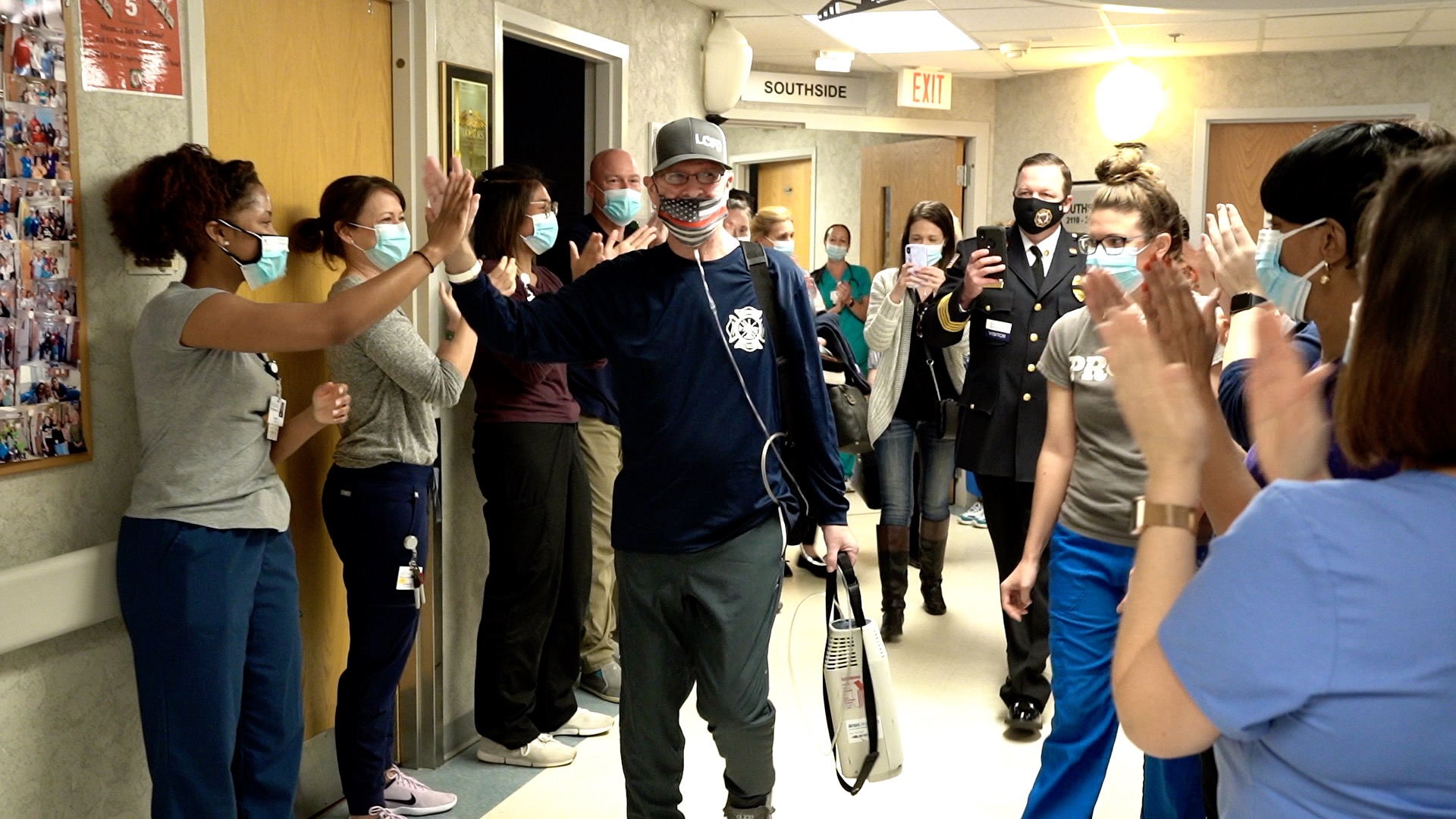 In fact, Jeff did so well in therapy that he was ready to go home earlier than expected… in time to celebrate Christmas with his family.
"Jeff's recovery from COVID has been over 4 months, with the past 6 weeks here at Brooks. He came into Brooks needing total care and unable to sit up on his own but he'll be walking out of our hospital. He underwent intensive daily therapies over the past 6 weeks, employing the latest therapy techniques and technologies to help get him up and walking quickly. We also helped him get off many medications and almost off oxygen all together. He's now able to go home and function independently. I'm impressed with his hard work and dedication, along with his entire care team here at Brooks, to help him progress so quickly in his recovery," said Kenneth Ngo, M.D., Jeff's physical medicine and rehabilitation physician at Brooks.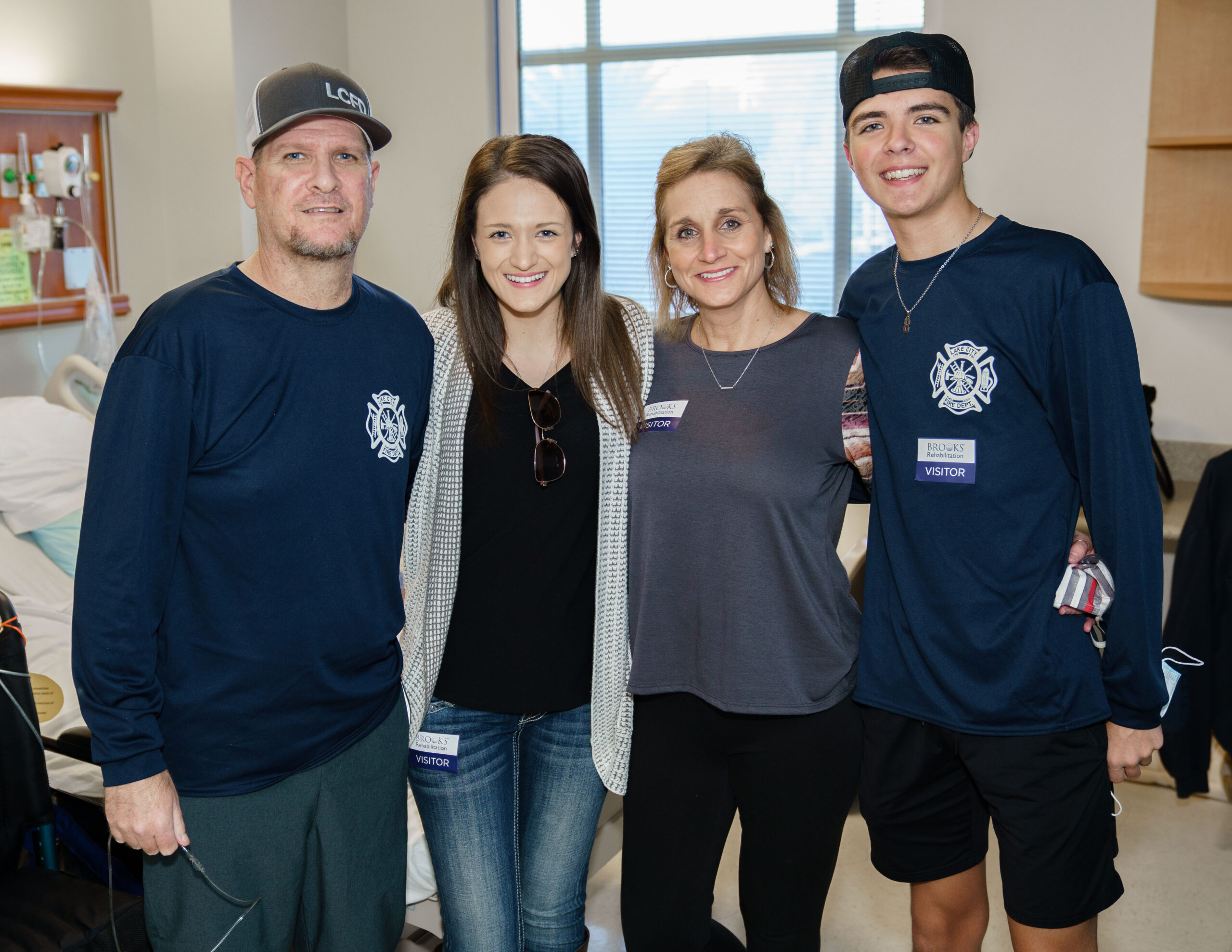 On Dec. 8, Jeff's wife, children and parents arrived to make the journey back home. His fire chief, Josh Wehinger, along with law enforcement officers, Arica Johns (Lake City Police Dept.), Jim Taylor (Florida Highway Patrol) and Howard Bulthius (Columbia County Sheriff's Office) arrived as well to personally escort him. Members of the Jacksonville Fire & Rescue Department Squad 12 were also on hand to honor his recovery.
As Jeff walked out of his room at Brooks for the last time, his care team and many others lined the halls to wish him well. An even bigger celebration was planned for him back home.
"I would not be where I'm at if it wasn't for Brooks. If you need rehab, this is the place to go," said Jeff.
For more on Lt. McNeill's homecoming, please visit: