Orthopedic Rehabilitation Through Brooks Care Settings
Beyond Magazine
---
Aug 22, 2023
Brooks Rehabilitation is recognized nationally for providing care to patients with the most complex injuries and conditions, such as spinal cord injuries, traumatic brain injuries, stroke, neurological conditions and transplants. Yet, the majority of patients come to Brooks for orthopedic conditions.
Brooks cared for more than 32,000 patients with a variety of orthopedic diagnoses last year. With specialization and residency/fellowship training in orthopedics, patients are getting the highest level of care possible throughout the Brooks system of care.
Inpatient Care Truly Customized for Each Patient
Prior to the early 2000s, Brooks treated a significant number of patients after total joint replacement surgery in Brooks Rehabilitation Hospital – University Campus. Patients who would typically spend a few days in Brooks' hospital after surgery are now going straight home. The Centers for Medicare and Medicaid (CMS), along with insurance changes, transformed the landscape for orthopedics in the inpatient setting.
While the type of orthopedic conditions may have changed, Brooks Rehabilitation Hospitals still treat more than 700 patients each year after motor vehicle accidents, amputations, fractures, spine surgeries or fusions and more. The main goal for the patient remains the same as well…get home safely with as much independence as possible.
That is where the similarities end. Every patient that enters the Brooks system of care is unique, and their plan of care is tailored to their particular needs. "A typical inpatient length of stay for an orthopedic injury is about 1 – 2 weeks. However, bones can take 6 – 8 weeks to heal so we have to be really creative," said Nicole O'Brien, PT, DPT, physical therapist at Brooks Rehabilitation Hospital – Bartram Campus. "Most of our patients were independent before their accident or injury and are frustrated having to wait while they're healing. We try to make treatment fun while working on strengthening, balance, safe transfers to and from a wheelchair and daily activities like showering and getting dressed with the occupational therapy team." Patients are also often limited by pain. Physicians, nurses and therapists work together to make sure the patient is properly medicated.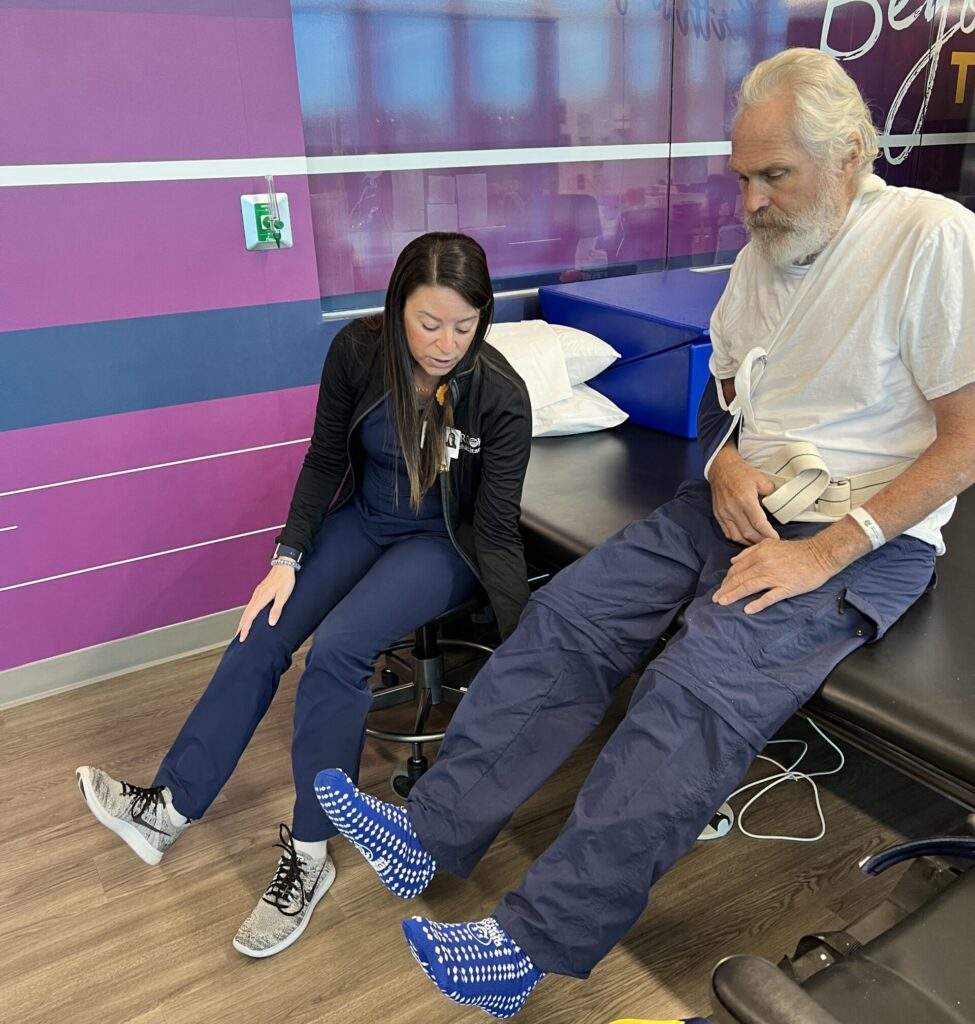 From there, care is truly patient-centered. "We find out what goals they want to achieve and if they have any special interests and adapt therapy sessions accordingly," said O'Brien. "Physical therapists work with recreational therapists to have patients playing video games where they are distracted so they don't realize they're putting weight on an injured leg. We've played softball with patients. We've played fetch with therapy dogs. Whatever the patient is interested in, we try to bring that into the hospital environment."
While parallel bars are still a staple in the therapy gyms, clinicians also use specialized technology. When appropriate, therapists use the ZeroG, passive harness system and the Bioness Integrated Therapy System (BITS). "We had a patient here recently who hurt his arm skateboarding. We allowed him to skateboard in the hall using the ZeroG for safety. We use BITS for balance and to promote weight-bearing. Our speech-language pathologists use it for cognitive tasks."
The care team also provides abundant motivation and coaching to patients. "It can be scary getting out of bed that first day. We aren't just treating an injury but a whole patient – both their physical and mental well-being. I feel empowered when I can find ways to get them better and back to what they enjoy," said O'Brien.
Same Level of Care in Skilled Nursing
When Brooks opened Bartram Crossing (BC) and University Crossing (UC), two skilled nursing facilities in the Brooks system of care, a decision was made to focus on what Brooks does best – rehabilitation. Similar to the inpatient hospital because of length of stay and acuity levels, UC and BC treat predominately more short-term than long-term patients. Orthopedic patients typically spend 7-10 days in this care setting.
Patients are admitted to BC or UC from an acute care hospital or their home with an array of orthopedic diagnoses – fractures, falls, motor vehicle accidents, elective joint replacement, spinal fusion and amputation, to name a few. Lashia Hicks, PT, DPT, GCS, Director of Rehabilitation at UC, helped develop the orthopedic rehabilitation program. A geriatric clinical specialist herself, Hicks established orthopedic core competencies therapists would have to master to ensure excellent patient care.
"We treat more than 100 patients per month in this program so our specialized team of orthopedic clinicians are familiar with various surgical and non-surgical precautions and know how to progress a patient through different weight bearing restrictions," said Hicks.
With the majority of patients over age 60, Hicks and team are also treating higher acuity patients. Not only are they treating the orthopedic dysfunction, they also have to consider age-related changes like bowel and bladder function, frequent falling and low vision, along with other medical issues like dementia, Parkinson's and chronic heart failure. "If you've ever done therapy with a patient who is 85 with hip precautions and dementia, your session is completely different," said Hicks. "There is a lot of redirection required. You learn how to give simple cues and be creative when working with older adults."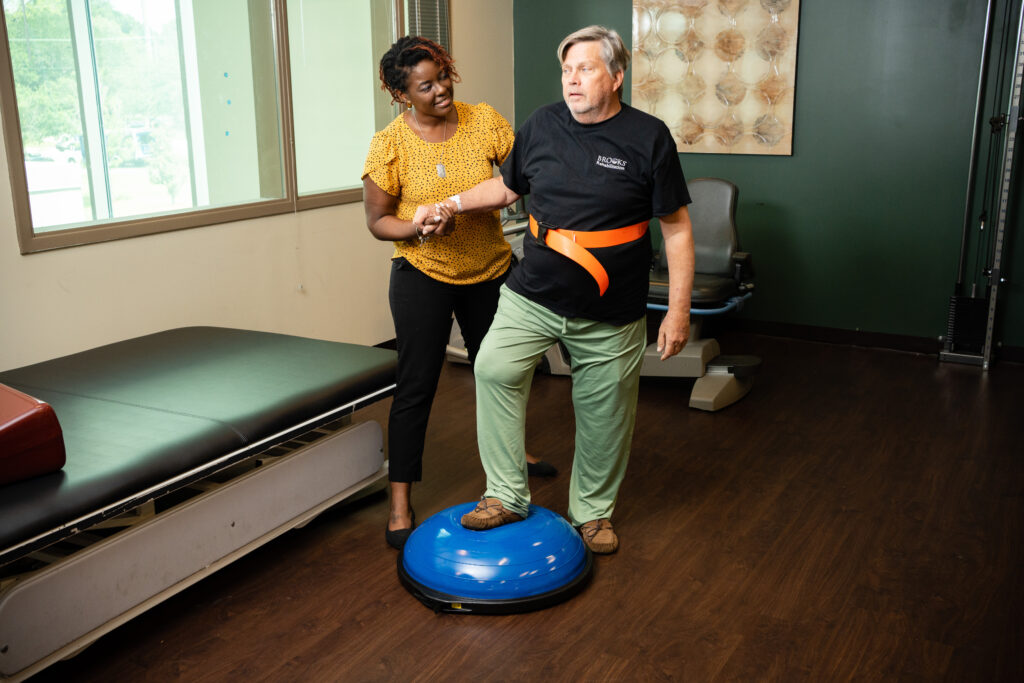 While we have to treat older adults differently, they are still receiving the same level of Brooks care. "People think skilled nursing is older people sitting in a chair doing three sets of 10 ankle weights, and that is not what we do here. We have technology that most others don't have," said Hicks. Caregiver training and family education is also an important part of the skilled nursing stay. If patients are discharging after 7-10 days, their caregivers need to understand how to assist with wheelchair mobility, transfers, caring for a new amputation site or learning how to don a new prosthetic.
That shorter length of stay doesn't translate into less progress, however. In fact, it's just the opposite. UC exceeded their goals last year for improvement in function – seeing gains in transfers, walking and walking or rolling a wheelchair on the unit. These stellar outcomes earned both UC and BC a spot on the U.S. News & World Report's 2022-2023 "Best Nursing Homes" list. They were both among the elite 16 percent in the country that earned a "High Performing" rating, the highest possible achievement.
Safety and Problem Solving in Home Health
An orthopedic patient in the Brooks home health division likely has a chronic disease going on at the same time as the acute orthopedic injury or episode that just happened. These individuals are not able to transition straight to outpatient therapy, but the goal is to get them there as quickly as possible.
"We treat all types of orthopedic conditions – from joint replacements, fractures, spinal fusions, laminectomies – any orthopedic condition you can name, I've treated it in home care," said Chandler Rice, OTR/L. "However, our goal is to stabilize the patient, assess their safety and transition them to the next care setting as soon as they no longer meet the homebound status."
Melissa L. Cooper, RN, BSN, MBA, Vice President – Home Health, explains this is a differentiator for Brooks. "We have a system of care so when a patient is referred from one of our inpatient settings, we pick up right where they left off. We're all on the same page and building on the progress the patients already made so they recover faster."
A typical orthopedic patient is referred for 2-3 weeks of home health care. "Our goal is to progress their functional ability to transition them to outpatient therapy as soon as possible," Rice said. We're committed to doing everything possible to get them well enough for the most beneficial care setting."
However, the home environment does provide a unique opportunity for customized care. In addition to medication management and therapies, nurses and therapists also assess home safety, fall risks, adaptations and equipment needs. It's important to ensure the home environment is as safe as possible because that's where they spend the majority of their time.
"Being in the patient's home gives us a unique opportunity to teach them how to safely function and improve in their own environment. Patients receive training in the hospital, but until you are there watching the patient get in and out of bed, getting something out of their closet or trying to use their bathroom, you aren't able to recommend the best solutions," said Susan Chapman, RN, BSN, Director of Nursing.
"From an OT perspective, one of my favorite things is helping introduce a tub transfer bench and work on showering with a patient who has been afraid to shower. Some have no idea they can still shower and they cry when they find out they can. It makes a huge difference," said Rice.
"We do all kinds of problem solving. Since we don't have the same technology available to us as other settings, we have to be extremely creative," said Rice. "It's more than just clinical judgement. You have to put all the pieces together in every room of the house based on their precautions."
Mallory Behenna, PT, DPT, is an orthopedic physical therapist at Brooks and also serves as the outpatient orthopedic program coordinator for approximately 170 therapists throughout the Brooks system.
"A lot of people think of 'ortho' as just putting a patient on a mat and having them do three sets of 10 of an exercise. Because so many people think this way, often orthopedic rehabilitation doesn't get the full appreciation that it deserves. It is so much more than that," said Behenna. "What we do is really an art. I could have an entire day of people who have low back pain, and every case is different. We're like detectives. What works for one person doesn't necessarily work for another. We have to use our clinical reasoning, expertise and training to help people move and live their lives better."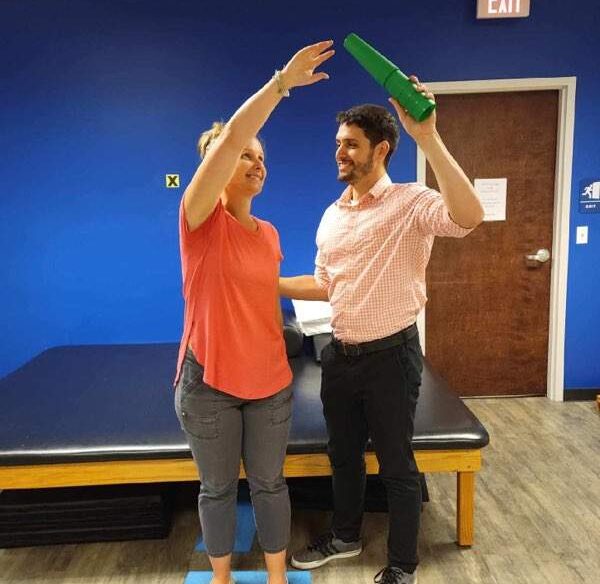 Behenna has worked for different rehabilitation organizations and points out some differences she feels makes Brooks more customer-centric than the previous companies.
"We see patients one-on-one for evaluations for a full hour," said Behenna. "It's huge to give your undivided attention to just this one person to figure out what's going on and tailor their plan of care. Then, we're never expected to treat more than two patients an hour, which in orthopedics is a really good thing. Not every organization makes that limitation, because obviously the more people they see, the more they can bill. But Brooks cares about our patients' results, and allows us as providers to schedule in a way that maximizes those results. That's what sets Brooks apart for me."
All treatment is directed and provided by therapists who are among the most highly trained in their fields. Technology also plays a large role in orthopedic rehabilitation, including two specialized outpatient centers for Brooks patients:
The Brooks Center for Sports Therapy (CST) provides specialized athletic rehabilitation for athletes ranging from "weekend warriors" to the highly competitive and elite. The CST is staffed by clinicians who are board-certified in orthopedics and sports therapy. CST clinicians provide care for athletes throughout the continuum of care, from the field to the clinic, and are experts in return-to-sport procedures. In addition to treating the athletic population, CST clinicians have the experience and expertise to treat a wide range of musculoskeletal conditions.
The Brooks Motion Analysis Center (MAC) is a specialized clinical and research assessment facility focused on gait and movement impairments. Motion analysis quantifies muscle activity, joint motions and forces during movement. The MAC uses cutting-edge technology, expert clinical examination and biomechanical analysis to provide detailed, quantifiable information to improve the recovery and performance in individuals with orthopedic (and neurological) impairments. The MAC can assess athletes before injury to help improve performance and after injury to determine when it is safe to return.
Yet, even with all the evaluations, treatments, education and technology, for Behenna and the orthopedic therapists it all first comes down to earning a patient's trust.
"From the very beginning, from the first time that I meet someone, I know I can't make them better until I earn their trust," said Behenna. "If I don't care about their goals, then we're never going to be a team and they never really will improve. It's an honor for people to allow us into their rehab process. So, if I only care about the things that I see and I am not thinking about them as a person, I'm not doing my job."
Become a Patient at Brooks
If you or a loved one is interested in becoming a patient for orthopedic rehabilitation, visit our Become a Patient page.