"By the time a patient arrives in the care of a rehabilitation nurse, their life has already been saved. But it's up to the rehab nurse to return that patient to living life as independently as possible." – Association of Rehabilitation Nurses
Join Our Nursing Team!
Quality of Care
Brooks Rehabilitation Hospital nurses are dedicated to providing safe, high-quality and patient-centered care. The nursing commitment to high-quality care and excellence has paved the way for our inpatient nursing team to achieve Magnet® recognition, the gold standard and highest designation for nursing excellence.
Team-Based Care
Our Interdisciplinary Shared Governance Model supports the involvement of clinical staff from all disciplines to help drive positive changes to promote exemplary care for patients and a quality practice environment for staff.
At Brooks, our bedside rehabilitation nurses collaborate with their peers and leadership from all disciplines acting as key drivers dedicated to improving outcomes and the patient experience. Not only is the role of the rehabilitation nurse to help patients reach their highest level of recovery and restore independence; but they also act as an advocate, educator and caregiver.
As a collaborator, educator, care coordinator, advocate and change agent; rehabilitation nurses work with other healthcare team members, including physiatrists, occupational therapists, physical therapists, neuropsychiatrists, speech-language pathologists and others, to create comprehensive care plans based on patient goals and maximum potential.
Ongoing Education and Innovation
Our nurses are encouraged to participate in the clinical ladder program, which represents the progression of clinical skills, professional behaviors, expanded knowledge and clinically focused educational activities. Our Simulation Lab allows our nursing staff from each division to receive innovative, hands-on training and ongoing education with state of the art technology, promoting the enhancement of clinical skills and safe patient care. The Nurse Residency Program at Brooks consists of additional in-person training and simulation to strengthen real-world nursing skills for new graduates.
Contributions of Brooks Nurses
Brooks Rehabilitation Hospital employs more trained and certified rehabilitation nurses than any other facility in the region. Our nurses promote patients' highest level of participation in rehabilitation. With an emphasis on patient and family, nursing supports the patients' transition to home.
Awards and Recognition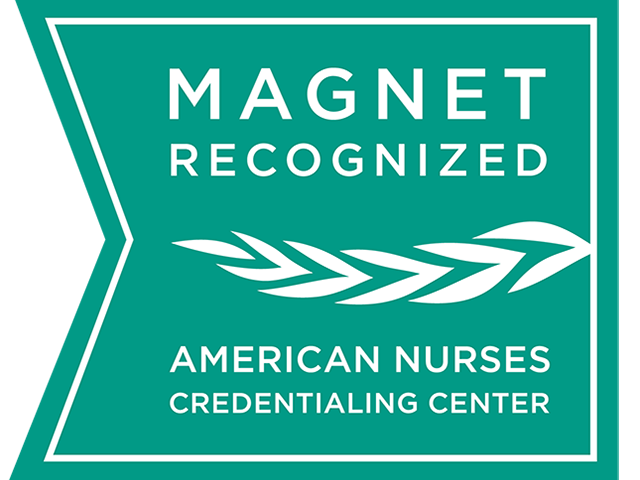 Magnet Recognition for Nursing
Public Notice – Magnet Recognition Program® – 2021 Site Visit
Our inpatient hospital achieved Magnet® status from the American Nurses Credentialing Center (ANCC)