Spinal Cord Injury Survivor Stories: Recovery after Traumatic Injury
Conditions and Diseases
---
by Jessica Ward | Sep 18, 2023
A spinal cord injury (SCI) is a devastating event that can affect a person at any age. Spinal cord injury survivors not only have to focus on recovering physically, there is an emotional and mental recovery component as well. And depression is often a factor after a traumatic injury and according to United Spinal Association, it affects 37% of people living with SCI.  
Currently, 282,000 people are estimated to be a spinal cord injury survivor, according to the The National Center for Biotechnology Information (NCBI).  In the United States, there are approximately 17,000 new cases of spinal cord injuries (SCI) each year. 
According to Dr. Geneva Tonuzi, medical director of Brooks Rehabilitation's spinal cord injury program, "A spinal cord injury is traumatic and life changing, there is a lot of hope for recovery. There is new technology all the time and new research all the time."
This article will discuss how spinal cord injuries occur, share inspirational recovery stories and provide insight on the ways SCI survivors can empower their recovery, find a community of support and regain physical, social and emotional health during and after.  
What is a SCI Injury?
A spinal cord injury is damage to any part of the spinal cord or nerves at the end of the spinal cord.  
An injury such as this can cause changes to an individual's strength, feeling and other functions below the injury. Depending on the severity of the injury and where it took place on the spinal cord, it could result in the individual becoming quadriplegic or paraplegic.  
How do SCI Injuries Happen?
SCI injuries occur most often from car accidents or catastrophic falls according to the National Institute of Neurological Disorders and Stroke.  Other ways injuries can occur are from sports, medical/surgical injury, industrial accidents or diseases and conditions that damage the spinal cord.  
More than 90% of spinal cord injuries that happen in North America are considered traumatic.  
SCI Demographics
According to NCBI, men represent the majority of spinal cord injuries and the age group at highest risk is 16-30 years of age. Women are higher risk for spinal cord injury during their younger years, typically 15-19 years old.  
Participants in Brooks Rehabilitation spinal cord injury programs are 78% male and 22% female.  
Inspirational Stories of SCI Survivors
 Brooks Rehabilitation treats the top 1% in complexity of traumatic injuries in the nation. In 2022, we treated 400 cases of spinal cord injuries. Seventy-eight percent of spinal cord injuries treated at Brooks Rehabilitation were considered traumatic. 
Over the years, we have worked with many amazing patients who have made tremendous strides in their recovery.
"Not everything in your life has to change. Work might not look the same as it did before, there may need to be different adaptations
Many SCI patients also participate  in our community programs, provide peer mentorship for others going through similar experiences and participate in the Brooks clinical research program to help others in the future who will experience injuries such as them. 
Take a moment to read their stories and learn more about their recovery journey.  
Story of Recovery: Zach Karpinski, Spinal Cord Injury
Zach Karpinski was a Gainesville, Fla., college student pursuing a degree in chemical engineering when he was hit by a car while riding his scooter.  
The accident broke Zach's C3 and C4 vertebrae and his jaw. He also suffered multiple facial lacerations and lost his left ear. When the ambulance arrived, he couldn't move or feel anything from the neck down. 
After eight days in the ER, physicians told Zach and his family they were not sure if he would walk again. The doctors recommended intensive therapy and Zach and his family choose Brooks Rehabilitation in Jacksonville, Fla. 
Zach's recovery was in three phases – he first started in the inpatient hospital where he received intensive therapy during his stay. He was competitive and the therapy team set goals with him to push him through recovery. The second day at Brooks, he was out of the bed and walking with a support system.  
After three weeks of inpatient care, Zach transferred to outpatient therapy in the Neuro Recovery Center at Brooks inpatient hospital.  
He worked with occupational therapists to improve arm and hand dexterity. Zach also worked with Cyberdyne Hybrid Assistive Limb technology, a robotic exoskeleton to improve walking.  
"I didn't realize my injury was as bad as it was. I just thought if I did my therapy and worked hard, I'd be back to normal in no time," said Zach. 
The third phase of Zach's recovery was the SCI Day Program at Brooks. The specialized program includes a physical therapist, occupational therapist, speech therapist, psychologist and a nurse case manager, all with specialized training in spinal cord injuries. Patients in the SCI/D program will participate in half- or full-day treatment for a maximum of five hours a day, five days a week, for an average of 6-12 weeks. 
At the end of his recovery plan, Zach jogged around the first floor of the hospital. His goal was just to be able to walk out of Brooks.  And Zach was still on track to graduate college that year. Read Zach's full story of recovery here.  
Story of Recovery: Declan Graham, Spinal Cord Injury
Declan Graham was leaving work in Orlando, Fla., on his motorcycle when he was hit by a car going 40 miles an hour. His chest hit a guardrail first and then his body became bent over the guardrail. 
Declan's spine and ribs were broken and that is when he sustained a spinal cord injury. When he was in the ER, the surgeon fused four of his vertebrae together, and put two rods and eight screws in his back as well as chest tubes.    
When Declan first came to Brooks Rehabilitation, he could only move the toes on his left foot.  After working hard with his therapists, Declan was soon able to walk with harness assistance. He was then able to participate in the SCI Day Program and continued to work on his upper body strength, strengthen his legs and work on his form in order to regain the ability to walk without assistance. Read Declan's full story here.  
Story of Recovery: Drew Finkbeiner, Spinal Cord Injury
Drew Finkbeiner was on the job delivering packages. At one of his stops, he injured his leg and when he realized blood was flowing down his leg, he passed out. When he fell, he broke five vertebrae in his neck causing incomplete tetraplegia.  
Drew was on track to get married the weekend after he arrived to Brooks Rehabilitation. But he was unable to move much or do simple tasks to take care of himself. 
Over the next few weeks, he worked with therapists to improve his ability to stand and do simple tasks. The couple decided they couldn't wait any longer to get married.  
Drew's therapy then shifted from practicing how to brush his teeth and walk to dancing and putting a ring on.  
Drew was able to use Cyberdyne Hybrid Assistive Limb technology to practice walking. His therapists practiced dance moves with him so he could surprise his fiancé on their wedding day. 
When Drew and his fiancé, Thalia, got married, he was able to stand, walk and dance with her. After 30 days of intensive therapy, Drew was on his way back to recovery. Read Drew's full wedding recovery story here.  After initial recovery, there are other resources and activities SCI survivors can participate in to continue their recovery and stay active.  
Giving Back and Continuing Recovery
In order to advance spinal cord injury recovery, many rehabilitation hospitals will conduct research in SCI rehabilitation. SCI survivors and patients are encouraged to participate to help advance their recovery and the recovery of future generations.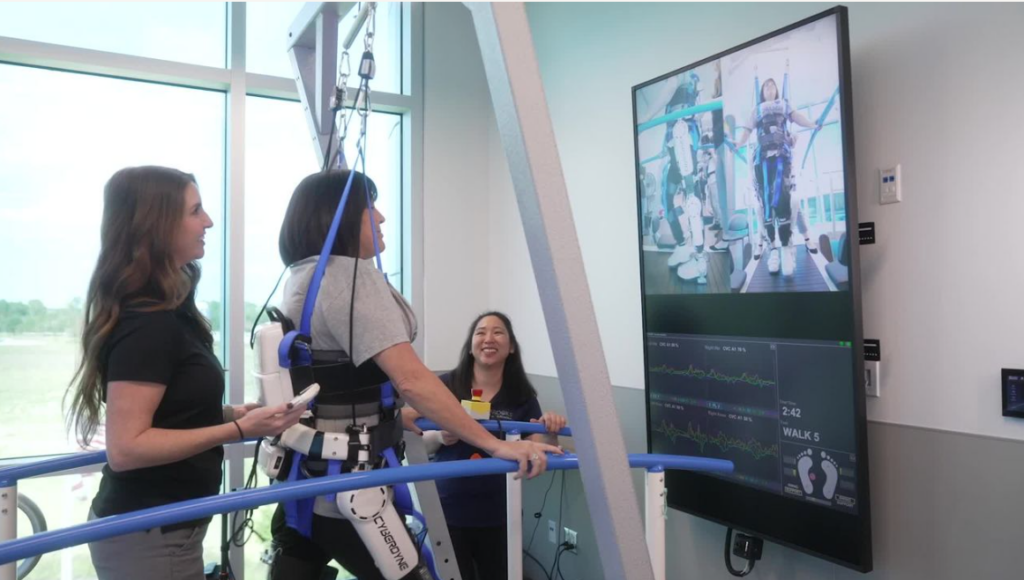 Brooks Rehabilitation conducts clinical research in the area of spinal cord injury and has research participation opportunities open in variety of areas.  
People in recovery can also become a member of the Neuro Recovery Center located at Brooks Rehabilitation Hospital – University Campus. At the center they will gain access to cutting-edge specialized equipment and assistive technology, including Cyberdyne.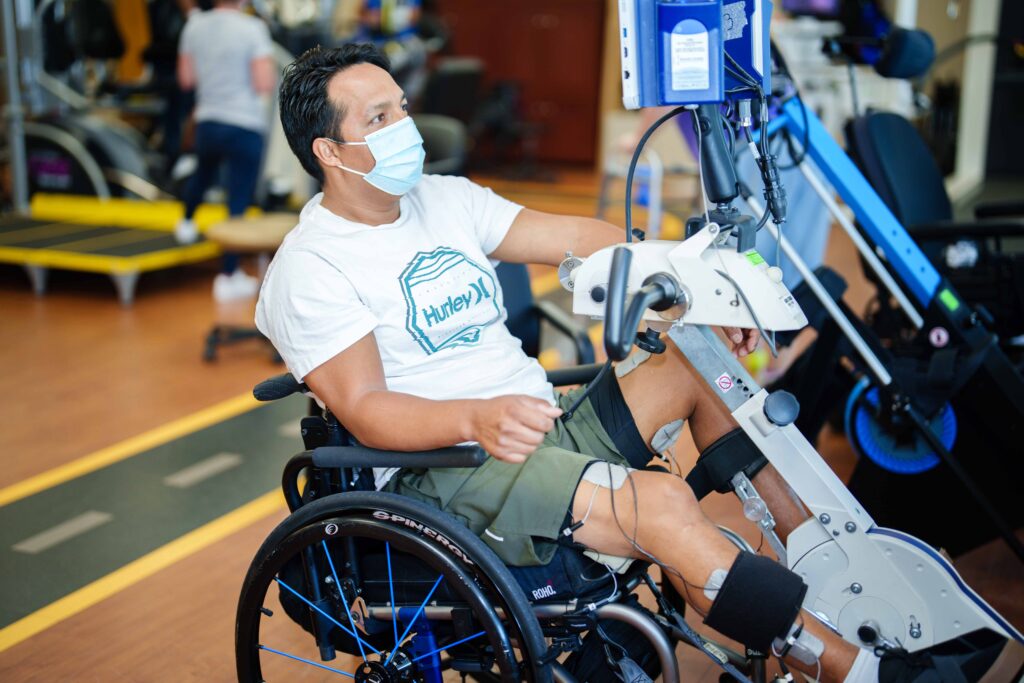 The NCR is staffed with neuro specialists and physical therapists, to help you continue your recovery goals.  
Finding a Community After Recovery
Adaptive sports and recreation programs are research- and evidence-based. These programs help people with disabilities regain physical, social and emotional health after a traumatic injury.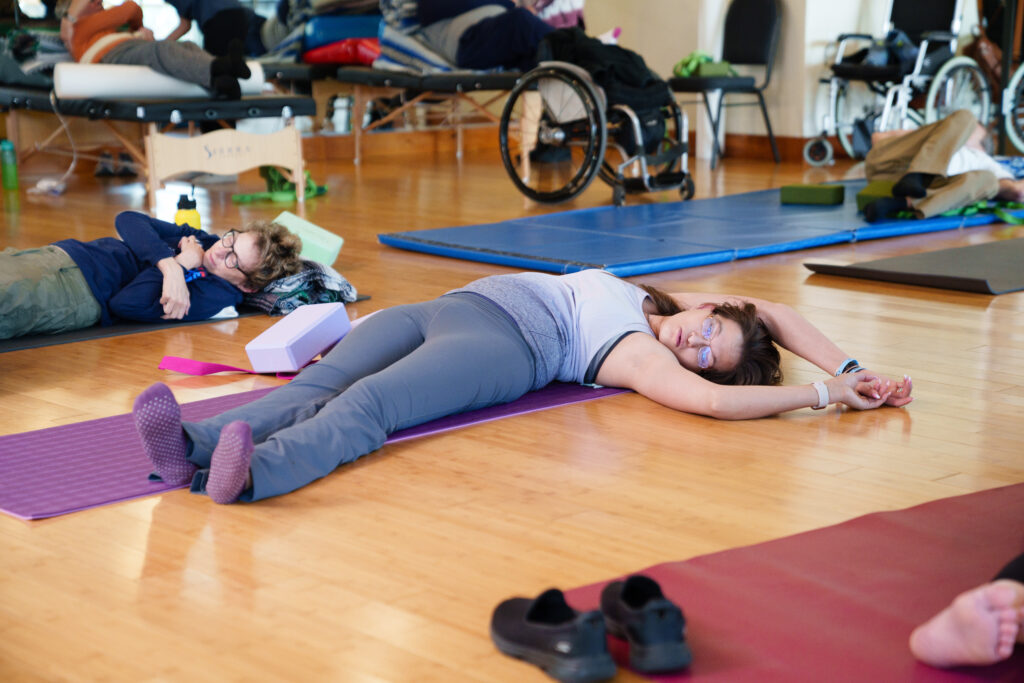 Participants can expect adapted activities to fit their individualized needs. Individuals are able to participate in such events as bowling, yoga and golf, as well as sports such as basketball, rugby and soccer.  
How to Participate
For more information on the Brooks Clinical Research program, contact us  at [email protected] or (904) 758-9952. 
Contact the Neuro Recovery Center at (904) 345-6812 or [email protected]. We have two Neuro Recovery Centers – Brooks Rehabilitation Hospital and Orange Park Outpatient Clinic. 
Visit www.BrooksAdaptiveSportsandRecreation.org to find and participate in events and activities you are interested in.  
Learn more about the Brooks Rehabilitation spinal cord injury program in the video below.