Thoughtful Decisions with Quick Actions Are Getting Us Through
Beyond Magazine
---
Feb 16, 2021
This article was originally published in our Fall 2020 Issue of Brooks Rehabilitation Beyond Magazine. Subscribe online.
"The COVID-19 outbreak is evolving rapidly, and we would like to provide an update on actions we are implementing to address this unprecedented situation. These changes are being made to keep our patients, residents and employees as safe as possible while providing the best care."
With these words in mid-March, Brooks President & CEO Doug Baer convened a system-wide incident command team and began a series of communications addressing the coronavirus situation. Given the diversity of offerings within the Brooks Rehabilitation healthcare system, the pandemic created different challenges at various times for each division.
Here's a look at what we did.
Our Staff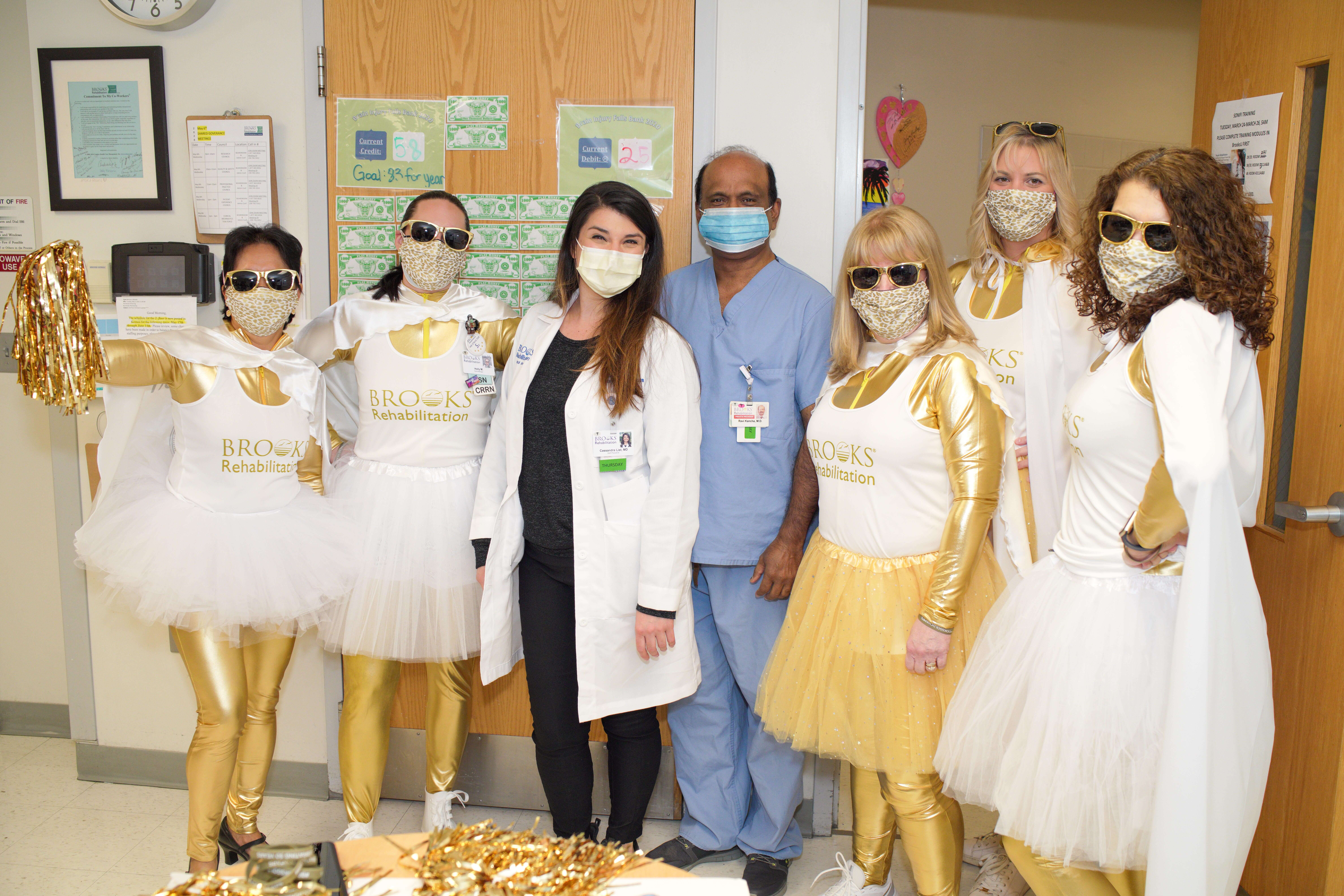 One of the first things we wanted to know was what our employees needed the most, which we accomplished through an online survey in mid-March. With the possibility of furloughs looming, we loosened our paid leave policies, ensured the availability of our Brooks Cares Team Fund (that supports employees in a state of emergency) and offered childcare suggestions.


As select non-clinical employees transitioned to work-from-home, daily screenings and temperature checks became the norm for those coming to our facilities. Our staff worked hard to conserve personal protective equipment (PPE) while ensuring safety; and received enhanced training on infection control. The Brooks Psychology Team stepped up to launch Brooks4Brooks – support services for employees feeling overwhelmed.
Most notably, Brooks redeployed personnel from areas experiencing steep volume declines and those in non-clinical roles to assist in our inpatient care settings with temperature checks, health screenings and virtual visitation. This pivot – and the dedication of our staff – meant there were no layoffs or furloughs.
Brooks Rehabilitation Hospital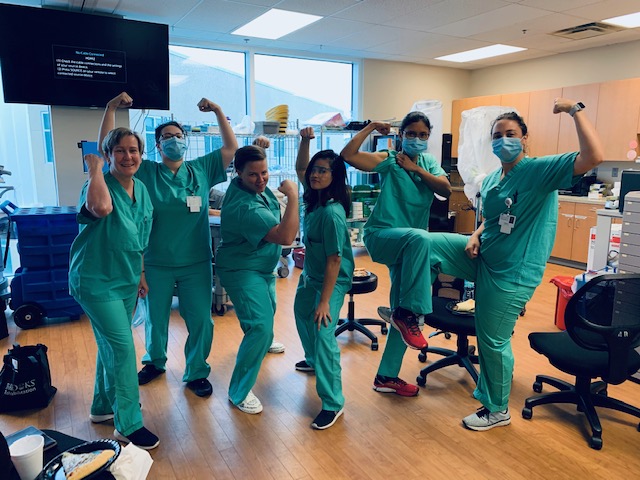 At first, the Brooks Rehabilitation Hospital was not admitting any COVID-19 positive patients and limited visitors to patients' immediate family members or a significant other. Of course, we conducted active screening and temperature checks for anyone entering the hospital building. As a rehabilitation hospital handling serious medical events like stroke or spine injury, we were not affected by the halting of elective surgeries, as was the case with other health systems. Brooks Rehabilitation Hospital continued to operate at about 92 percent of its pre-pandemic volume.
We recognized, however, that there were those suffering from the damaging effects of the virus in addition to their rehabilitation needs. So, in April the hospital opened a new unit dedicated to COVID-19 patients needing rehabilitation. Everything about the eight-bed unit was designed with isolating the virus in mind. Rooms are shut off from the rest of the floor by a newly constructed wall; there was a transition area where staff could change into hospital-issued scrubs and change back before going home; and the staff remains on the unit for their entire shift. There is even a dedicated elevator just for the unit.
Outpatient Rehabilitation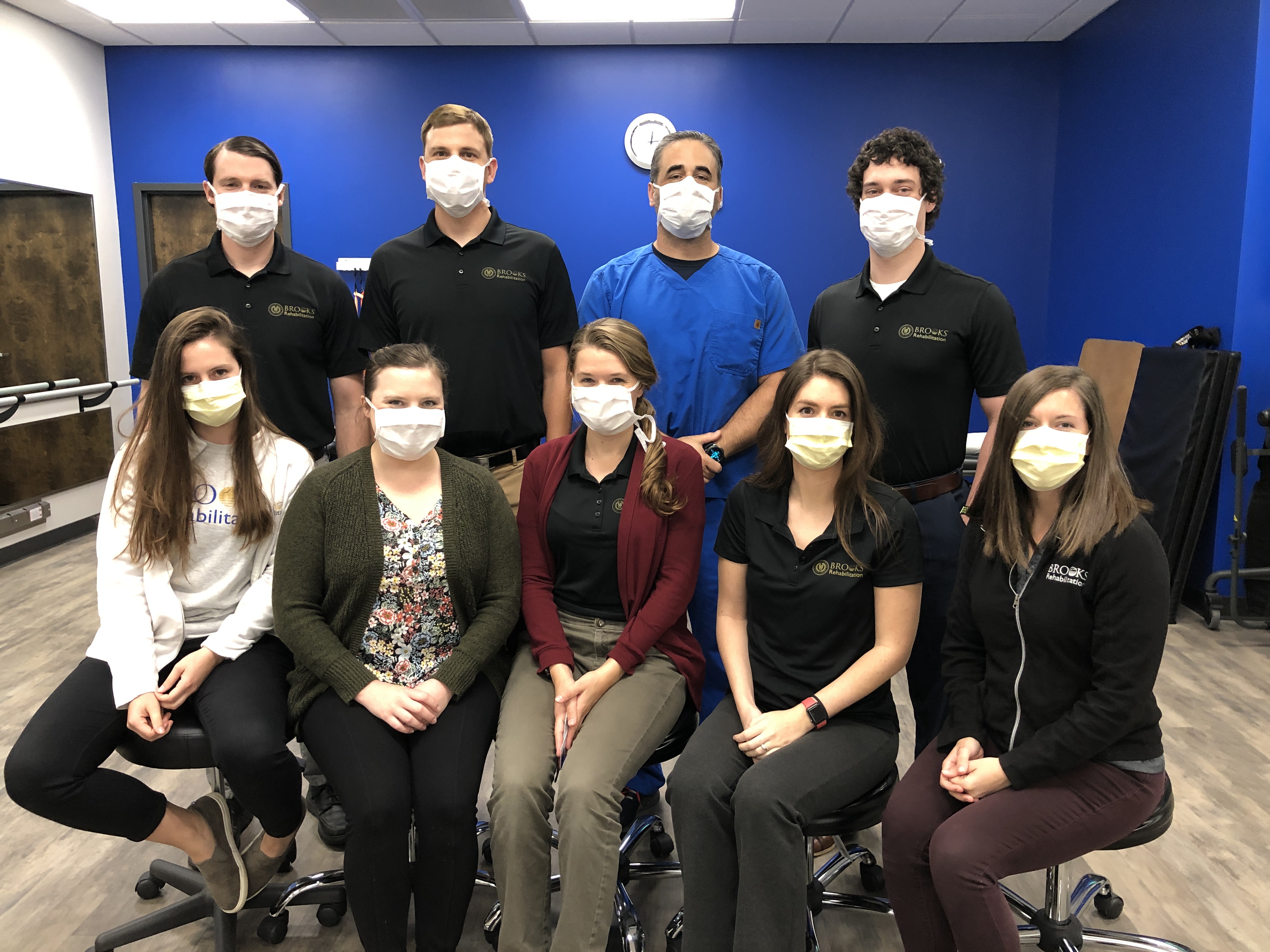 Our outpatient-based services are a core part of our overall system, and we worked hard to continue providing the necessary care to our patients. In mid-March Outpatient Rehabilitation began daily screenings and temperature checks of employees and patients, as well as diligently disinfecting and cleaning all high-touch areas of the clinics and equipment before and after each use. We also assessed outpatients for temporary alternatives to clinic-based therapies, such as in-home therapy or telehealth visits.
Our Outpatient division, though, is where we felt the elective surgeries; physician practices closing or limiting their schedules; and people foregoing therapy to shelter in place. Our outpatient volumes fell by 50 to 60 percent. A portion of our outpatient team was redeployed to inpatient settings, so no one was furloughed or laid off. Volumes rebounded as the months progressed and all the outpatient locations were open by June.
Home Health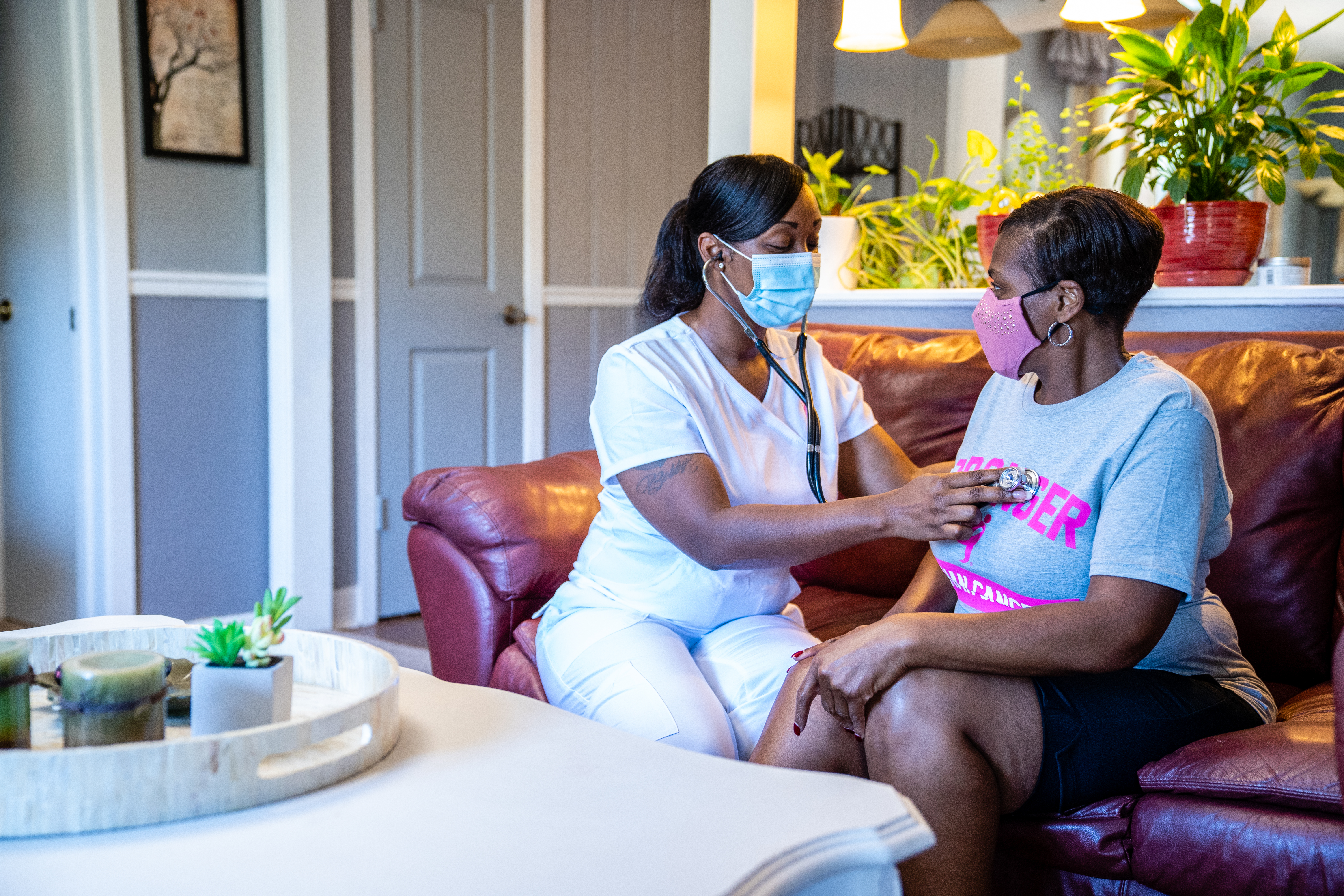 For Home Health, clinicians began screening patients when appointments were made and confirmed, and the team began seeing patients with COVID-19 in April. The Home Health experience is best relayed through Brooks' Tammy Williams, RN, who was one of the first employees to treat a COVID-19 positive patient. We first reported her story online back in April: "I was a nurse for a long time, but this is all new… Brooks provided extra training specific to PPE, and I had all the supplies I needed. I was covered from head to toe," said Williams. The patient she was caring for had a less intense form of COVID, but her family still wasn't allowed to see her.
"The first day I saw her she was crying. She was pretty upset about the whole thing. By the end of that visit, I knew it was going to be fine," said Williams. "It feels good to be able to help. She needs us. The virus wasn't her fault, and she should get the care she needs just like anyone else. We just take extra precautions and do what we are here to do."
Aging Services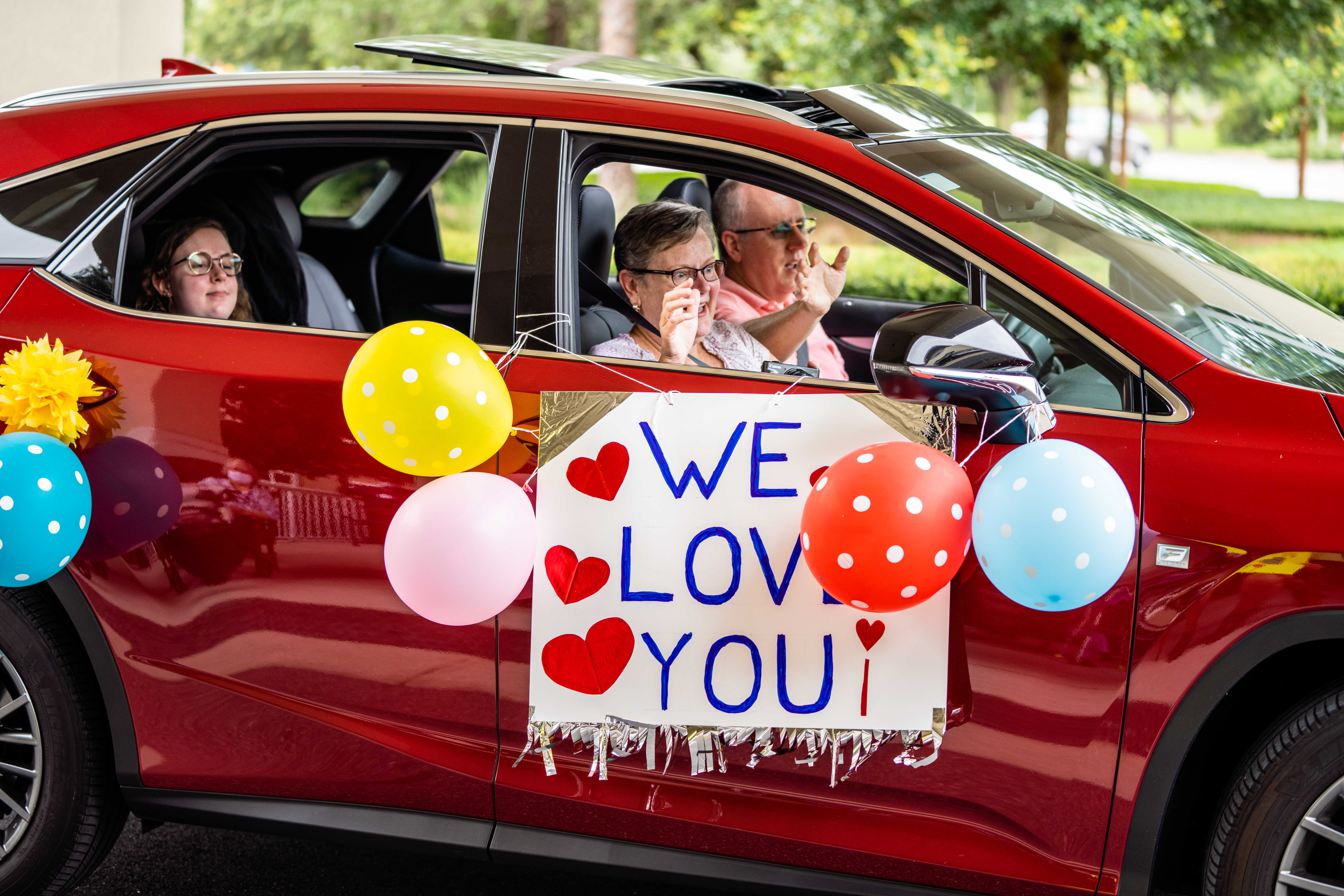 As skilled nursing or assisted living facilities, Bartram Crossing, Bartram Lakes, The Green House® Residences and University Crossing underwent different government mandates at different times. From the outset no one other than staff was allowed inside, except in extremely limited circumstances. The state prohibited the admission of any COVID-19 positive patients using strict screening processes for these settings. All staff were tested for COVID-19 bi-weekly and patients/residents were tested if exposed or showing symptoms. Patients/residents were also encouraged to use telehealth appointments with external clinicians to avoid unnecessary exposure.
To overcome the visitation hardship, redeployed staff helped patients and families connect with loved ones via video conference appointments or window visits. Our activities department created socially-distanced activities to keep the patients and residents engaged.
Community Programs
With COVID-19 making in-person meetings basically impossible, Brooks Rehabilitation's community programs adapted and moved to virtual programming. Between live sessions and recorded content, classes were available daily.
Many of the programs began reopening in-person in June, with limited participation, masks and social distancing requirements in place. However, virtual programming has become so popular that many of the groups plan to continue it even after the COVID-19 threat has passed.
Research
The Brooks Clinical Research Center closed for in-person visits or activities, per the guidance of local and government authorities and research institutions. Although in-person research visits have been on hold, many other projects have continued to progress. Making the best of the situation, a team of our researchers and IT leadership worked with teams from other rehab health systems to create a survey study related to the use and impact of telehealth/virtual care during the pandemic. This survey is being distributed to clinicians working within these systems during the pandemic and patients who received care in any setting during the pandemic. It represents the first time these members of the consortium of rehab hospitals have come together to conduct a collaborative research project across systems.