Empowering Lives: Cancer Rehabilitation Programs Explained
Conditions and Diseases
---
Oct 30, 2023
Medical Reviewer:
Ashley Perry, PT, DPT, MTC
Last Updated:
October 30, 2023
Cancer rehabilitation programs are quickly gaining recognition as an important piece of advanced cancer care.
For decades, the focus of the medical community has been keeping cancer patients alive. They has become good at this through early diagnosis, and new treatments and therapies. For those who currently have cancer, there is a high likelihood that they will live for a long time. This is particularly true for certain types of cancer that have a survival rate of 98%.
However, cancer treatments take a toll on the body and there has has not been much attention given to supporting patients after treatment until now.
Across the country, cancer rehabilitation programs are uncommon. Brooks Rehabilitation offers a top cancer rehabilitation program that supports patients before, during and after treatment. In this article, we will dive into the specifics of why these programs are important and how they help.
Why Do Patients Need Cancer Rehabilitation?
Modern medicine has provided numerous options for patients to combat cancer. From surgeries to chemotherapies and radiation, there are multiple ways to keep patients alive. However, these options have led to weakness, tiredness and a sedentary life.
"What do the next 20 years of their life look like? What is the quality of that life? That is where cancer rehab comes into play and why it's a newer area of rehabilitation – because it's a newer need," says Ashley Perry, PT, DPT, MTC, Brooks Rehabilitation Oncology Patient Navigator.
The goal of cancer rehabilitation is improving your quality of life. Clinical evidence indicates that rehabilitation intervention at any phase during cancer treatment reduces impairments and improves quality of life.

 How is Cancer Rehabilitation Different than Typical Therapy?
In cancer rehab therapists need to understand the treatments patients receive and how they impact their body. This includes the muscles and heart.
Therapists that provide cancer rehabilitation are then able to make changes in diagnosis or activities and exercise. For example, if a physical therapist treats a patient who had a masectomy like just a regular shoulder patient, they would miss many of the specifics that patient needs.
Physical therapy patient, Cyndi Parker, shares the benefits she's experienced. Parker learned what her cancer treatment affected and then received the proper therapy to live with minimal pain.
"A month after finishing seven months of chemo, and a bilateral mastectomy and lymph node removal, I was still in massive pain and unable to raise my arm," said Parker. "I knew something was not right. Thankfully, I was referred to rehabilitation and it changed my life."
How do I Know if I Need a Cancer Rehabilitation Program?
 If you are experiencing symptoms such as these after cancer treatment, a cancer rehabilitation therapy program can help.
·       Pain
·       Joint stiffness or reduced range of motion
·       Weakness, fatigue and reduced endurance
·       Poor coordination and balance
·       Memory loss or attention-span decline
·       Difficulty swallowing or speaking
·       Bowel and bladder incontinence
·       Limitations with activities such as bathing, dressing or cooking
Before entering initial cancer treatment with an oncologist, it is important for a cancer rehabilitation program to evaluate you. Then they can prepare you for the changes to your body and abilities, and also have benchmarks for your present performance. The cancer rehab team will check on you throughout your treatment. If they see that you're performing under your previous benchmarks, they can help right away.
Cancer Rehabilitation Services
When participating in a cancer rehab program, patients can expect a wide variety of clinicians, who are cancer rehabilitation professionals, to support their recovery. The patient's oncology team is also coordinated with to ensure a seamless delivery of care.
The goal of the program is to help patients improve function and overall quality of life. Patients may work with various therapists and doctors, including physical therapists, occupational therapist and speech-language pathologists, neuropsychologists, psychologists and physical medicine and rehabilitation doctors. They may also receive dietary guidance, case management, balance and gait therapy, cognitive therapy and more.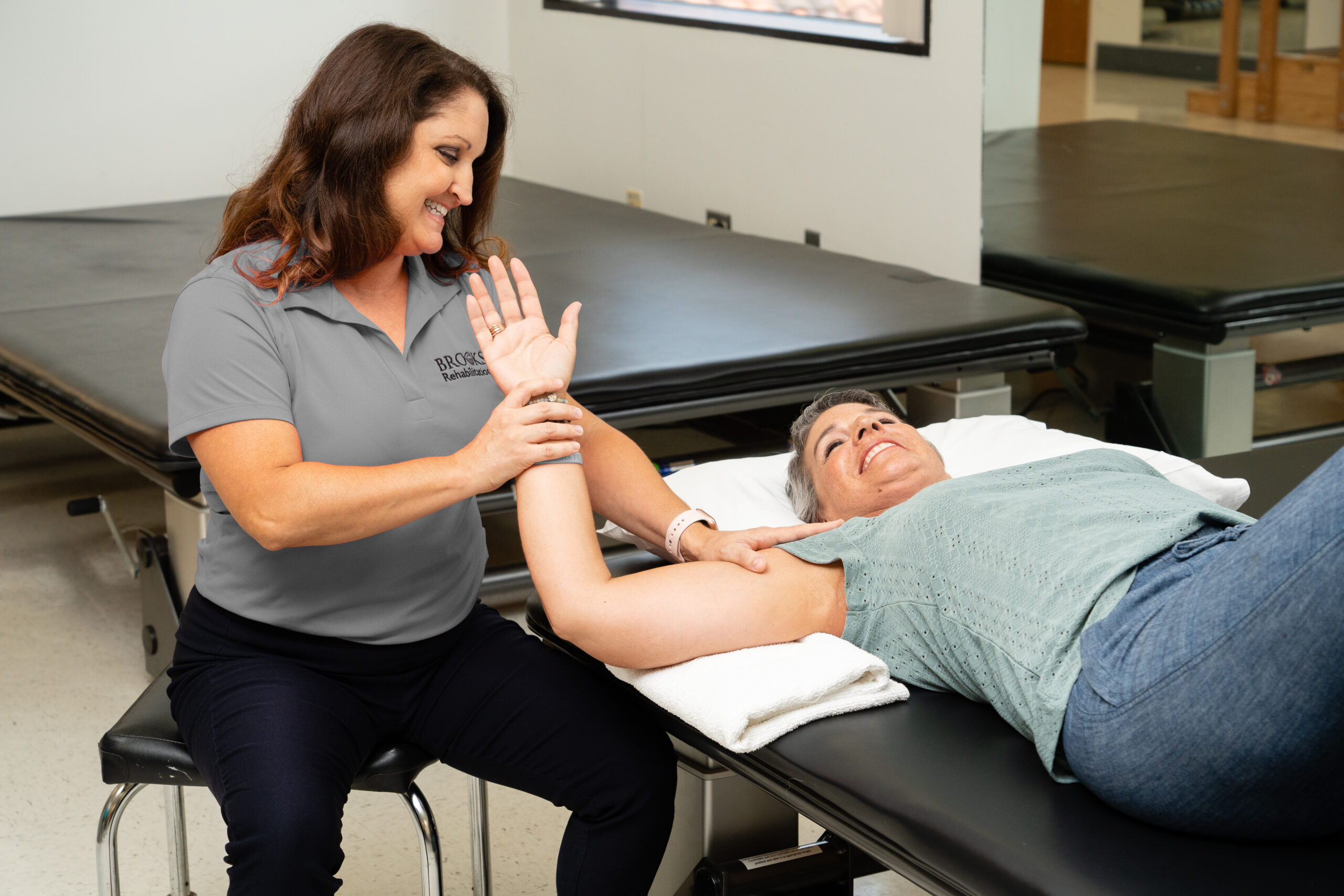 This collaboration of different clinicians ensures that the patient receives the individualized care needed in their situation. Cancer programs also provide training for caregivers to ensure they understand how to fulfill their role.
Brooks assigns a cancer navigator to patients. This person assists cancer patients with their rehabilitation and addresses any barriers preventing them from receiving care.
 What are Cancer Rehabilitation Navigators?
Cancer navigators are common during cancer treatment. Cancer needs quick care, so it's crucial to remove any obstacles for patients to get the treatment they need.
Cancer navigators, however, lack knowledge about rehab and related issues. To enhance the quality of life, Brooks decided to include a rehab expert in the team.
"Navigation itself is a very common practice in the cancer world," said Perry. "A cancer navigator's whole job is to help remove any barriers to care and help make sure things get done quickly and smoothly, because a lot of times cancer is time dependent."
As oncology rehabilitation programs themselves are uncommon, the concept of the rehabilitation oncology patient navigator is even more uncommon. Ashley Perry, PT, DPT, MTC, is one of only two in Florida, with very few across the country.
"I'm here to provide support so a cancer patient never feels alone on their journey," said Perry.
 Where Cancer Rehab Takes Place
Cancer rehabilitation doesn't always take place at a therapy clinic. Different care settings are available to meet a patient's needs and provide timely rehabilitative care. Rehabilitation can take place in the care setting most appropriate for their needs, which may change during treatment.
The rehab team of clinicians should assess patients and create a personalized treatment plan. The plan should focus on the patients' specific needs and goals. It should also take into consideration if the patient requires hospitalization, outpatient care or home health services.
 It's crucial to select a cancer rehabilitation program that focuses on treating patients from the initial diagnosis stage to several years after their last treatment.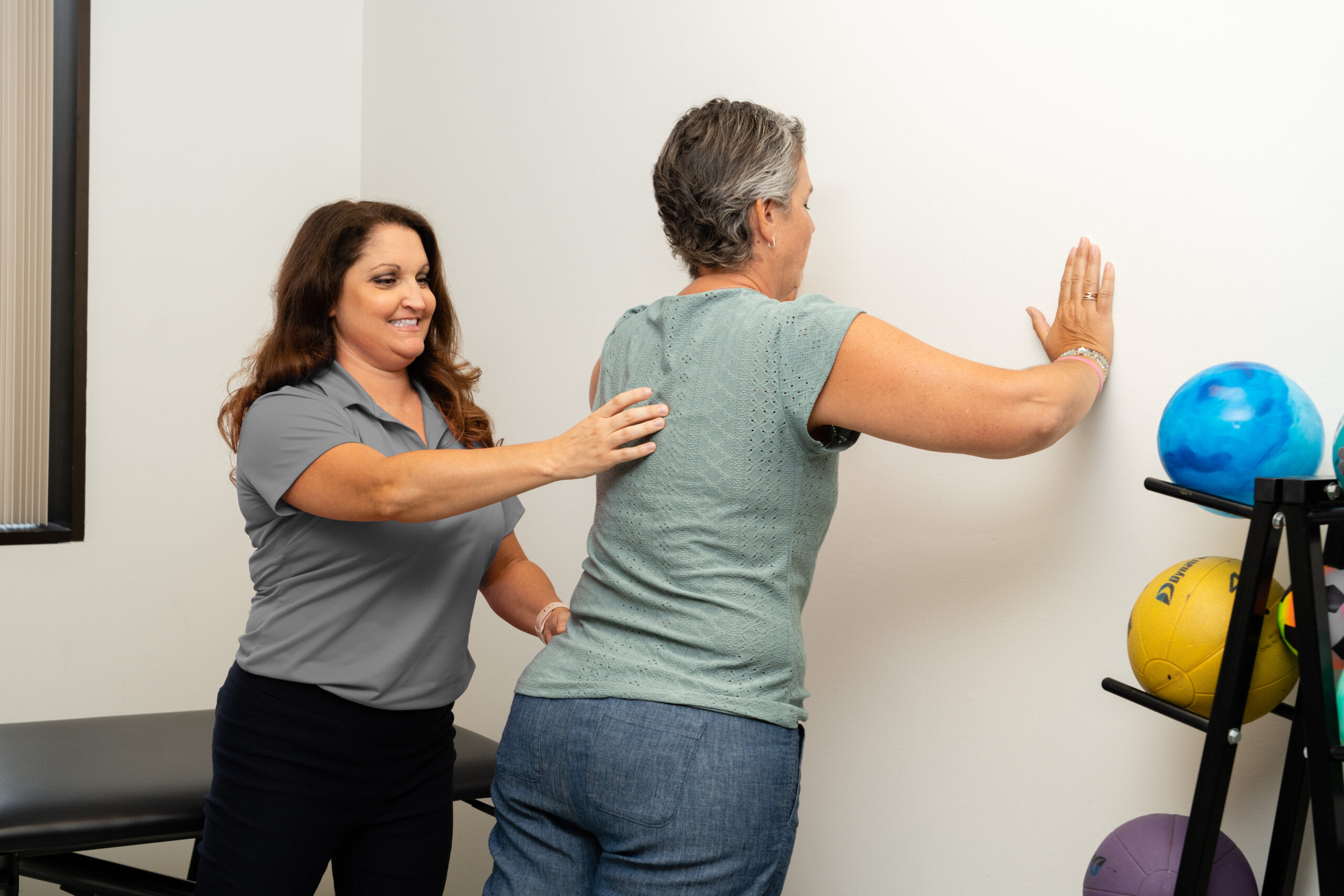 Care Settings for Cancer Rehabilitation Programs
Inpatient rehab hospitals are for patients with cancer or cancer treatments who need hospital-level care to handle complex medical problems. Inpatient rehabilitation shows improvement in independence, increases ability to complete everyday activities and supports a safe return home.
Home Health treats the cancer patient in the home setting. The rehab team, including therapists, nurses and support staff, will evaluate the patient with the oncology physician. Then the healthcare provider develops an individualized treatment plan with the patient in the comfort of their home.
Outpatient cancer teams specialize in restoring function during and after cancer treatments. Patients often experience fatigue, decline in balance, generalized weakness and range of motion deficits that affect daily function. This will generally take place at a stand alone therapy clinic.
 What is Cancer "Prehabilitation"?
 In general, the majority of rehabilitation medicine is reactive – you sprain an ankle and go in for physical therapy. But with a clear diagnosis and treatment plan upfront, we can predict and prepare for the patient's experience with cancer, reducing its impact.
"The standard of care in cancer rehab is a model called 'prospective surveillance,'" said Perry.
"Prehabilitation" means the cancer rehab navigator regularly checks on the patient's abilities during their cancer treatment. If at any point functionality declines from the baselines, they can catch them sooner rather than later. The rehab navigator would then begin a regular rehabilitation plan to address the issues.
Cancer rehab is sometimes ignored or can be difficult to convince patients to try right away. They may not see the importance of proactive therapies for their physical, occupational, or speech needs.
"We're not oncologists, but we can say, 'You know what? With this treatment there's a good possibility you'll get some numbness in your fingers and toes, and this is what we're going to do to prepare you for that," says Perry. "It helps them identify potential challenges and gives them a way to deal with a situation where they otherwise have no control."
More oncologists are beginning to understanding the benefits of prehabilitation and are adding referrals into their overall care plan. As a patient or caregiver, you have the right to advocate for pre-rehab.
"In our 'prehab' evaluations, we spend a good majority of our time educating the patients," said Perry. "This is what's going to happen and this is what you can do to prepare for this. I think that's the part the patients find most valuable, because in this time of chaos and turmoil they have so many questions, and they don't know who to ask."
 Conclusion
 Cancer rehabilitation programs are becoming increasingly important in helping patients recover after cancer treatments. These programs help reduce treatment effects and improve a patient's life quality. They can happen in different care settings based on the patient's needs.
 How Brooks can Help
If you or a loved is starting cancer treatment or has completed treatment, our leading-edge program is here to help you. Learn more about our cancer rehabilitation program and request an evaluation here.