Derrik Amaral: Spinal Cord Injury Recovery Story
Clinical Expertise
---
by Alex | Mar 3, 2015
October 31, 2013 was not just another Halloween for Derrik Amaral, a nurse's assistant at Oak Hill Hospital in Hernando County, FL.
While returning from his lunch break, a car struck Derrik's car from behind, sending him spinning. The same car barreled into him again, pushing his mangled car further into traffic. After a third and final blow, the dust settled and the reality of the situation became clear. Amidst the twisted metal and shattered glass, Derrik Amaral was fighting for his life.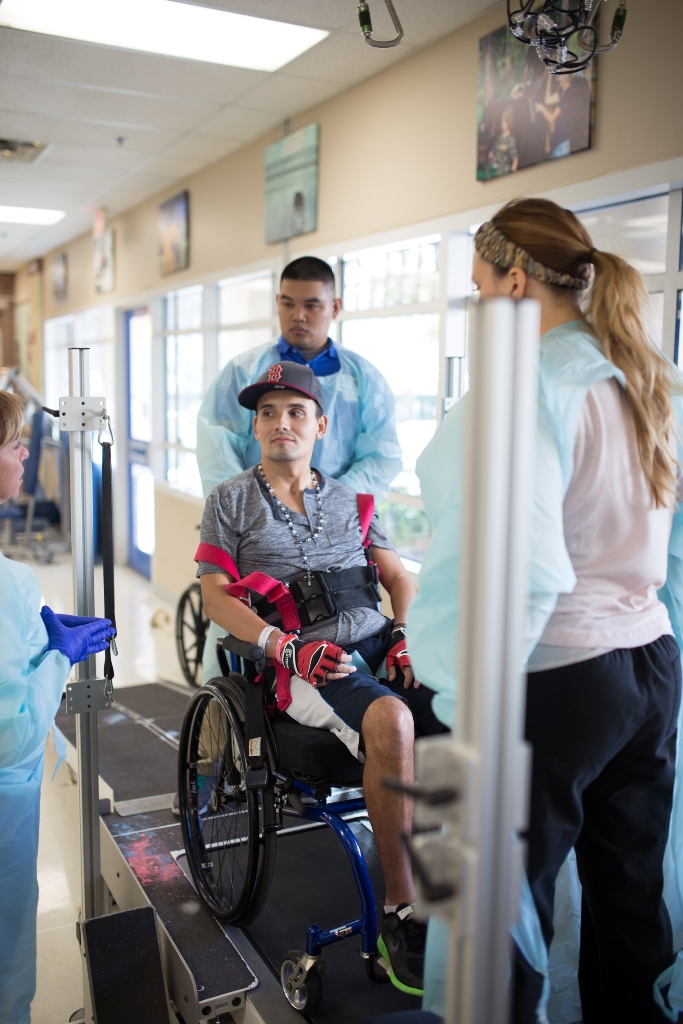 Derrik was paralyzed from the neck down due to multiple fractures in his vertebrae. The doctors were not hopeful that he would ever have use of his arms or legs again. In addition, Derrik had unique complications which limited his options for rehabilitation. Despite the distance to Jacksonville, his family chose Brooks because they knew it was his best chance for recovery.
"He sees every obstacle as an opportunity to grow and become stronger."
Derrik was very motivated, but his ability to participate in therapy was somewhat limited.  He was having issues with infections and blood pressure that can be common in someone with his extensive injuries.  Doctors and therapists worked with Derrik and his family to improve his strength and teach him how to perform tasks we all take for granted: things like brushing his teeth or feeding himself. After six weeks he was able to return to Hernando County and begin outpatient therapy at the Brooks facility in Hudson.
Derrik worked hard in outpatient therapy gaining strength and abilities he wasn't sure would ever return. An infection in October sent him back to the hospital where he declined in function.  While that may seem like a setback, Derrik saw it as an opportunity.  He was able to return to Brooks Rehabilitation Hospital in Jacksonville.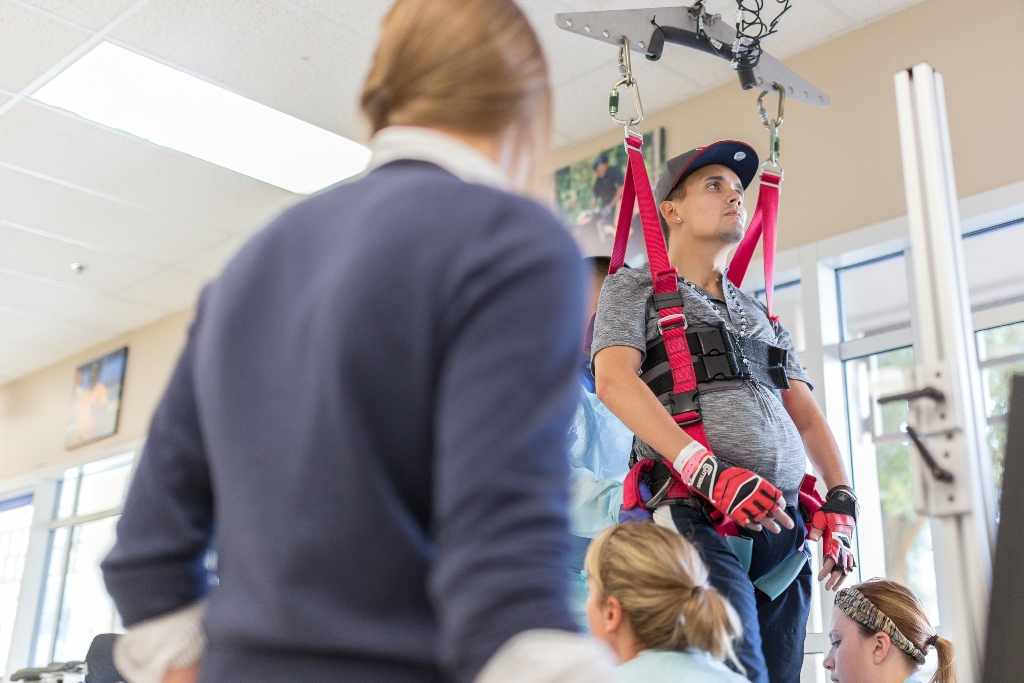 "The first time I came to Brooks Inpatient was right after my accident and I was too weak to really benefit from the programs there," Derrik said. "This time I was stronger so I was able to benefit more from what the hospital has to offer, preparing me to take steps."
"There is light at the end of the tunnel and we are just fighting to get to that light."
And take steps, he did. Derrik wanted to transition from his power wheelchair to a manual one that allowed him more mobility.  He started moving his legs and arms on his own.  He worked on his upper body strength, practiced standing and played air hockey in therapy.
When he returned back home, he continued working with therapist Connie Garces, PT, DPT.  Derrik is now walking with assistance of a walker, pedaling a bike and doing many things he never thought he'd be able to do again.
"Derrik strives towards progress every day in his outpatient therapy", says Garces. "Every time I think Derrik has reached a plateau in his recovery, he does something new.  We set goals and he surpasses them.  It's so rewarding and surprising.  I never take anything for granted with him."
Derrik's unwavering faith in God, his family, his therapy team and himself motivate him to work harder. He sees every obstacle as an opportunity to grow and become stronger.  He wants everyone to know not to give up because there's hope in the future. Derrik says, "There is light at the end of the tunnel and we are just fighting to get to that light."