Brooks Researcher Jason Beneciuk Receives the Scholarly Impact Award from the Florida Physical Therapy Association
News Update
---
Sep 27, 2023
Jason Beneciuk, PT, DPT, PhD, MPH, clinical research scientist of the Brooks – UF-PHHP Research Collaboration, was awarded the Florida Physical Therapy Association (FPTA) Scholarly Impact on Practice Award, Oct. 23, 2023, Orlando, Fla., at the annual FPTA conference.
The Scholarly Impact Award recognizes and honors an individual whose individual and/or collaborative scholarly activity has made a meaningful difference to clinical practice of physical therapists in Florida.
"I am honored to be the 2023 recipient of the Florida Physical Therapy Association (FPTA) Scholarly Impact on Practice Award," said Beneciuk. "This award is a reflection of our scholarly achievements and their impact on clinical practice, but perhaps more importantly the support of the research collaboration between Brooks Rehabilitation and the College of Public Health and Health Professions at the University of Florida."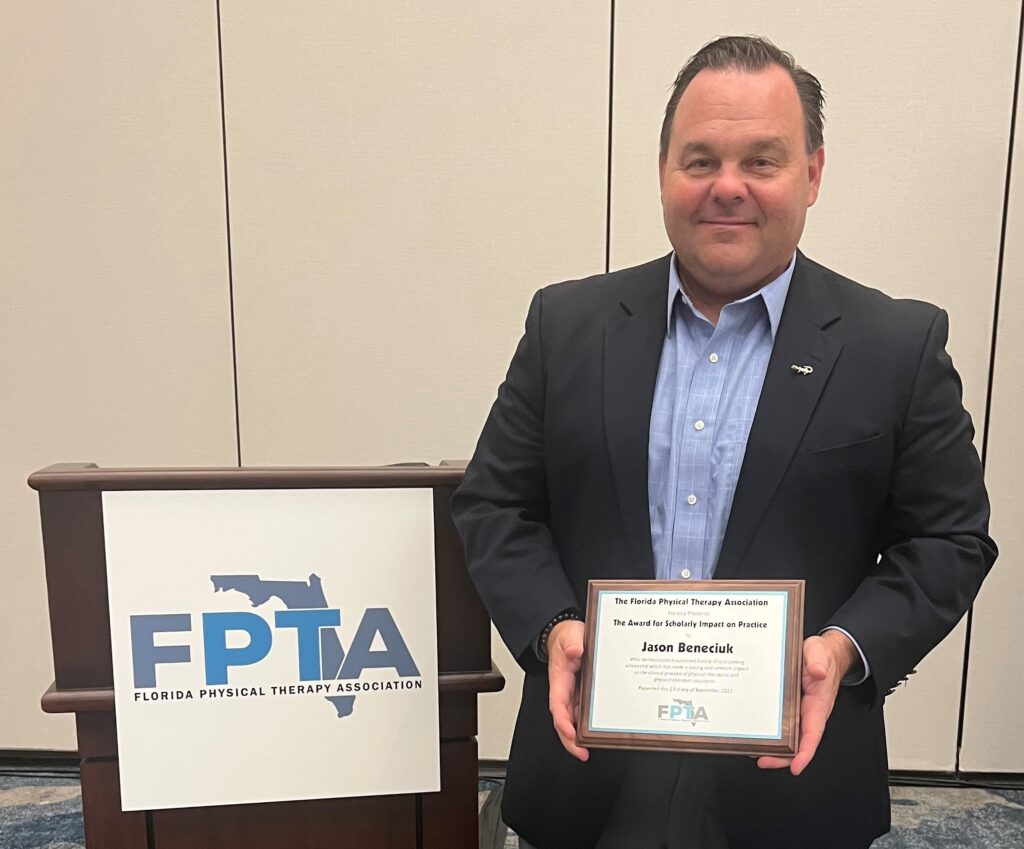 In order to be selected, an individual must have:
A minimum 10 years of outstanding and ongoing basic clinical or education scholarship relevant to clinical practice by physical therapists. This is demonstrated through consistently being publishing in scientific or professional publications, presenting on the results and a history of receiving research funding.
A demonstrated professional commitment to physical therapy.
Most recently, Beneciuk, and a team of researchers, received a $1.6 million grant from the National Institutes of Health (NIH) and the National Center for Complementary and Integrative Health (NCCIH) to fund a feasibility study for training physical therapists to use mindfulness-based interventions to manage patients with chronic musculoskeletal pain and long-term opioid use.
In the past, Beneciuk has received national research awards from the American Physical Therapy Association including the Chattanooga Research Award (2018), the JOSPT George J. Davies – James A. Gould Excellence in Clinical Inquiry Award (2021), and the Eugene Michels New Investigator Award (2021).
Beneciuk is also an associate professor in the Department of Physical Therapy at the University of Florida, where he teaches evidence based practice in the entry level Doctor of Physical Therapy program. He currently serves as an editorial board member for Physical Therapy and International Editorial Review and a board member for the Journal of Orthopaedic and Sports Physical Therapy.