Adapt Your Dreams: Tessa Radley
50 Year Anniversary
---
Jan 29, 2020
Brooks Rehabilitation is celebrating 50 years of caring in 2020. Throughout the year, we'll be sharing 50 Stories for 50 Years. These will include our history, patient stories, employee highlights and recaps of the many ways we've grown through the years to better serve our communities. Through five decades of rehabilitation, we have been privileged to assist millions of people achieve their highest level of recovery and participation in life.
Tessa Radley and her husband Chris retired and were finally living their "Florida dream." After moving from land-locked Macon, Ga., they were excited about exploring the beaches, wildlife and nature in Ponte Vedra Beach, Fla. Their dream turned into a bit of a nightmare.
Although she frequently hiked, biked and was in overall great health, Tessa had an ischemic stroke on May 18, 2016. A blood clot, which originated in her right carotid artery, spawned a second smaller clot that passed into her brain. She was paralyzed on her left side, had peripheral vision loss, speech difficulties and cognitive challenges.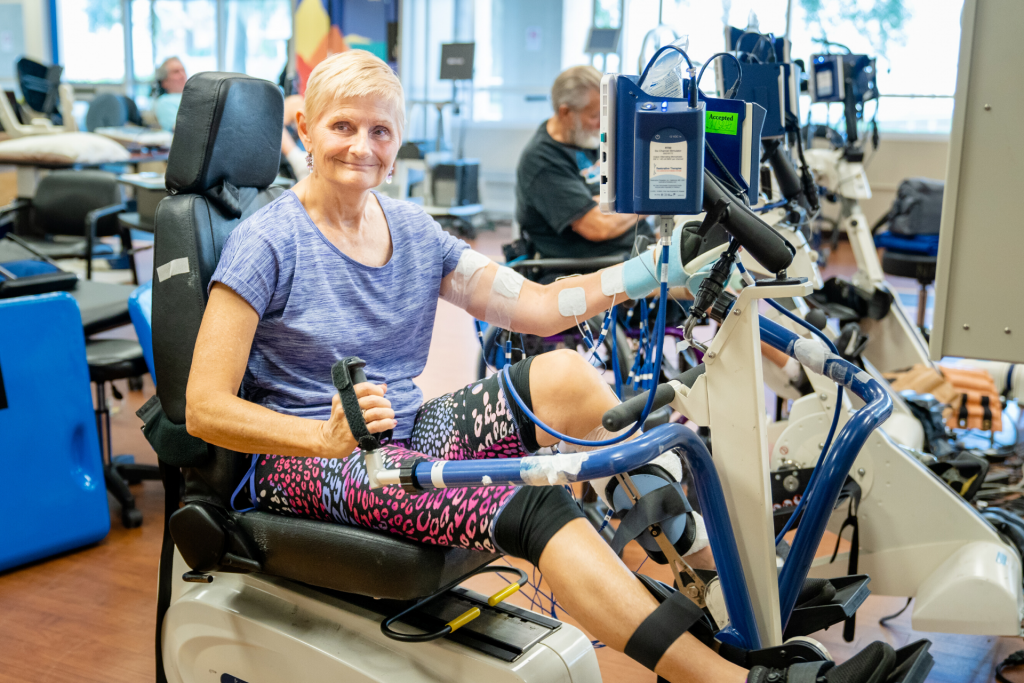 Thanks to talented clinicians and care from Chris and her son Karl, Tessa made improvements at Mayo Clinic. Her neurosurgeon advised he would not discharge her until a bed was available at Brooks Rehabilitation Hospital. "We were aware of their excellent reputation so we were thankful to be transferred there," said Tessa.
Tessa participated in intensive therapy for one month as an inpatient. "By the end of my stay at Brooks, my core strength and control had improved so much that I could stand up from the wheelchair without collapsing and transfer to a car, chair or bed," said Tessa.
Tessa continued her recovery at the Brooks Neuro Recovery Center (NRC) and the Healthcare Plaza outpatient clinic. One afternoon she received a call from Lou Demark, PT, DPT, NCS, her inpatient therapist who was now working in the Brooks Clinical Research Center. He asked if she would be interested in participating in a research study on the effectiveness of backward walking after a stroke. She readily agreed. She then agreed to a second walking study. "I was happy to participate in any research, not just for my benefit, but because the data will help so many others," said Tessa.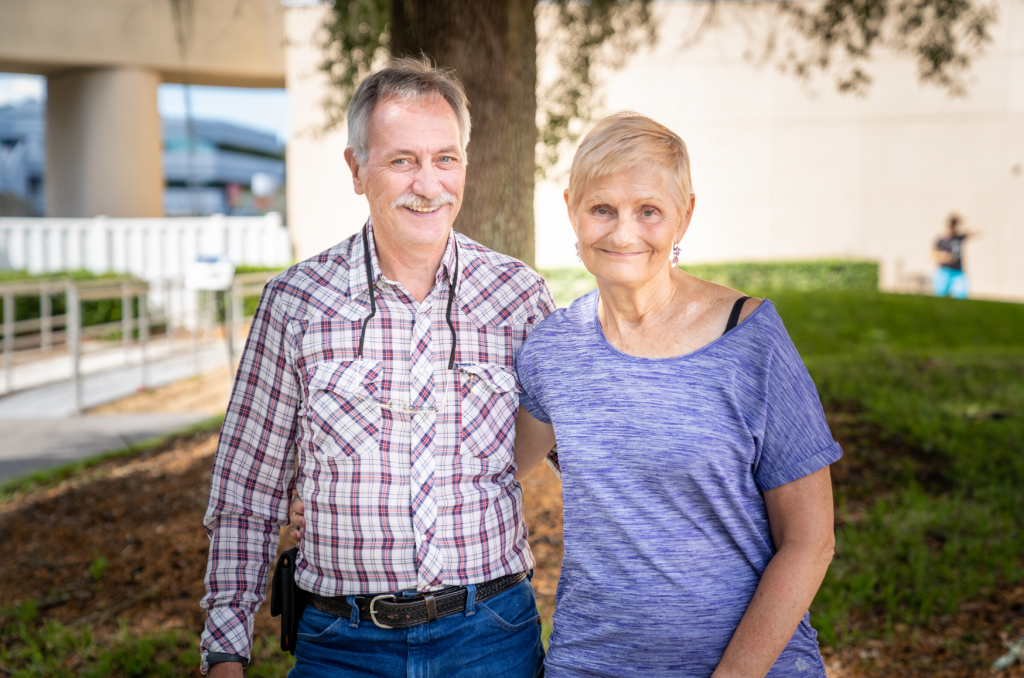 Tessa received compensation for participating in the research studies, which she and Chris donated back to the Brooks Health Foundation. "I gained so much from participating that I felt it was only right to give it back to help someone else," she said. "It was either that or a new couch," joked Chris. "We decided other patients could use it more than us."
Tessa and Chris are now back to living their Florida dream. They are biking, going to the beach and enjoying new hobbies like painting. Tessa recently wrote a book about her experience, A Humorous an Inspirational Look at Stroke Recovery. She hopes it will help provide hope to others who are just starting their journey to recovery.
When asked what advice she would give to other stroke survivors, Tessa said, "Rehabilitation is an ongoing journey. Always remember you are a survivor, not a victim. Keep fighting. Be proud of your achievements. And never give up!"
If you are interested in finding out more about research at Brooks, please visit our Research & Education page to view our current studies.